Most Useful Customer Reviews
14th September 2010
Excellent iPhone screen protector. Recommended...!
I've tried lots of different screen protectors for the iPhone... but these ones are the best I've had so far. As I'm not a fan of the grainy anti-glare type protectors, the best thing about these 'crystal' ones is that they are practically invisible once fitted and don't inhibit the touch sensitivity of the screen or the ambient light sensor(as some screen protectors do) at all. Like most screen protectors, they can be a little tricky getting them on dead straight... but the film allows you to have several goes at it. If you want your iPhone screen protected... but not look as if it is... these are the ones to get.
---
9th September 2010
Difficult to install but worth it
This took me several attempts to get the installation right. From air bubbles to alignment issues, practice definitely makes perfect! Do the prep: clean screen thoroughly and ensure you minimise contact with the sticky side of the protector. It may take you a while to perfect it, but the protection is most definitely worth all the hassle.
Read 3 customer reviews
|
Write a review
---
Why not View a video about this product?
Description
Power Support's revolutionary crystal film is what every iPhone 3G needs to be equipped with. With state of the art static cling adhesion, the precision cut films are easy to apply, and offer optimal protection for your LCD screen.
Protection from scratches is a must, and Power Support's crystal film for iPhone 3G/3GS is the perfect solution. This custom-fit screen protector allows for the vibrant colors of your LCD screen to shine through without compromising picture quality, touch screen sensitivity or any functionality of your iPhone 3G/3GS.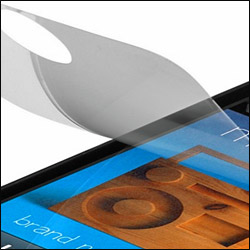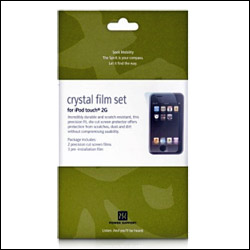 With advanced silicone static-cling adhesive technology, this film does not require a difficult installation process and is residue free.
Features
Set includes 2 crystal screen films and 1 pre-installation film
Protects your precious LCD screen from scratches, dust, and dirt
Leaves no residue if removed
Film will not interfere with iPhone 3G/3GS touch screen responsiveness
All our Power Support screen protectors are sourced from Power Support Japan, and so differ from those advertised on the Power Support USA website.