Most Useful Customer Reviews
simon magri
malta
desktop computer
5th July 2014
just what i have expected
I have bought a set of pioneer se-m390, and to tell the truth, I was very pleased with them, the clarity of the sound is fantastic, just as I have expected, from pioneer, I recommend these for everyone.
---
Anonymous
Unknown
iPhone 5S, iPad 3
31st January 2014
Fantastic headphones for the price
I needed a set of headphones to enjoy music, play games, listen to the TV at night without disturbing others and even a little audio work, but didn't want to spend a fortune. Having owned Pioneer headphones in the past, I decided to give this set a go and as it turns out I am very impressed. Considering how much these cost, the sound range, the noticeable bass response and the clarity of little details within a piece of music is simply stunning. The provided cable is fairly generous in length and the included adapter allows me to use it with a high-end amplifier as well. Very comfortable and they don't feel heavy at all, really happy with my purchase!
Read 6 customer reviews
|
Write a review
---
Why Buy?
High performance stereo headphones

Built for bass

Muffle the noise

Headphones you forget you're wearing

DJ-style swivel earpiece

Compatible with most MP3 and portable audio devices

Includes 6.3mm adapter
---
Why not View a video about this product?
Description
High performance stereo headphones
High performance, ported design with distinct solid bass that will entertain your ears and heighten the enjoyment of your music collection.
The lightweight SE-M390 headphones with impressively large 40mm drivers seriously boost the bass - so enjoying your audio entertainment can occur at any hour, without turning your family or the neighbours against you.
Experience the delights of rock, pop, ballads, classical and many other musical genres with a wide range of high, low and mid-range details. Hear the thumping bass, striking of a cymbal, the blast of a french horn or the tinkles of a beautifully played piano. Each instrument and voice is clear and rich in detail.
Don't limit yourself to just music though, use the Pinoeer SE-M390 headphones for your gaming needs by plugging into your television's headphone port and immerse yourself completely in the virtual world they create.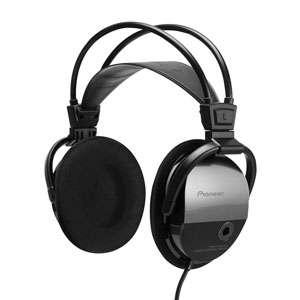 Built for bass
With a ported bass duct design, you can feel the deepness of the lows rumble impressively in your ear. The secret is a small, strategically placed hole on the side that allows the driver to breathe, creating stronger and richer bass sounds that don't waver.
Muffle the noise
The closed design reduces ambient noise, so you can immerse your ears within your music - limiting much of the loud surroundings around you. Now your beats and only your beats are yours to enjoy.
Not only that, but the design also reduces the amount of music that can be heard by others, even those sat next to you.
Headphones you forget you're wearing
With so little weight to them and with extremely comfortable velour-type ear pads around the ears, it's easy to see how you could forget you're even wearing them. This allows you to relish in your audio exploits without limiting the length of time due to discomfort.
DJ-style swivel earpiece
Mix your tracks like a pro with the Pioneer SE-M390 as you swivel the earpiece so you can hear the sounds of the music currently being prepared and also the live playback shared with everyone.
Compatible with most MP3 and portable audio devices
Connects to any audio playback device that features a 3.5mm or 6.3mm socket - including most MP3 players, iPhones, iPads, smartphones, tablets, computers, laptops, televisions and many more devices besides.
---
Key Details
Colour: Black
Part No: SE-M390