Most Useful Customer Reviews
A kilby
Gloucestershire
IPhone 4s
6th May 2014
Well worth the money
I bought this for my iPhone 4s as my old case occassionally turned on seri when I closed it. The phone fits very well and has the volume buttons in the exact place. The camera whole is a great size. The cards fit nice and snug in the holder and I like the fact they are separate from the phone. Although a little bulky it saves you carrying a wallet.
---
12th November 2010
Best yet !!!!
Just had the wallet delivered worth the wait, handmade brillant fit for the iPhone 4 had a concern that it would obscure the camera on the front but everthing is perfect with the phone in the wallet.If you are after a wallet/case this is the one, top class the Rolex of wallets.
Read 29 customer reviews
|
Write a review
---
Description
Piel Frama, experience perfection in a case.
Features And Benefits:

Store your phone, money and bank cards in 1 case

Soft leather lining to protect your iPhone 4S / 4

Access to all your iPhones ports and features

Made from genuine leather

Empty your pockets with the Piel Frama wallet case. The wallet case allows you to store your bank cards, money and iPhone all in one convenient case. The case is also designed to allow you to use all of the iPhone 4S / 4's ports and features without having to remove it from the case.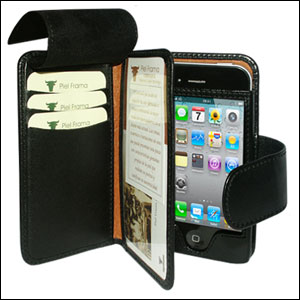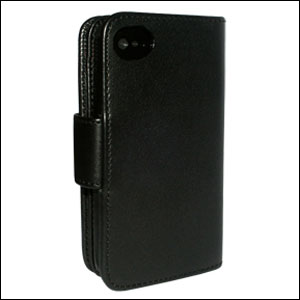 Hand made cases in stunning designs, with meticulous attention to detail that have been Piel Frama's hallmark for over 60 years. Every Piel Frama case is assembled by hand, to create designs that perfectly complement your devices forms and curves. A perfect unison of style and elegance.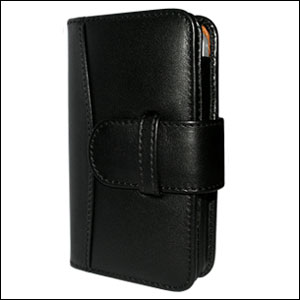 Craftsmanship
Each case is handmade by Piel Frama's own team of dedicated leather artisans. During construction each case is closely monitored for cut & finish. Production for cases takes a total of 25 days to produce, from design to finish.
Premium Leather
Piel Frama only use selected grade 1ª leather, from individually chosen cows. Only animals with smooth hides, free of scratches and marks are used: resulting in the best leather possible.
Premium Materials

Piel Frama only use premium Gutermann thread, ensuring the strongest wear resistant stitching in its cases. Every case has custom "viledón" lining , a highly resistant synthetic material, inserted between the leather and case lining to add consistency and resistance to the case.
Ecological Care

Every Piel Frama case is made with ecological awareness, all the materials used in the tanning & finishing process are fully biodegradable. Conforming to strict German legislation for ecological leather manufacturing, every Piel Frama case is made with care for the environment.
NOTE: All Piel Frama cases can be mounted in the car with Piel Frama's range of exclusive windscreen mounts.
---
Key Details
Colour: Black
Part No: 526