Most Useful Customer Reviews
Dean Athow
London
Samsung Galaxy S6
20th September 2015
Possibly the S6's greatest case, unless you're into wireless charging
I have always been a fan of Piel Frama cases, had one for my iPhone 4S, Galaxy S3 and now my S6. Got the slim version as the iMagnum case whilst good was always a bit bulky, as usual REAL leather not fake plastic leather that peels or flakes after sometime and retains that fresh leather smell. Initial impressions were a bit dumbfounded over the sticky tape it uses to keep the phone in place but this is reusable over many times so plus 1 for PF. My only negative of this case is that it is NOT wireless charging friendly, you must remove the phone from the case to wirelessly charge, not because it wont work but i found my phone got seriously hot that touching the phone could give you burns, it was like grabbing a just made cup of tea hot! I think it is something to do with the gap between the charger and phone caused by the thickness and heat insulation caused by the leather. Other than that a good sturdy case overall and if you dont use wireless charging its an even better case.
Read 4 customer reviews
|
Write a review
---
Why Buy?
Handcrafted by leather artisans

Designed for style and protection

Microscopic suction cup closure system

Talk with the case closed

Built-in viewing stand function

Designed specifically for the Samsung Galaxy S6

Premium leather

Premium materials

Ecological care
---
Description
Handcrafted by leather artisans
Each case is handmade by Piel Frama's own team of dedicated leather artisans. During the construction of the case, each unit is closely monitored for cut and finish.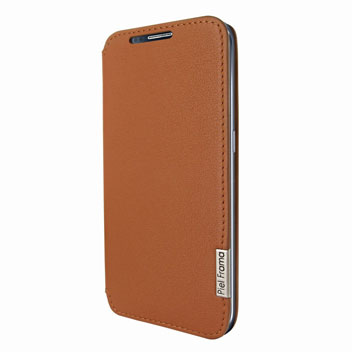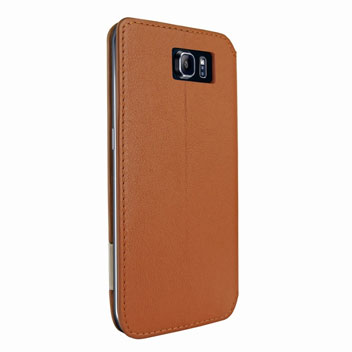 Designed for style and protection
The Piel Frama FramSlim Case is designed not only for style, but for protection too. The FramaSlim offers the same protection to your device as the existing Piel Frama cases, but with a thinner fitting.
Microscopic suction pads for superb grip
Your Samsung Galaxy S6 is secured in the case by placing it on the interior adhesive pad. This tape is made out of thousands of microscopic suction pads that secure the Samsung Galaxy S6 in the case and can support up to 0.5kg. These suction pads produce spaces of emptiness in-between the tape and your device so they don't damage the back of your Samsung Galaxy S6. Furthermore, you can remove your device from the case as many times as you like without harming the cases adhesive properties.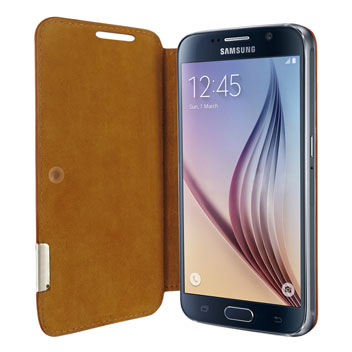 Talk with the case closed
The front cover of this FramaSlim case has a cut-out for the Galaxy S6's ear speaker, so you can walk and talk with the case closed.
Premium leather and materials
Piel Frama only use selected grade 1ª leather, from individually chosen cows. Only animals with smooth hides, free of scratches and marks are used: resulting in the best leather possible. Piel Frama only uses premium Gutermann thread, ensuring the strongest wear-resistant stitching in its cases. Every case has custom "viledón" lining, a highly resistant synthetic material, inserted between the leather and case lining to add consistency and resistance to the case.
Built-in viewing stand function
The back cover of the FramaSlim also becomes a Samsung Galaxy S6 desk stand by folding onto itself horizontally. This creates the perfect viewing stand for watching movies, listening to music or even web browsing.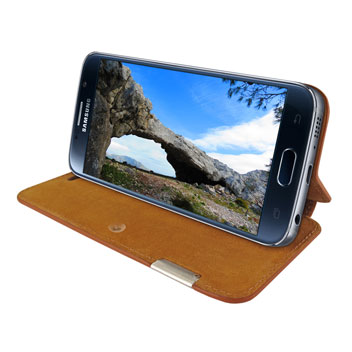 Ecological care
Every Piel Frama case is made with ecological awareness, so all the materials used in the tanning & finishing process are fully biodegradable. Conforming to strict German legislation for ecological leather manufacturing, every Piel Frama case is made with care for the environment.
Designed specifically for the Samsung Galaxy S6
The FramaSlim Case is designed specifically for the Samsung Galaxy S6, so you can be assured of a perfect fit and functionality, with access to all of the Galaxy S6's ports and features. Furthermore you can talk without having to open the case as there's cutouts for the Galaxy S6's speaker and microphone.
---
Key Details
Colour: Brown
Part No: 708C