Most Useful Customer Reviews
Suzy
Kent
Samsung Galaxy s4
8th September 2014
Best Present Ever
I got the pebble smart watch for my boyfriends 21st. He hasn't been able to stop going on about it. It was easy for him to set up using the pebbles appstore, as well as it working seamlessly with his Samsung Galaxy s4, it is just brilliant. It does exactly what it says, it makes it so he no longer misses calls, texts or notifications. The colour is excellent, as well as being incredibly light, it is indeed water proof and quite tough. His favourite app on it is his Pebble Bike App, it requires a companion app which has to be installed on the phone. But it tracks his speed, altitude/change, his course and direction. He absolutely loves it and has been recommending to any and all of his friends and family.
---
Read 63 customer reviews
|
Write a review
---
Why Buy?
Get phone notifications straight to your Pebble

Sleek stylish design

Downloadable watch faces and apps

E-Paper display

Extremely long battery life

Compatible with iOS and Android devices

Perfect fitness watch

Music Control

Water-resistant
---
Description
Pebble puts critical apps and notifications on your wrist, giving you immediate access to what's most important. Brought to life by you the user, the Pebble Smartwatch continues to grow and evolve thanks to the support and enthusiasm of its community.
The open source aspect allows anyone from anywhere in the world to develop apps for the Pebble Smartwatch. This means that your user experience and the smartwatch itself will only get better with time.

Get phone notifications straight to your Pebble
See who is calling or get the most important e-mails and texts without having to pull your phone out in the middle of a meeting with the Pebble Smartwatch. The Pebble also allows you to easily answer or reject calls thanks to its intuitive side buttons.
With your phone's main functions readily available on your wrist, you'll stay connected at all times!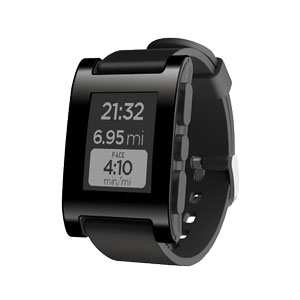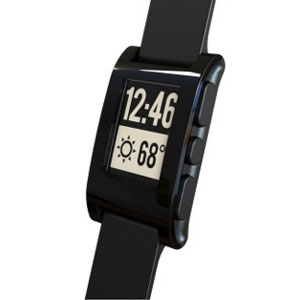 *Please note that the images above are for representation purposes only
Sleek stylish design
Pebble is designed with the user in mind - so you can be assured of its quality, user friendly interface and extreme comfort.
Including a modern design that is stylish, but with an air of subtlety.
Downloadable watch faces and apps
The Pebble Smartwatch allows anyone anywhere to create fantastic content for all Pebble users, allowing you to fully customise your smartwatch with new watch faces and exciting apps which are being released all the time.
Whether you want to check the score or track your run, the Pebble Smartwatch and its thousands of developers are constantly bringing you the latest must have apps - allowing you to leave your phone in your pocket more often.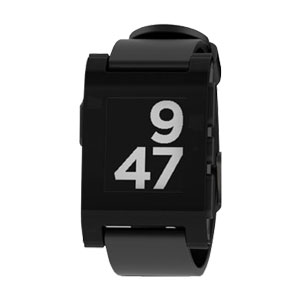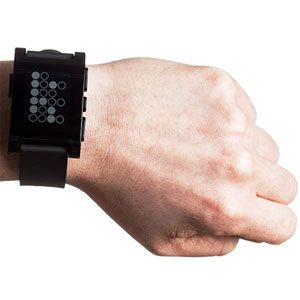 *Please note that the images above are for representation purposes only
E-Paper display
No need for squinting or maneuvering to try and see your screen, the Pebble's E-Paper display delivers a clear view even outside in sunny conditions.
Extremely long battery life
The Pebble bucks the trend of high-end technology that requires constant charging. The Pebble Smartwatch works for five to seven days before needing to be recharged thanks to its Lithium-ion polymer battery.
It charges through the easy to use USB charging cable with magnetic connector cable. Simply connect the USB end to your computer or USB mains adapter and then slot the magnetic connector in place for an effortless way to charge.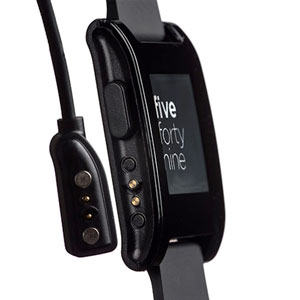 *Please note that the image above is for representation purposes only
Compatible with iOS and Android devices
Pebble is now fully integrated with iOS 7 and works seamlessly with Notification Center. This means that any notifications you've enabled in Notification Center on your iOS 7 device will appear on your Pebble.
The Pebble is also compatible with Android devices (2.3.3 and later), this means that you can get full access to all the amazing Pebble features on both iOS and Android devices.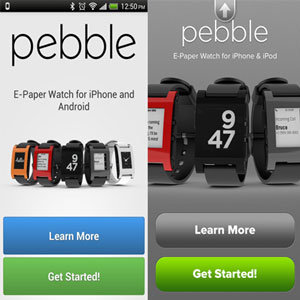 Perfect fitness watch
Get your pace without slowing down, or easily pause the Runkeeper app while at traffic lights so the stop doesn't mess up your stats. The Pebble Smartwatch gives you the freedom to track your run with live data delivered straight to your smartwatch.
Music Control
The Pebble lets you control your music while driving, running, or from across the room. You no longer need to mess with your phone in order to change track or adjust the volume.
Water-resistant
With a 5 ATM water resistance rating and a maximum operating altitude of 10,000 feet, you can be sure that the Pebble Smartwatch will keep up with your busy lifestyle.

Technical Specifications
Dimensions: Watch Face - 52mm x 36mm x 11.5mm, Band: 22mm wide
Weight: 38g
Display: 1.26", 144 x 168 pixels
LED backlight: Yes
Compatibility: Android 2.3.3 and later, Apple iOS 7.0 and later.
Bluetooth: v4.0
Sensors: 3D accelerometer
Processor: ARM Cortex-M3
Operating system: Pebble OS
Battery: Lithium-ion polymer battery
Charging: USB Charging cable with magnetic connector
Languages: English
Water resistance: 5 ATM
Humidity: 5% TO 95%
Max operating altitude: 10,000 feet
---
Key Details
Multipoint: No
Part No: 301RD