Most Useful Customer Reviews
N. Jones
Oxford
Galxy S4 Mini
6th May 2015
Just bought another!
Reviewed this in November last year and just bought another for an envious family member who is absolutely delighted. Still can't fault the case itself, although the belt clip (which I use daily) broke internally and couldn't be mended. You can, however, buy these clips from MobileFun in packs of two - not cheap but an essential spare if you use the belt clip often.
---
N Jones
Oxford
Samsung Galaxy S4 Mini
1st November 2014
Excellent product and price - couldn't ask for more
If you want a good, solid leather case that fits your S4 Mini perfectly, provides excellent protection but doesn't cost the earth, I'd say this is a very good buy. It's a really good looking case, made using what seems to be good quality leather, and the stitching is really nicely finished. It's perhaps slightly bulky compared to some of the slick designer cases costing several time the price, but I'd say it's more than adequate, being perfectly comparable in terms of function and far better value for money overall. The phone fits perfectly and is held securely by the two side clips, which are covered in what looks like hard leather so they provide an excellent grip and will not scratch or damage the phone. There are also two additional supports at the bottom of the phone, though these are almost unnecessary as the phone is more than adequately held in place by the side clips. There's no way the phone is likely to fall out of this case, and although the phone can be easily removed if needed, there's no real reason to do so in normal everyday use. (I see that MobileFun also sell PDair's pouch-type case with a low profile integral belt clip - a good choice of you like to use your phone out of the case, but I prefer to keep mine inside its protection!) It isn't absolutely clear from the product info on the website that the belt clip is included with the case, but it absolutely is included in the package. The clip is handy, albeit a little on the chunky side, although when in use hanging from your belt you don't notice it at all. It has a secure but quick-release facility to enable you to very quickly remove the case from the belt clip (much faster than trying to get the clip itself off your belt in a hurry) and vice-versa, so it's very easy to remove the clip from the case if you just don't want it there while handling your phone 'off the belt'. When the clip is removed, a small 'connection nipple' remains fitted to the back of the case (it screws into the hole shown on the photos), but this is insignificant and you easily forget that its there, even when handling the phone in its case. My wife and I just bought two new S4 Minis, so I ordered one of these cases for myself to see what it was like. We both liked it so much that I ordered a second one for her as well. Note that there are two very similar versions of this PDair case for the S4 Mini - on this one the cover is hinged at the bottom and flips down, hanging from the bottom of the phone when in use; it therefore has a cutout for the camera so you don't need to remove the phone from the case to take photos. The other, almost identical PDair case (product ref 41845), doesn't have the camera cut-out, but the cover folds upwards and over the top to fall down behind the phone, from where it can be 'rolled' further down to clear the camera lens. So you have a choice of 'flip-down' (this one) or 'flip-up' cases, and both come with a belt clip. I prefer this one as the cover hangs down and doesn't get in your way in the palm of your hand when handling the phone in the normal course of use, but that's just my preference. Overall I think this is an excellent product, extremely well made from good quality materials, and offering a high level of protection. It's comfortable to hold and use, has a handy belt clip and looks good to last. I really can't fault this case at all, so five stars for a quality product at a very good price.
Read 10 customer reviews
|
Write a review
---
Why Buy?
Made from high quality leather

Magnetic clasp to seamlessly hold your Galaxy S4 Mini

Hand stitched for supreme quality

Protects your phone from bumps and scratches
---
Description
Made from high quality leather
Manufactured from the softest leather, this Leather Flip Case also features hand stitching which adds a touch of real quality to your already stylish Galaxy S4 Mini. The case features a top side opening to make it easy to access your phone and small cutouts at the side to allow access to the functions and features of the S4 Mini.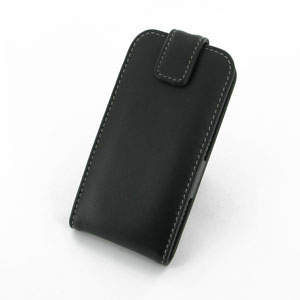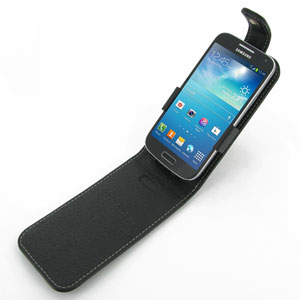 Magnetic clasp to seamlessly hold your Galaxy S4 Mini
The magnetic stud fastener on the case will ensure that once closed your phone will stay safely protected within the case and will prevent it from coming loose.
Hand stitched for supreme quality
Every PDair case is hand stitched together, then sealed with a long lasting bonding agent to ensure to help prevent tearing at the seams, ensuring they last the distance.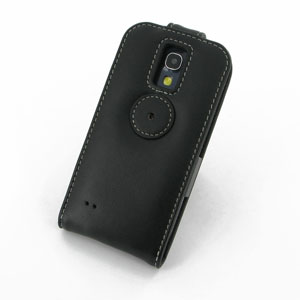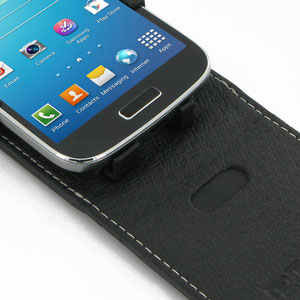 Protects your phone from bumps and scratches
Hand stitched cases, selected from premium leather cuts, specially selected for its durability and fade resistance. PDair cases use soft supple natural leather, unlike other cheaper leather imitation vinyl cases. In doing so the cases are not only soft to touch but incredibly resistant to scratches and scuffs.
---
Key Details
Colour: Black
Part No: 3BSSGMT41