Why Buy?
Easy to use control system

Jumps up to 80cm

Always lands on it's wheels

Remains upright thanks to it's Gyroscope

Built in camera for controlling from distance
---
Why not View a video about this product?
Description
Easy to use control system
The Jumping Sumo is a remote-controlled ground bot that leaps into the air using a high-powered piston. It's an agile, two-wheeled robot that's more suited for the ground, but can still get some air time too. When it needs to perform a jump, it tilts its body upward, retracts a back-facing piston into itself, and then fires it out again like a jackhammer!
The Sumo's controlled using a tablet or smartphone app; tilting the tablet steers the robot, while a slider controls forward and backwards movement. A quick swipe makes an instant 90-degree turn - the Sumo's inbuilt gyroscope and accelerometer ensures that it's remarkably accurate – while a separate buttons lets you control the length and height of jumps. There are also preset stunts, including a rapid spin mode.Point of view visuals are provided by a QVGA camera, while there's also a micro USB port for charging; an hour of charging will give you around 20 minutes of play.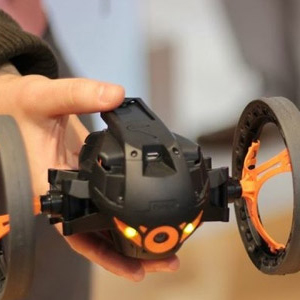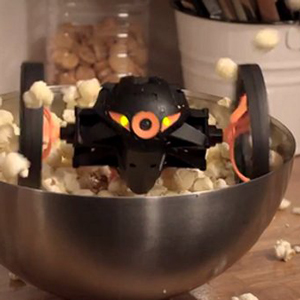 Remains upright thanks to it's Gyroscope
Sumo is able to launch up to 80 cm (31.5) and is equipped with a gyroscope and accelerometer, which helps it to right itself once it lands and remain upright while rolling on the ground. Its two large wheels allow it to make sharp turns or even spin 360-degrees while remaining in one spot. Users guide the Sumo through a smart device with Wi-Fi 2.4 or 5 GHz connections, and can even control it from afar thanks to a built-in camera on the front that streams video in real time.
Check back for more information on this awesome fun robot as soon as we have it. It's going to be one of the "must have" toys of the next few years.
---