Most Useful Customer Reviews
James Harrison
Warrington
LG G5
15th September 2016
Best Manufacturer for phone covers
I already use a Otter box at work for my Galaxy note 4 and I am glad I bought one for my LG G5. It keeps it clean, safe from dropping and scratch resistant cover. I love the chunky feel and easier to handle and feels really comfy when watching videos or playing games. Could not fault it and highly recommend to all. Well worth the price. You get what you pay for with this product
---
Aleksandar
Belgrade
LG G5
7th August 2016
True armor
Well let me just say this - if you're looking for the ultimate protection then this is the case you should buy. Sides and back of the phone are completely protected I mean there's nothing it can penetrate it. Drops from one meter are just not drops anymore, it's literally like putting the phone on a table - nothing's gonna happen to it. Everything fits perfectly fine, volume buttons are clicky, you have your usb port and headphones jack covered with rubber hatches which seem durable. Two things couldn't be helped. First - the bulkiness. Phone gets big, really big. Doesn't fit any pocket anymore, some bag or purse or something is mandatory with it. Since it's fully enclosed protection you obviously have some kind of screen protector. Well, if you already have one on the screen take it off or suffer a mild loss of sensitivity in lower parts of the screen. That's it, 5 stars from me because you are getting the protection that was so much needed with Otterbox Defender.
Read 5 customer reviews
|
Write a review
---
Why Buy?
Designed specifically for the LG G5

Boasts 3 layers of comprehensive protection

Use your LG G5 while it's in the case

Access to all ports and features

Includes a belt holster for easy access and transportation
---
Description
The OtterBox for LG G5 Defender Series will offer your device peerless protection with a slim and sophisticated look.
Boasts 3 layers of comprehensive protection
The OtterBox Defender Series wraps your device in 3 layers of protection. The first layer is a strong polycarbonate shell which caresses your LG G5, providing added protection against drops and bumps. The shell features cut-outs which are designed to give you access to all of your device's ports and features.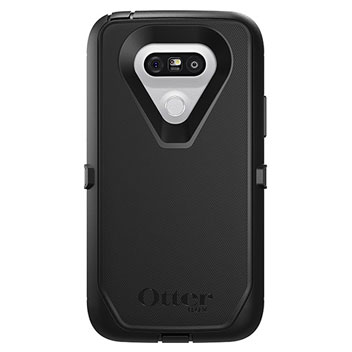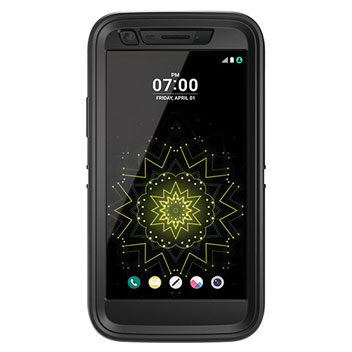 Silicone skin to protect all of your device
The second layer is a silicone skin, which wraps around the polycarbonate shell and absorbs any shocks which would be otherwise felt by your device. The silicone skin also features cut-outs to give you access to all ports and features.
Screen protection built-in to protect your device's screen
The final layer of protection is a thermal-formed sheet, which covers the screen and keys of your LG G5 to give your device 360° protection at all times.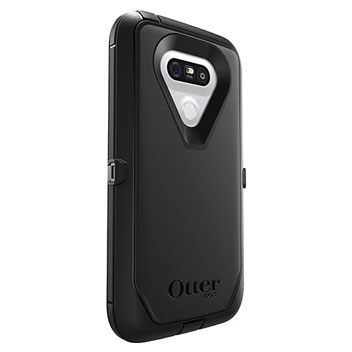 Includes a belt holster for easy access and transportation
Included with the OtterBox Defender case is a belt holder, which features a swiveling belt-clip that will hold the device with the screen facing in or out, allowing for easy access or extra protection when carrying your LG G5 on the move.
---
Key Details
Colour: Black
Part No: 77-53348