Most Useful Customer Reviews
Ant B
Hereford
samsung galaxy note 3
20th April 2014
The best case ever
This Otter box case is just the best yet we have had a otter box case on our origional Note and the new case is even better snugger fitted two tone grey and white great combination rather than boring black the whole phone is brillantly protected. Have not used the belt clip but it is sturdy and clips in to the cover very securely. The screen protection does not impeed the use of the screen in any way and although having a scratch issue with the origional note otter box screen protection after 18 months Otter box sent us a completely new case free of charge How highly can we recomend these defender cases not highly enough just a great product backed up by a great service
---
Lee
staffs
Samsung galaxy note 3
6th January 2014
You can't wrap your mobile phone in cotton wool...
But you can wrap it in an Otterbox defender case!. Having an expensive mobile phone and being clumsy like me is never a trouble-free totally enjoyable experience. I was on the lookout for a strong rugged case for my note 3 and came across the defender series of cases from Otterbox. I have heard of Otterbox before and purchased based on their positive reputation. Mobile fun delivered my case very quickly despite the holiday period and I was impressed with the whole purchase experience. Fitting the case was a breeze with full illustrated instructions included. The included screen protector is actually part of the enclosed case and this has been a negative for me in the past on previous cases on other devices, as the screen protectors never normally fit snuggly against the phone display, causing touchscreen issues. This is not a problem on the Otterbox case for the note 3 as it fits snuggly across the entire display, so is well built. The defender series certainly makes your phone feel robust and secure, however it does add bulk and a little bit of weight to an already substantial phone. This is to be expected. Another slight issue is that despite fitting the case correctly there is a small amount of creaking thanks to tough plastic and the rubber shroud. Overall this is a great purchase. It inspires confidence to use your phone in a rugged environment and provides peace of mind should you ever drop the phone.
Read 54 customer reviews
|
Write a review
---
Why Buy?
Designed specifically for the Galaxy Note 3

Boasts 3 layers of comprehensive protection

Use your Galaxy Note 3 whilst its in the case

Access to all ports and features

Includes a belt holster for easy access and transportation
---
Description
The Otterbox for Galaxy Note 3 Defender Series will offer your device peerless protection with a slim and sophisticated look.
Boasts 3 layers of comprehensive protection
The Otterbox Defender Series wraps your device in 3 layers of protection. The first layer is a strong polycarbonate shell which caresses your Galaxy Note 3, which provides added protection against drops and bumps. The shell features cut outs which are designed to give you access to all of your devices ports and features.
Silicone skin to protect all of your device
The second layer is a silicone skin which wraps around the polycarbonate shell and absorbs any shocks which would be otherwise felt by your device. The silicone skin also features cut outs to give you access to all ports and features, but it is design with silicone covers so you can ensure that, when not in use, all ports and features remain protected at all times.
Screen protection built-in the protect your devices screen
The final layer of protection is a thermal-formed sheet which covers the screen and keys of your Galaxy Note 3 to give your device 360° protection at all times.
Includes a belt holster for easy access and transportation
Included with the Otterbox Defender case is a belt holder which features a swiveling belt-clip that will hold the device with the screen facing in or out, allowing for easy access or extra protection when carrying your Note 2 on the move.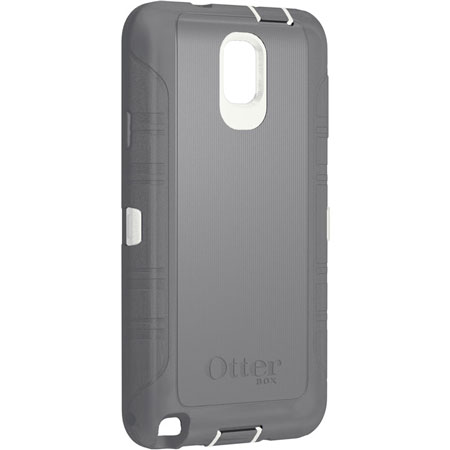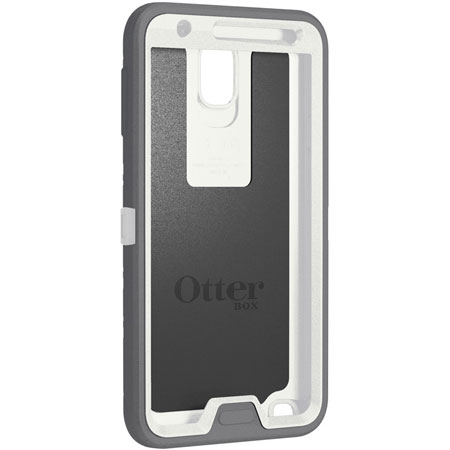 ---
Key Details
Colour: Grey
Part No: 77-35618