Most Useful Customer Reviews
18th July 2013
Awsome case
I have used this case when ever I take my htc one out and about with me for protection against accidental drops etc and can so far say it has been perfect for everyday use. It's super easy to apply to the phone and once you've applyd the back cover, it gives the phone a solid feel and easy enough to grip with the inner layer being made of rubber. I have test dropped it a few times on grass and other hard flat surfaces and I haven't got a scratch or dent to the phone since. I would highly recommend this for as the name says, a commuter, day to day travelling. Would buy otterbox again.
---
10th May 2013
Ultimate protection.
I had the Commuter case for the HTC One X so I knew pretty much what to expect when I ordered this. Yes I agree with those that feel it's a crime to hide such a beautiful phone as the HTC One away behind such a case, but for those of us who need this protection, look no further. The case adds a bit of bulk to an already large phone, but it completely relieves the fear of dropping it. Even a drop on the corners is not going to smash the screen. There is a decent lip all around the screen and a screen protector included. The screen protector is high quality. What this means over the cheaper £1 gets you 6 variety, is that it wont pick up fine scratches from your finger nail, and feels almost as smooth as the bare glass. Fit it properly and you'll quickly forget it's there. Unlike the Commuter for the One X, this case is much easier to remove, so you can still enjoy the beauty of the One when in the soft safety of your home, without wrestling with an awkward fit. With a bit of practice, it comes off & on in a few seconds. I can confirm that the stock Mobile Fun have are the second gen versions, where they have left the power button open so you can still use the IR Remote features of this phone. What is also as important as the total protection this provides, is that this case complements the same premium quality of the phone it protects. This is a £500 phone. Fitting a £5 case is just wrong. With the Glacier Commuter case fitted to the silver One, they suit each other very nicely and people can still tell you are touting a high-end piece of hardware. The only downside to such protection, is that I'd advise taking this case off for high-end intensive gaming. This phone can get quite warm when it is pushed to its limits, and letting a phone run too hot for too long can impact the long-term performance of the battery. The battery can't be replaced on this phone so bear this in mind when gaming. This is not a fault of the case though. You want a phone that is resistant to 18 month old toddlers, drops and knocks, get this case. Usual astonishing delivery service from Mobile Fun. Again in my hands in under 24 hours from order.
---
Read 14 customer reviews
|
Write a review
---
Why Buy?
Maximum protection for the HTC One M7

Silicone plugs to protect ports from damage

Built in bump and shock protection

Provides clear plastic screen protection
---
Description
Maximum protection for the HTC One M7
The Otterbox Commuter Series case for the HTC One M7 offers the best of both worlds; incorporating elements from the rugged Defender Series line with the silicone, skin-like Impact Series line to create a slick case designed with your style in mind.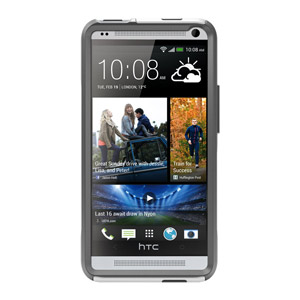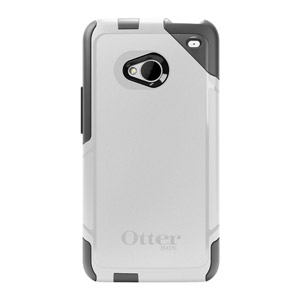 All of the phone's buttons are fully accessible through the case so you can still access all of your phones features, such as the charging port and camera, without having to remove your handset from the case each time you need to use it.
Silicone plugs to protect ports from damage
The inner silicone layer of the Otterbox Commuter case features silicone plugs which help to keep your charging port, headphone jack and volume controls free from damage caused by dust and a build up of grime.
Built-in bump and shock protection
The exposed silicone corners dissipate impact away from the device for additional bump and shock protection and the smooth outer layer allows the case to easily slide into your pocket or purse.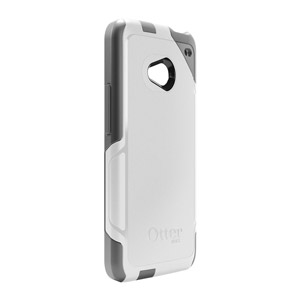 The silicone skins also feature cut outs so you can still access all of the ports and features. The silicone case also incorporates plugs which are designed to protect all of the ports.
Provides clear plastic screen protection
The case also incorporates a clear plastic screen protector which gives your phone complete protection against bumps, scratches and dirt. The screen protector is designed to be hardwearing but incredibly thin so it won't interfere with your phones touch screen functionality.
---
Key Details
Colour: Grey, White
Part No: 77-26425