Most Useful Customer Reviews
PeteC
S. Staffordshire
Google Nexus 7 2012
8th August 2014
Perfect piece of kit!
Having read on many web sites that many of the cheaper OTG cables did not work with a Nexus 7 I was encouraged to find MobileFun with really positive reviews. This gave me the confidence to order the cable. I really did not want the hassle of buying an OTG cable which might or might not work. I have not been disappointed as it works like a charm! You cannot beat that!!
---
SurreyJames
Surrey
Google Nexus 7
10th November 2012
It works!
I bought a 32gb Nexus 7 for use when travelling. The tablets has no external storage connection and so no mechanism of e-mailing photos from a camera. You also can't listen to music or watch videos from an external source. I didn't want to 'root' this new purchase as this invalidates the warranty. So using the connector in conjunction with the 'Nexus Media Importer' app I've been easily able to do all of the above. The cable fits snugly and doesn't fall out unlike some other cables. It's a little more expensive than some others advertised elsewhere but it's worth paying a bit more for something that works flawlessly.
---
Read 28 customer reviews
|
Write a review
---
Why Buy?
Compatible with USB keyboards or Mice for improved typing and browsing experience

Small size lets you take it with you anywhere

Access storage on USB Drives (Rooted Nexus 7 Only)
---
Description
Compatible with USB keyboards or Mice for improved typing experience

A use for the Micro USB converter is to plug in a standard USB keyboard to make tying emails and documents on your phone even easier. Simply go to any text field in any app on your Samsung Galaxy S2 / Galaxy Note, and start typing. Or you can just start typing from the home screen to enter Google search. In addition, you can use the arrow keys to select any interactive item on screen, and then press enter to select it - perfect for if you need to switch apps but don't want to have to take your hands off the keyboard. You can even plug in a mouse and follow your cursor on screen and select and open apps.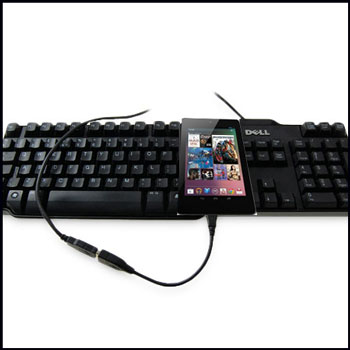 Small size lets you take it with you anywhere

This cable is small and compact, so you can take it with you anywhere you take your phone. So whether you want to type up a document with your flexible keyboard on the train, or upload photos to your Flickr account while on holiday, with the Micro USB converter you can.
Access storage on USB Drives

If you root your Nexus 7 the cable can also transfer photos and videos to and from a memory stick or memory card (with a suitable reader), you can plug them into this adapter and access them straight on your phone. This gives you practically unlimited storage for your media without having to turn the phone off to swap out the phone's memory card. It is also perfect for transferring photos taken with a dedicated camera to your phone for uploading to the internet while out and about.
---