Why Buy?
Five must-have accessories at an incredible price

Perfect gift idea for anyone and any occasion

Pocketsize selfie stick with rear-facing mirror for perfect high-definition selfies

Secure, lightweight and compact desk stand travels with you

Universal ultra-grip dashboard pad leaves no sticky residue

Advanced screen cleaner restores your device's beautiful display

Retractable Micro USB / Lightning cable means no more messy wires
---
Description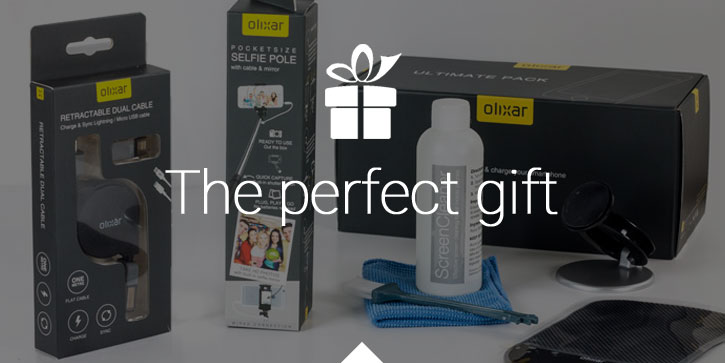 Do you want to give the perfect gift? Don't know what that gift should be, or simply want to make sure you're getting the absolute best value for money from your purchase? The Olixar Ultimate Smartphone Gift Pack is the answer...
This pack offers five incredibly useful, neatly presented items to enrich your smartphone experience. Combining convenience with simple, elegant and attractive design - these five Olixar smartphone accessories are sure to make any occasion special.
Inside the sleek gift box you will find accessories to clean your screen to a mirror sheen, to securely hold your device whether working or driving and to take the perfect selfie to capture that unforgettable moment. When you're done, transfer all your photos and charge your Micro USB / Lightning-compatible device via a mains adapter or powered USB port with the included retractable charge & sync cable.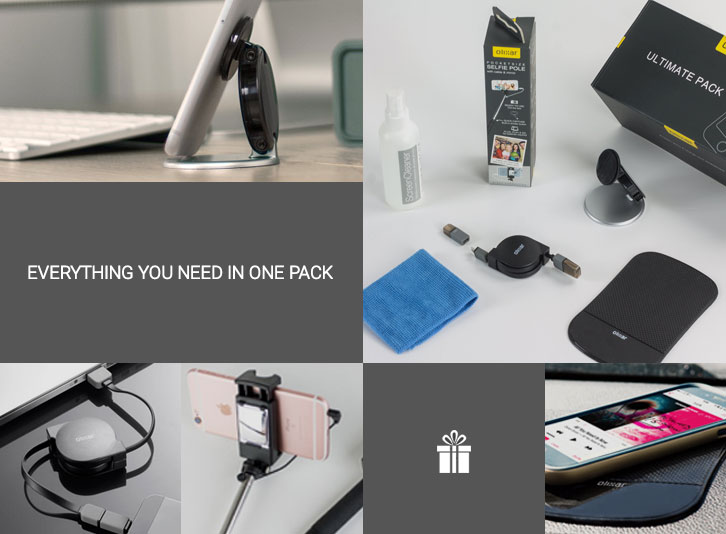 The Olixar Ultimate Gift Pack includes:
Pocketsize selfie stick
Universal desk stand
Ultra-grip dashboard pad
Advanced screen cleaner
Dual Micro USB / Lightning retractable cable
These accessories work perfectly together - creating a set of useful, well-designed items to enhance every aspect of your everyday life and lavish some richly deserved attention on your precious smartphone.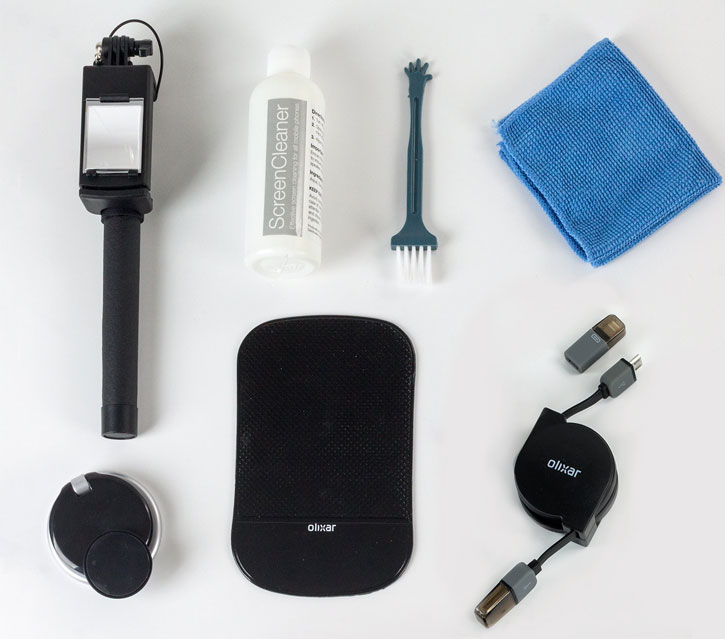 Pocketsize selfie stick with rear-facing mirror for easier high-definition selfies
Capture high quality selfies in comfort with the Olixar Pocketsize Selfie Stick with Mirror. This selfie stick features an ingenious built-in mirror on the rear of the holder, so you can line up your shot and snap your picture using your phone's far superior high-definition rear-facing camera. After all, your once-in-a-lifetime photos deserve to be viewed as you experienced them: in crisp, beautiful high resolution. Taking selfies with the Olixar Pocketsize Selfie Stick couldn't be easier, too, thanks to an intuitive retractable design which has the dual benefit of allowing minute adjustments while also adding portability.
Secure, stable and compact desk mount
This portable, lightweight folding stand is perfect for holding smartphones wherever you are. Featuring an innovative folding design, the StandFast can be effortlessly transformed from its flat, portable form to a handy smartphone stand in seconds. The stand's strong, effective adhesive ensures your phone is secure while mounted, while the universal design ensures a huge range of devices are supported, in both landscape and portrait format. View media, check recipes, respond to messages, video call friends, surf the internet...the possibilities are endless.
Ultra-grip adhesive-free dashboard pad
The Olixar Tree Frog dashboard pad offers an excellent, adhesive-free car mounting solution. The flexible gel-like pad will easily fit to the contours of curved dashboards, providing a firm grip when placing even large devices, and the special silicone won't leave any sticky residue to either your car dashboard or the objects you place upon it. No messy glues, no magnets to install - just a beautifully simple grippy surface for your items.
Advanced screen cleaner ensures a spotless display
This screen cleaning solution is an easy, effective way to restore your phone's screen to a shimmering, shining glory. Lasting for approximately a few days, the Olixar Advanced Screen Cleaning solution is easily applied to your devices. Simply spray a small amount of screen cleaning solution onto the microfibre cloth (not directly onto your screen), then wipe in a circular motion until clean and dry. Perfect for smartphones, as well as tablets, laptops and anything with a screen.
Micro USB and Lightning cables with an elegant retractable design
Say goodbye to messy wires with the Olixar Retractable Dual Micro USB and Lightning charge and sync cable. Capable of charging both Apple Lightning devices and Micro USB-compatible smartphones or tablets, this retractable cable is the ultimate in convenience and safety. Simply take as much of the 1m long cable as you need to connect your devices together and when you're finished, the cable retracts back into a sturdy, protective shell. The switch-tip design means swapping from Micro USB to Lightning is easy and quick, while the included caps for your connectors keep them clean and protected.
---
Key Details
Colour: Black
Mounting Type: Dashboard