Most Useful Customer Reviews
stephan deegan
sheffield
blackberry z10
7th July 2015
great value for price
i purchased this item from mobile fun I don't know why I did not buy one earlier no messy cables neat and tidy looks smart as well just what I needed spend a lot of time driving this is what you want a great item proper value for the money
---
ROLAND
Northwich, Cheshire
Nokia Lumia 625
25th March 2014
SO FAR, VERY GOOD.
At my age, 62 years, that which never ceases to tickle my funny bone, is the plethora of gadgets available to make our lives easier; or worse, depending on the equally plethoric garbage out there. Therefore, when I discover one that actually does not irritate me, I am wont to celebrate. "How would you do that" I hear you say. Well that is easy; I just plug it in, make the necessary adjustments – and forget about it with confidence. The Retractable Car Charger With USB Port - Micro USB is just such a device: It does the job; it is handy; it is uncomplicated; it is user-friendly; and, I imagine that if one was to be of the female persuasion – quite cute. The wire – 900mm-long - is more than adequate for my purpose and, being retractable, one may only extract the length required; i.e., the length not required is easily retracted into the body of the charger, thus ensuring that no excess wire is left floating around as one drives. Therefore, the chances of accidentally snagging the wire are minimised – unlike my previous charger. Furthermore and very importantly, the plug fits snugly onto the phone's socket, ensuring no loose connection power interruptions to it. Finally, I rarely award 5-star approval because, being of the engineering fraternity, nothing is ever that good. However, for this unit I am 5-star satisfied. Well done to its manufactures and well done to MobileFun for its distribution.
---
Read 171 customer reviews
|
Write a review
---
Why Buy?
Retractable cable avoids tangles

Sleek and stylish design

Compatible with 12 or 24 volt sources

Built-in USB port will charge other devices at the same time
---
Why not View a video about this product?
Description
Retractable cable avoids tangles
This fantastic car charger from Olixar features a retractable wire, which means you do not have excess wires getting in your way.
Thanks to its compact size and ergonomic design, it is handy and convenient to use in the car.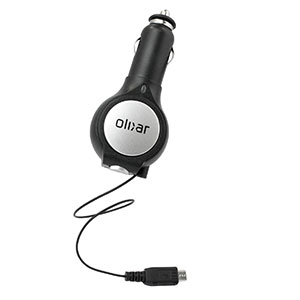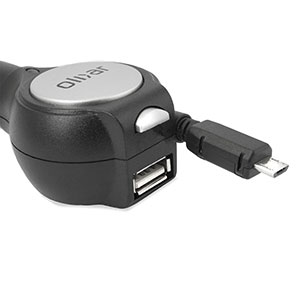 The Olixar car charger has an automatic cut off, which stops charging once your phone's battery is full to ensure that your phone doesn't become damaged as a result of overcharging.
One touch cable quick release button
Located on the top of the retractable charger is a quick release button, which will wind the cable back into the charger housing to help eliminate clutter. This also allows you to set the cable to the right length for your needs.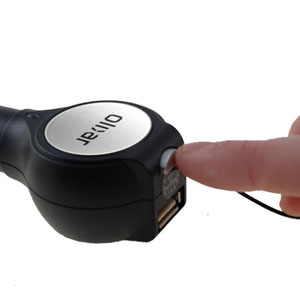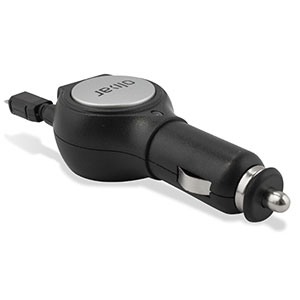 Sleek and stylish design
The Olixar car charger is the result of careful design, functionality and ergonomic research.
Quality components, construction and the high gloss materials make this one of the most advanced car chargers in the world.
The premium finish ensures that it matches the interior of your car.
Compatible with 12 or 24 volt sources
The Olixar car charger switches between 12 and 24 volts, so you can use the car charger either in your car or a lorry.
The charger also features an LED indicator to show when your phone is charging and when it's fully charged.
Built-in USB port will charge other devices at the same time
The best feature of this car charger from Olixar is its has a built-in USB port. This will allow you to charge other devices, including your sat nav (satellite navigation) or even another phone at the same time - arriving at your destination with charged devices.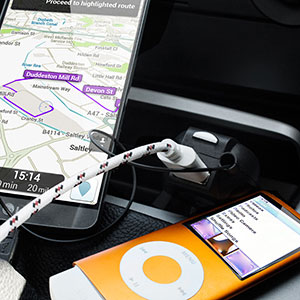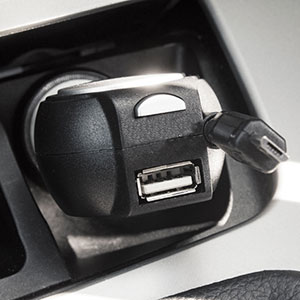 Technical Specifications:
Cord length: 95cm
Max Output: 1.5 amps
---
Key Details
Charger Type: Car Charger