Most Useful Customer Reviews
Graham White
Winchester
Samsung Galaxy S3
9th August 2012
Great case
The case is good quality and looks excellent on the phone. It does not increase the depth of the phone much but the little coin holder on the back does mean that the phone will not lay flat on its back with the case on. The coin holder works well although I haven't found a use for having the phone sitting up yet. I guess it's designed for watching movies but if you do want to do that then you'll need the phone plugged in to a power outlet due to the limitations of the battery. Bear in mind that this case does nothing to protect the screen. Hence you will also need one of those plastic clear covers. I picked one up from PC World and the combination gives me good protection without spoiling the aesthetics of the device. All round a great product.
---
Argus
Bucharest, Romania
Samsung Galaxy S3
3rd July 2012
Stylish, yet cool
Hard case, very snug fit, adds hardly any bulk. Gives a soft yet firm velvety grip. Vents are practical and, together with the bump on the back, further enhance the style and coolness of the phone. Excellent. Love it.
---
Read 63 customer reviews
|
Write a review
---
Why Buy?
Stylish black mesh design

Tough mesh construction protects against scratches and scrapes

Clip-on design for easy attachment and removal

Made for Samsung Galaxy S3
---
Why not View a video about this product?
Description
Stylish black design shows off your Samsung Galaxy S3
This Black Mesh Cool case understands that your Samsung Galaxy S3 is important to you. This is the non-compromising choice that looks good with its classical black design, shows off your swanky Galaxy S3 handset and protects your device from all angles. What more could you ask for?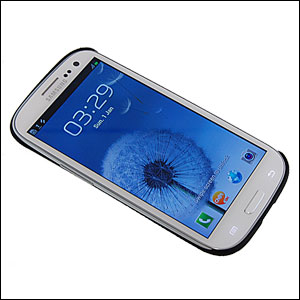 Protects your phone against everyday bumps and scratches
Keep your Samsung Galaxy S3 safe. This Black Mesh Cool case is specially designed using a contempory mesh material offering your Samsung Galaxy S3 a helping hand in defending against everyday bumps and scratches. Non compromising indeed, but vain it is not - the discreet design means your device takes centre stage with its swanky form on full view.
Built in slot to turn the case into a desk stand
The case features a raised slot on the back, this allows you to insert a coin into the back of the case so it can then be turned into a desk stand. The horizontal desk stand then allows you to view your Samsung Galaxy S3 at a comfortable angle so you can easily view text messages, read emails and watch videos/play games whilst you're at work.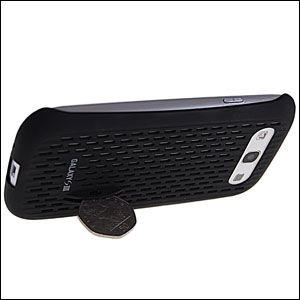 Use all the functions of your Samsung Galaxy S3
Look after your Samsung Galaxy S3 without compromising on quick and easy access to your handset. This protective mesh cool case allows you to use all the functions of your phone, wherever you go. Plus it clips on easily for a perfect fit.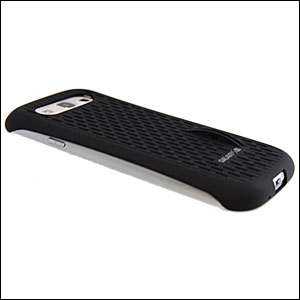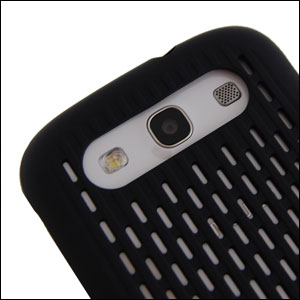 Ultra Samsung protection, combined with an ultra urban look
With a mesh cool case like this, you can confidently store your handset in your pocket, bag or briefcase without worrying if it will get damaged. Ultra Samsung protection, combined with an ultra urban look.
---