Most Useful Customer Reviews
Anonymous
London
Galaxy Note 4
25th September 2016
It's a new battery...
Spookily coinciding with eligibility for an upgrade, my Note 4 started to behave erratically - battery crashing to 0% from 17%, not charging overnight and suchlike. Now, I really like the Note range - the 2 was great and the 4 has been a bit better. But paying £57 per month for two years for the 7, for which you essentially get the same screen, waterproofing and a fingerprint scanner that works, seemed a bit steep. So I decided to shell out for a new battery to see if that would make a difference (note, pun intended, that you can't change the battery anymore so that trick can't be repeated with newer models). And Lo! My phone is restored and rejuvenated. So for the money, I have saved £40 per month for a year by staying on my existing contract (after which I'll think again about upgrading). What's not to like? MobileFun service was fine - the battery arrived quickly, as promised, tracked accurately. Couldn't fault anything.
---
Ticked Pink
Scotland
Samsung Galaxy Note 4
15th July 2016
The Genuine Article
They are a LOT of fakes out there guys- Don't take the risk. This listing here is the real deal. It's worth mentioning that Samsung themselves steered me here as one of the retailers that they deem reputable.
Read 16 customer reviews
|
Write a review
---
Why Buy?
Genuine replacement part

Same capacity as original battery

Built-in NFC technology
---
Why not View a video about this product?
Description
Genuine replacement part
This battery is an official Samsung replacement, so you can be sure of 100% compatibility with your Galaxy Note 4 and that it is covered by Samsung's manufacturer warranty.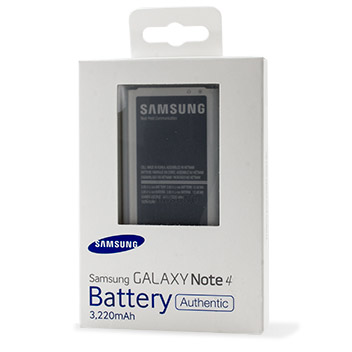 Same capacity as original battery
This battery is exactly the same battery that came with your Galaxy Note 4 when bought, so it has the same capacity. This means that whether you're looking to replace an old battery or simply want a spare, you can be confident of getting the same battery life and performance out of your phone as you originally experienced.
Built-in NFC technology
This official Samsung battery features a built-in NFC chip, which allows your Samsung Galaxy Note 4 to use NFC technology to immediately launch apps, instantly connect to Bluetooth devices, send text messages and change phone settings as well as many other things.