Most Useful Customer Reviews
Julie Chapman
Boston
Samsung GalaxyJ5
19th January 2017
Samsung case for J5
So pleased with my purchase of original cover for my J5 phone. Case fits onto phone and replaces the back of the phone this keeps the phone slim. Also when i open the cover my phone screen now lights up and i am ready to go. Good quality cover. Really pleased i decided to invest in the actual cover this time. Definitely recommend.
---
Rob Hendry
North Yorkshire
Samsung Galaxy J5 2015
18th May 2016
Top Quality case and worth the premium price.
I bought this Samsung Official Flip Wallet cover as a gift for my wife. I had previously purchased a Samsung Official Flip Wallet from MobileFun for her earlier phone and was very pleased with it. You can buy covers for the J5 at far cheaper prices than this but I feel the greater expense is justified by the quality of the item and the fit. The Flip wallet incorporates a 'new' clip on back for the phone and so does not bulk the handset out as the original back is removed on fitting. The Flip Wallet Cover clicks easily into place and hinges along the long edge of the phone. Importantly it looks to be part of the phone rather than something the phone is fitted into. It looks very much like leather but is not but should be hard wearing whilst offering excellent protection to your mobile. It does not hinder the practical use of the phone. I don't think that I I would make use of the credit card slip in section on the cover so as not to take a chance on marking the phone screen. It is a shame that there are not more options on colour to be purchased. In my opinion the extra cost of this Official Samsung item is worthwhile in that it looks good, is of good quality, provides excellent protection and simply looks as if it is part of the phone manufacture. You may not have the same criteria as I have for choosing a phone wallet and I can appreciate that you might consider that you can buy quite a number of cheaper protective cases for the price of this one an important factor in your choice. I can only say that in my opinion some cheaper phone cases do not always fit as accurately as they should and sometimes bulk out the phone and lack a little in quality and hinder phone use. I have bought covers in the past which look exactly what I needed in the website photograph only to find that on arrival they do not live up to expectations , this one does. Cheaper is not always best value. Also I would suggest to buy from MobileFun. Their accurate and honest item descriptions and videos reduce the chance of disappointment and their customer service is excellent. I hope this has been helpful.
Read 110 customer reviews
|
Write a review
---
Why Buy?
Official Samsung accessory made for the Galaxy J5

Provides comprehensive protection for your phone and the screen

Smart wake/sleep enabled

Slimline and durable construction

Card slot
---
Why not View a video about this product?
Description
Official Samsung accessory made for the Galaxy J5
This is an official Samsung product, so it's made to the highest standards with the best quality materials.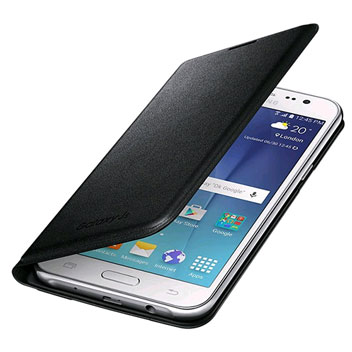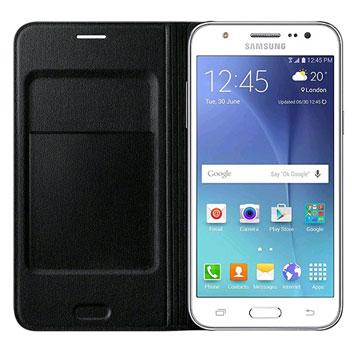 It is designed specifically for use with the Samsung Galaxy J5, so offers a perfect fit and does not impede the use of any of the functions including the power and volume buttons, headphone and charging ports or front and rear cameras.
Provides comprehensive protection for your phone and the screen
Protect the front of your Samsung Galaxy J5 from scratches, scrapes and front-on impacts with the official flip cover.
This cover replaces the back of your device without adding any bulk and then folds over the front when not in use. This means that the most important part of the phone, the screen, is protected from harm without the added thickness and weight normally associated with flip cases.
Smart wake/sleep enabled
The Galaxy J5 will recognise that a Samsung approved cover is fitted and will automatically turn the screen on when you open the cover and turn it off when you close it, saving you time and battery power.
Slimline and durable construction
Made from high quality synthetic leather materials, this flip cover will keep your Samsung Galaxy J5 screen looking good as new.
The cover is tough enough to withstand day-to-day punishment without blemishing, so both your phone and cover will remain pristine for longer.
Card slot
Inside this Galaxy J5 flip cover is a convenient credit card slot, ideal for storing cards, including credit and debit cards or even your ID.
Can also be used to store cards that include contactless features, meaning they will never need to be removed from the flip cover.
---
Key Details
Colour: White
Part No: EF-WJ500BBEGWW