Most Useful Customer Reviews
Peter B
Leicestershire
Official HTC one M8 cover
8th December 2014
HTC Clever design team
I have read some negative reports on this product but decided if HTC felt it worthy I would take a look at this cover. The phone fits easily into the pouch, seems flimsily held and it is, BUT it doesn't shake out, when the front cover is closed the dots line up perfectly, the screen is easy to read between the dots, impressing all that see it in use. At the price it's a steal. Delivery was prompt,I will use this company again. As they say it does exactly what it says on the tin!
---
Derek
Edinburgh
HTC One M*
11th April 2014
Excellent Case
The HTC One M8 is a beautiful piece of technology and I don't normally cover up my phones especially with flip cases but this case adds to the overall design of the phone. After seeing this one on YouTube I really liked the look of the dot matrix notification style. I was not disappointed. When you receive notifications or just double tap the case the dot matrix display looks great. The case itself fits the phone perfectly and the front flap sits flush with the screen, my only criticism would be it would be nice if there was some sort of magnet to hold the flap to the screen but it flips back so easily it isn't really a problem. You have full access to all your ports and you can even take your SIM out with this case on. A great case that I would heartily recommend.
Read 90 customer reviews
|
Write a review
---
Why Buy?
Official HTC accessory

Featuring Dot View see-through notification technology

Stylish dot matrix retro look and design

Full front and rear protection

Designed specifically for the HTC One M8
---
Why not View a video about this product?
Description
Official HTC product
This Dot View case is made by HTC, so you can be sure of a perfect fit. The case provides great protection for your HTC One M8 using the highest quality materials.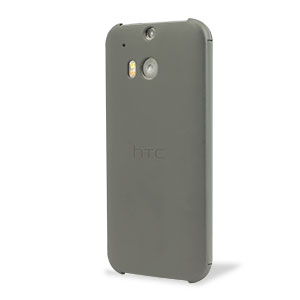 Featuring Dot View see-through notification technology
You've seen notification window technology before, but this is something else altogether...
Meet Dot View - an ingenious new solution from HTC for receiving notifications with your case cover still closed. Hundreds of perforations allow your display to relay information to you through the case cover, so you can respond to calls, alarms & calendar alerts and see notifications without opening the case.

Stylish dot matrix retro look and design
Not only is Dot View brilliant in terms of function, it's also brilliant in terms of form. Remember those dot matrix displays on machines, clocks, railway departure indicators etc? You will be filled with feelings of nostalgia when you view your notifications in this style.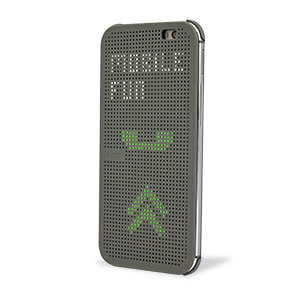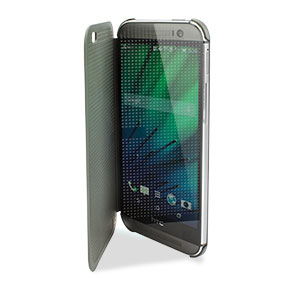 Full front and rear protection
Full front and rear protection? Case closed! That is to say, you don't have to open your case on the move if you do not wish to, therefore your HTC One M8 is fully protected front and rear.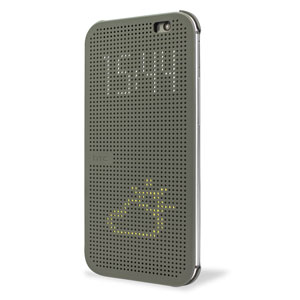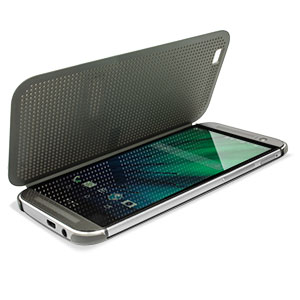 Designed for the HTC One M8
The case is an official HTC product and as a result, it features the highest quality materials and also precision cut-outs for the various ports and features of the HTC One M8 - meaning you won't have to remove the phone from the case to use it.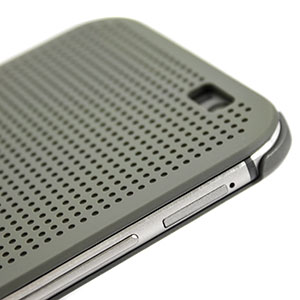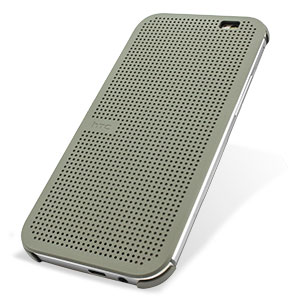 See all our HTC One M8 Dot View Cases
---
Key Details
Colour: Grey
Part No: 99H11415-00
NEW! Add a video – upload your video file or send us a web link
Hands On: Official HTC One M8 Dot View Case
MobileFunTV