Most Useful Customer Reviews
syxiepoo
Unknown
Samsung Galaxy Note 10.1 ... oddly enough!
18th August 2013
Get a grip!
A recurring problem with tablets and the larger smartphones, is getting a proper grip to avoid the old slip and drop scenario. Solutions are a) get a bag (not overly macho) or b) get a neat case. The latter solution is most helpful with holding the device and also protects, at least to some degree, against damage from moderate drops etc. This Noreve leather case is not cheap (it is real leather), but it achieves all of the required functions plus it operates as a very neat desk or knee stand and the quality is superb. I'm not sure what you'd get for around a tenner, but it certainly would not be this good. Highly recommended to all.
---
Ian
East Anglia
Samsung Galaxy Note 10.1
6th July 2013
miles better than the Samsung product. .
Needed a case for my new Note 10.1. Samsung case only available in white....I have the silver/grey version. Official product expensive and plasticky. For only just a few quid more, this is way more stylish and practical. Pretty neat and secure fit for the tab and, as already mentioned here, the picture doesn't show that the inside of the cover has 3 ridges and the closure clip thing to offer 4 positions in total....enough for most uses. Looks smart and feels the part too, with no Samsung lettering either on show. Recommend wholeheartedly!
Read 17 customer reviews
|
Write a review
---
Why Buy?
Elegant case conceived in top quality hand-crafted leather

Compatible with Samsung Galaxy Note 10.1

Practical thanks to its magnetic closure

Slim and padded design

Protects the device in an optimal manner

Access to basic functions (multiple openings on the leather)

Folds into a viewing stand for your Note 10.1

Beautiful interior lining embossed with the Noreve logo
---
Description
Elegant case manufactured from high quality handcrafted leather
Created in the capital of fashion and luxury, St. Tropez, the Noreve brand manufacture cases using only the finest quality materials and methods. Conceived in top quality handcrafted, fine-grain leather, the Noreve Tradition Leather Case for Galaxy Note 10.1 is both incredibly sophisticated and superbly durable.

Designed specifically for the Samsung Galaxy Note 10.1
Manufactured specifically for the Samsung Galaxy Note 10.1, the case provies superior protection in exactly all the right places. The reinforced sides of the case clip easily and securely to the back of your phone, holding it safely in place. Specialised cut outs also allow easy access to all of the main ports and buttons of the device so you can charge it and make use of all of its features without having to remove it from the case.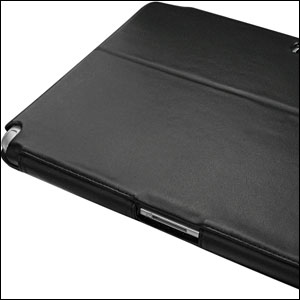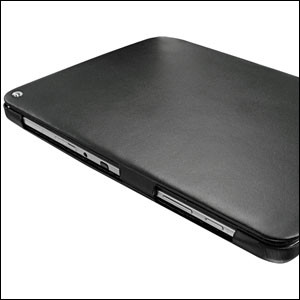 Folds into a viewing stand for your Note 10.1
Designed to provide full functionality to your device as well as superb protection, the Noreve Tradition case can be folded back onto itself in order to use it as a viewing stand for your Note when in a horizontal orientation.
Slim and padded design
Featuring a slim fitting design and quality padded leather material, the Noreve Tradition Leather Case provides fantastic protection against scratches, knocks and drops.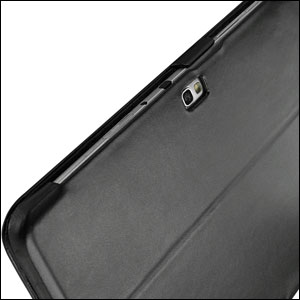 Quick and convenient fastener
The moulded fastener edge of case helps to keep your phone fully protected on all sides quickly and conveniently. When packed in your bag or luggage, the fastener will make sure that the front of your phone is safely protected from harm.
---