Most Useful Customer Reviews
29th January 2012
Very attractive and well made
Some might say that it is expensive, but stinginess gets you mediocrity. I wanted the best. I don't regret buying it. I bought also the metal belt clip but I think that for normal use, the plastic clip supplied is adequate. If you want the best buy also the metal clip
---
30th May 2011
Just What I Wanted
This case is excellent. Smart, functional and easy to use. Great to use with the belt clip or without. One word of warning, the screw used to hold the belt clip stud needs to have the thread locked with super glue - without it I found the screw slowly loosens with use. A minor point (easily rectified) for an excellent product. I thoroughly recommend this to anyone wishing to protect their e7.
Read 5 customer reviews
|
Write a review
---
Why Buy?
Elegant case conceived in top quality handcrafted leather

Made for the Nokia E7

Access to basic functions (multiple openings on the leather)

Practical thanks to its snap closure

Camera lens access

Cutout for headphone set

Access for light and proximity sensors

Opening for recharge and syncronization

Completely removable plastic belt clip included
---
Description
Protect your device with one of the most luxurious cases in the international market.
Noreve has introduced its Nokia E7 Luxury Leather Case. It is an elegant case conceived in top quality handcrafted leather. The case features cut-out access to the headphone jack, dock connector and screen. It also features a padded design, a button closure, and an interior lining embossed with the Noreve logo. The Noreve tradition is that of a flip case featuring multiple openings that allow full access to the E7 along with this Noreve cases are constructed from fine-grain leather for both style and protection.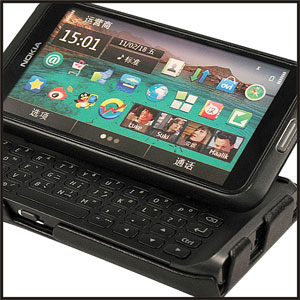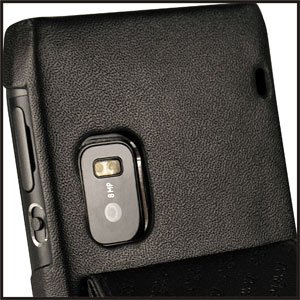 A stylish case for a stylish phone. The Noreve tradition case for the Nokia E7 adds sophistication and practicality as well as extra padding and a magnetic clip for extra security. With easy access to all buttons and ports; it's the classy way to keep your E7 clean and as good as new.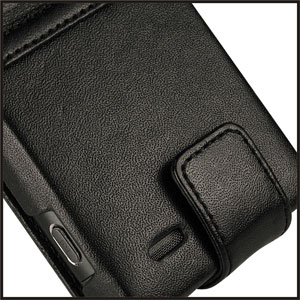 The Noreve brand was created in the capital of fashion & luxury, in St. Tropez, so expect only the best materials & fitting every time. This case has a completely removable clip that ratchets 360 degrees. Remove the clip and you have a completely flat surface on the back, a perfect plus for those of you that dislike clips.