Most Useful Customer Reviews
22nd October 2011
Excellent Product
The case fits the HTC Desire like a glove and holds the phone very securely. I quite like the press button to close rather than a magnetic catch and the leather is top quality. The optional belt clip is useful if you want that otherwise the case fits the phone flatly. This is the 3rd product I have purchased from Mobile Fun and have to say they are first class.
---
27th April 2010
Very nice!
Lovely case, well made and very high quality. If your going to have a handset that's worth a few hundred quid spending a little more to protect it is a no-brainer. The Desire fits this case like a glove and still retains all the phone's functionality. Very pleased with it.
Read 52 customer reviews
|
Write a review
---
Description
Protect your device with one of the most luxurious cases in the international market.
Key Features:
Elegant case conceived in top quality handcrafted leather
Compatible HTC Desire
Access to basic functions (multiple openings on the leather)
Practical thanks to its snap closure
Camera lens access
Cutout for headphone set
Access for light and proximity sensors
Completely removable plastic belt clip included
Noreve has introduced its HTC Desire Luxury Leather Case. It is an elegant case conceived in top quality handcrafted leather. The case features cut-out access to the headphone jack, dock connector and screen. It also features a padded design, a magnetic closure, and an interior lining embossed with the Noreve logo. The Noreve tradition is that of a flip case featuring multiple openings that allow full access to the HTC Desire along with this Noreve cases are constructed from fine-grain leather for both style and protection.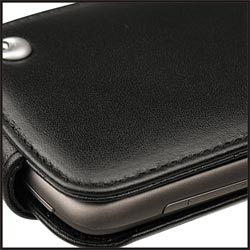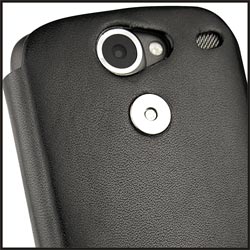 A stylish case for a stylish Desire. The Noreve tradition case for the HTC Desire adds sophistication and practicality as well as extra padding and a snap closure for extra security. With easy access to all buttons and ports; it's the classy way to keep your HTC Desire clean and as good as new.
The Noreve brand was created in the capital of fashion & luxury, in St. Tropez, so expect only the best materials & fitting every time. This case has a completely removable clip that ratchets 360 degrees. Remove the clip and you have a completely flat surface on the back, a perfect plus for those of you that dislike clips.