Most Useful Customer Reviews
4th November 2013
Excellent Christmas Gift!
Well after never using this website before I had no idea what to expect however I was pleasantly surprised when I received this case as it comes in its own branded box with a pouch around the case as well looks a really top quality product and the smell of the leather is unmistakable! I would highly recommend getting this case for yourself or as a gift to others as the quality of the product highly exceeds the price! 10/10 Full marks 100% purchasing from this site again!
---
20th November 2010
great compact quality leather case
I tried a few cases before the noreve one. This is the best one in my opinion.. it is compact and of a good quality smooth leather. I've not used the stand but it doesn't get in the way either - it's held in magnetically, I don't even notice it's there. Same with the document pockets. It's held in place by the 'rails', these don't cover any part of the kindle. The level of protection provided is adequate for my use (carried in handbag). Overall the kindle looks good in the case, it's discreet (as a kindle can be)and doesn't add unnecessary bulk or weight. Plain and simple.
Read 13 customer reviews
|
Write a review
---
Description
Protect your device with one of the most luxurious cases in the international market.
Key Features:
Elegant case conceived in top quality handcrafted leather
Compatible with the Amazon Kindle Keyboard
Access to basic functions (multiple openings on the leather)
Practical thanks to its magnetic closure
Cutout for headphone set
Opening for recharge and synchronisation
Business card or credit card slot
Noreve has introduced its Amazon Kindle Keyboard Luxury Leather Case. It is an elegant case conceived in top quality handcrafted leather. The case features cut-out access to the headphone jack, micro USB connector and screen. It also features a padded design, a magnetic closure, and an interior lining embossed with the Noreve logo. The Noreve Tradition is a flip case featuring multiple openings that allow full access to the Amazon Kindle Keyboard. Along with this Noreve cases are constructed from fine-grain leather for both style and protection.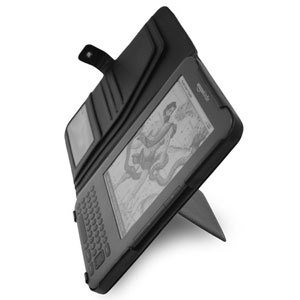 A stylish case for a stylish device. The Noreve tradition case for the Amazon Kindle Keyboard adds sophistication and practicality as well as extra padding and a magnetic fastener for extra security. With easy access to all buttons and ports; it's the classy way to keep your Amazon Kindle Keyboard clean and as good as new.
The Noreve brand was created in the capital of fashion & luxury, in St. Tropez, so expect only the best materials & fitting every time.