Most Useful Customer Reviews
25th November 2010
Works Well, but V Fussy About Cables
This box of tricks works well, but is incredibly fussy about HDMI cables. I tried 4 before I found one that would work!! You need an older HDMI 1.2 cable. 1.3 will also work, but 1.4 wont. Additionally, I found that 1.3b HDMI cables also would not work. Quite why they came up with this limitation is anyones guess! I would rather that the unit connected to the iPhones 30-pin connector via a cable that locks into place (rather than connecting directly into the bottom of the phone) The current mechanism means that with an unweildy HDMI connection in place, the Noosy while box may become disconnected from the phone. The current method means that handling the phone once the cable is in place is not really possible, and as such playing games on the big screen does not work well. To be honest, if I had done the industrial design on this, then the converter box would have been included within a 2M long cable with an HDMI on one end and an Apple 30-pinner on the other end. Picture quality is good (way better than composite!). Its a shame that apples uses for TV out are so restricted though. Jailbreak your device, install tvout2 and you will be able to see your iphones user interface on the big screen. Get mxTube, download some HD videos and astound your mates with the picture quality. Nigel
Read 1 customer review
|
Write a review
---
Why Buy?
Watch HD up to 720p videos on your HDTV

Supports both Audio and Video

Compact unit for easy portability

Compatible with iPad, iPhone 4 and iPod Touch 4G
---
Why not View a video about this product?
Description
Watch your HD videos stored on your iPhone, iPad or iPod Touch 4G with this Noosy HDMI Adaptor.
This adaptor supports both Audio and Video playback on your HDTV up to 720p. It is a very simple device to use, plug a HDMI cable into one end and the other into your Apple device, hit play and watch your video on the big screen. This adaptor can playback videos, movies, podcast, photos and music. The unit is very compact for easy portability.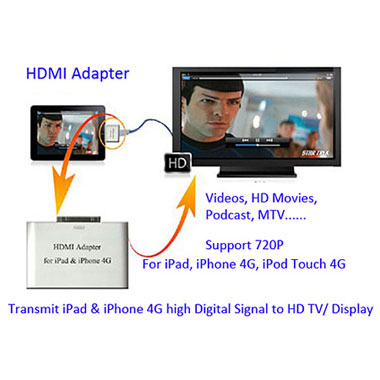 Specifications:
Video Bandwidth: 5.7G link
Size: 53mm x 13mm x 43mm
Weight: 18g