Most Useful Customer Reviews
Why not View a video about this product?
Description
The Nokia CK200 enables you to connect to two devices at once and switch seamlessly between both whilst in your car. It will also automatically download the phonebooks from each of the two devices connected and show any new text messages you recieve.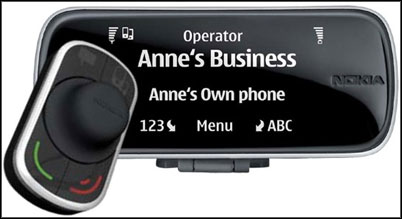 Connect with work and home on the road
Connect simultaneously to both your personal and business phones in the car. Switch between them easily with a single click, and stay organised and up-to-date.
Enjoyable in-car conversations
Connect to two phones for a seamless in-car communications experience. Switch between private and business phones easily and safely with a single button, and enjoy the DSP-enhanced audio quality.
Wireless remote control
Take calls and keep your hands on the wheel with the wireless remote control. And see who's calling on the clear, detachable display. You can even read received SMS messages on the car kit display. The wireless remote control lets you start and end calls, and switch phones to access the contacts in both connected phones. You can also mute and initiate voice dialling from the remote control, which can be mounted to the steering wheel, the dashboard, or by the gear stick.
Stylish design fits your car perfectly
The detachable 2.5" display is clear and easy to read. With adjustable RGB backlight colours you can set it the way you like and even match it to your car's colour.
Twice the connectivity
Use the multipoint connectivity to connect two phones simultaneously and switch between them with ease. The Nokia Car Kit CK-200 is universally compatible so it can connect to any brand of phone.
Talk quality
Both you and your caller will enjoy excellent audio quality thanks to the built-in DSP (digital signal processing) and integrated 9 mm microphone.
Get more done
Be productive while you drive, stay in touch, and deal with company business, in a safe and convenient way.
Specifications:
Connect to two phones
Wireless remote control
High quality sound thanks to DSP and 9 mm embedded microphone
Adjustable display colour
SMS support (Full SMS functionality only with Nokia S60 3.2 onwards)
Easy software updating