Noke App-Controlled Smart Padlock

Product Reference: 57406
"The Noke padlock is great but expensive"
"A great timesaver"
Most Useful Customer Reviews
8th July 2016
The Noke padlock is great but expensive
The Noke padlock is great but expensive. It is very convenient, but unlocking can be difficult sometimes.
---
David Sidwell
Unknown
iPhone 6S
9th June 2016
A great timesaver
I love this product, it's extremely useful, very robust and works a treat. Perfect for locking my bike up and keeping the shed secure!
Read 5 customer reviews
|
Write a review
---
Why Buy?
Simplicity, functionality and security

Built for strength and security

Manage multiple padlocks for complete security of all your valuables

Weather resistant

Bluetooth 4.0 super low energy usage

Quick click back up system
---
Description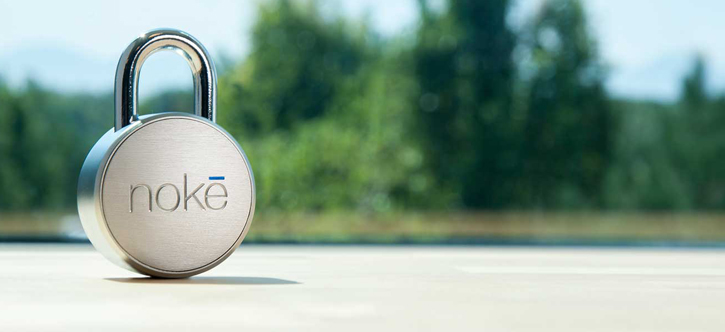 Simplicity, functionality and security
No key? No problem! The Noke Smart Padlock was designed to be the simplest electronic device you own and is a revolutionary solution to an age old problem - security. Noke automatically finds and connects to your Bluetooth 4.0 enabled smartphone for easy set up and connectivity. You don't even need to remove your phone from your pocket, bag or purse for quick and easy access to the things that matter to you most. The Noke padlock was designed with style in mind. With smooth surfaces and beveled edges, it feels great in your hand and looks better in use. It's simple yet deliberate, minimal yet striking. It's a rare combination of brains and beauty.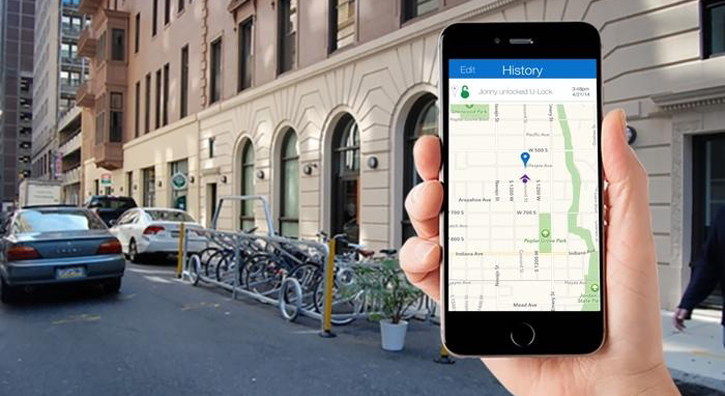 Built for strength and security
Whats the point in padlock that's easy to defeat? Don't worry, Noke is thoughtfully designed to withstand the toughest environments and most threatening situations. Built with steel and a boron-hardened shackle, the lock is incredibly strong and durable. The Noke also incorporates the latest in anti-shim technology so you can rest assured that your possessions are safe from thieves.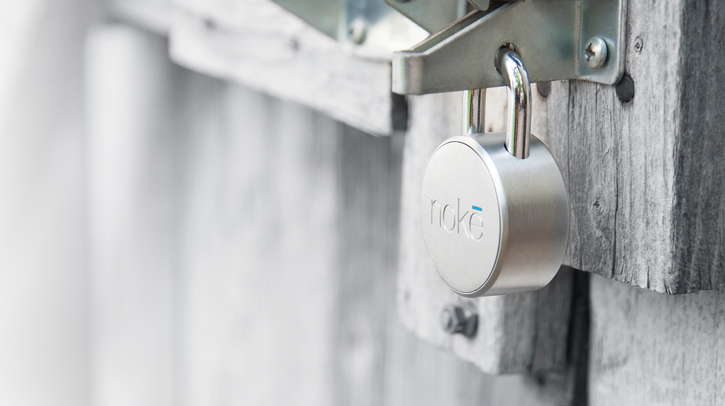 Manage multiple padlocks for complete security of all your valuables
Using the Noke app, you can manage a portfolio of padlocks from your phone's screen. You can set up each padlock with a specific name and settings for easy reference and access - or access denial. You can even share access with trusted friends family and colleagues if you wish. The history log lets you monitor where, when, and by whom your locks were accessed. There is also a location history function which allows you to view a map of where your Noke has been accessed. This is great for tracking items in transit.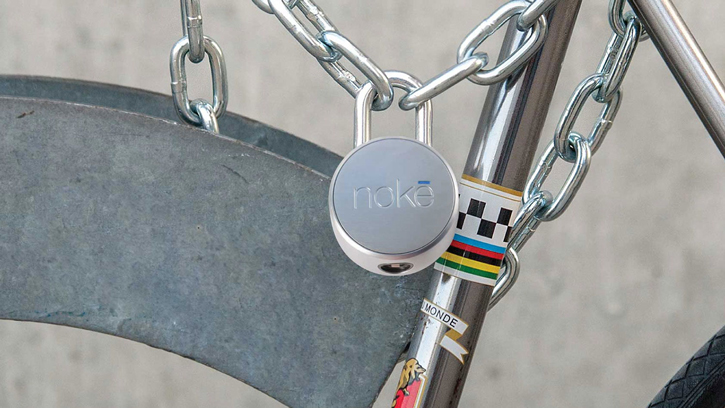 Weather resistant
Of course, being a padlock, you can expect it to be able to stand up to the great outdoors. Noke is built for anywhere and everywhere you might want to use a lock. This is why all buttons, sensors, and batteries are stored internally and protected with silicon O-Rings to keep water and mud from penetrating into the electronics compartment and damaging your lock. It's also made to withstand extreme temperatures, ranging from -10°F to 150°F (-23°C to 65°C).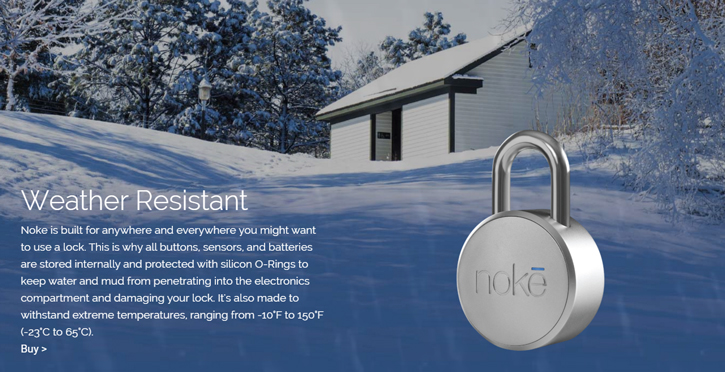 Bluetooth 4.0 super low energy usage
Compatible with a wide range of Apple, Windows and Android devices, the Noke Smart Padlock uses Bluetooth 4.0 technology to ensure only the minimum amount of power is required by your phone to remain connected to the padlock. This ensures the impact on your phone's battery is low. In fact, the The Noke padlock is packed with a long-lasting battery that will last over a year of regular use. The Noke app will notify you long before it's time to replace the battery. To replace it, simply unlock Noke and remove the back cover. No tools or equipment necessary. Noke uses a standard 2032 watch battery which is widely available. In the very unlikely event of your Noke's battery becoming flat, you can "jump start the padlock from an external battery, allowing you enough juice to open the padlock or fit a new battery.
Note: Requires Bluetooth 4.0 compatible hardware with iOS 7.0 and later or Android 4.3 and later. Please check your hardware and software meet these requirements.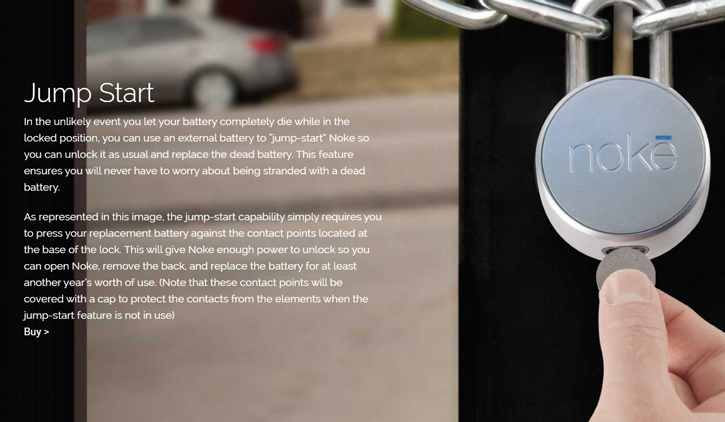 Quick click back up system
If your phone is ever lost, broken, or dead, the quick-click feature is your reliable back-up plan. When you first receive your Noke, you'll set up a unique combination of short and long clicks on the shackle. Then, if it ever becomes necessary to open your lock manually rather than via Bluetooth, you can use your custom quick-click code for instant access to your lock.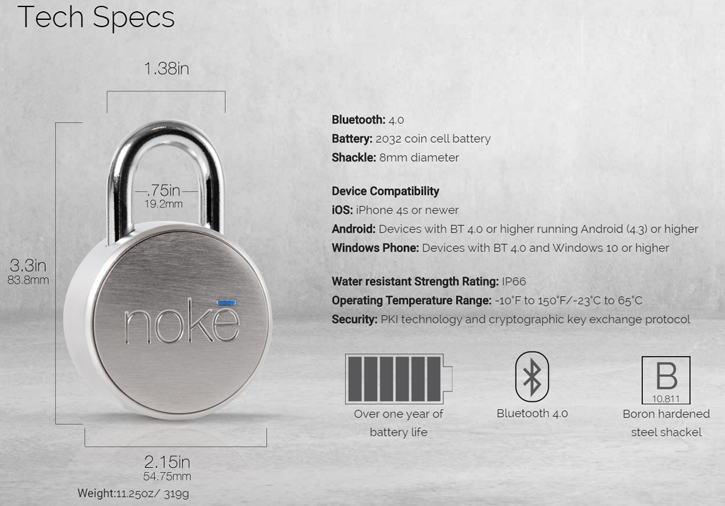 Specifications:
Bluetooth: 4.0
Battery: 2032 coin cell battery
Shackle: 8mm diameter
Device Compatibility
iOS: iPhone 4s or newer
Android: Devices with BT 4.0 or higher running Android (4.3) or higher
Windows Phone: Devices with BT 4.0 and Windows 10 or higher
Water resistant Strength Rating: IP66
Operating Temperature Range: -10°F to 150°F/-23°C to 65°C
Security: PKI technology and cryptographic key exchange protocol
Dimensions:
Size: 84 x 19 x 55mm
Weight: 319g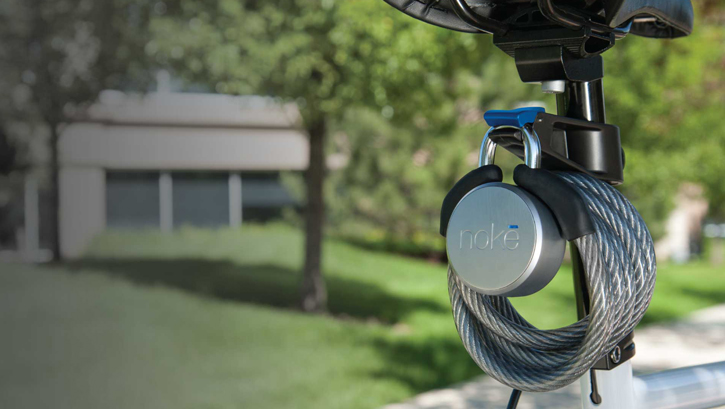 ---
Key Details
Colour: Silver
Part No: FNAPS
Acer: Liquid Jade Primo, Liquid Zest, Liquid Zest Plus
Alcatel: A3, A5 LED, Idol 4, Idol 4S, Pixi 4 5, Pop 4, Pop 4 Plus, Pop 4S, U3
Apple: iPhone 5, iPhone 5C, iPhone 5S, iPhone 6, iPhone 6 Plus, iPhone 6S, iPhone 6S Plus, iPhone 7, iPhone 7 Plus, iPhone SE
Archos: 40 Power, 55 Helium, 55 Helium 4 Seasons, 55 Helium Ultra, Diamond 2 Plus
Asus: Zenfone 2, Zenfone 3, Zenfone 3 Deluxe, Zenfone 3 Ultra, Zenfone 3 Zoom, ZenFone 4, ZenFone 5, ZenFone 6, Zenfone AR
BlackBerry: Aurora, DTEK50, DTEK60, KEYone, Z3
BLU: Vivo 6
Coolpad: Torino S
Google: Nexus 5X, Nexus 6, Pixel, Pixel XL
HP: Slate6 VoiceTab
HTC: 10, 10 evo, Bolt, Desire 10, Desire 10 Lifestyle, Desire 10 Pro, Desire 610, Desire 628, Desire 650, Desire 816, Desire 820, Desire 830, One A9s, One M8, One M9, One M9 Plus, One Max, One Mini 2, One S9, U Play, U Ultra, U11
Huawei: Ascend G6, Ascend G730, Ascend P7, Ascend P7 Mini, Ascend Y530, G9 Plus, Honor 6C, Honor 6S, Honor 6X, Honor 7 Premium, Honor 8, Honor 8 Pro, Honor Magic, Honor V8 Max, Mate 9, Mate 9 Lite, Huawei Mate 9 Porsche Design, Mate 9 Pro, Nova, Nova Plus, P10, P10 Lite, P10 Plus, P8, P8 Lite, P8 Lite 2017, Y5II, Y6 II
Kyocera: DuraForce PRO, Hydro AIR, Hydro VIEW
Lenovo: A7000, P2, Phab 2 Pro, ZUK Edge
LG: Escape 3, G Pro 2, G2, G2 Mini, G3, G4, G5, G5 SE, G6, K10 2017, K3 2017, L70, L80 Dual, L90, Stylo 2, Stylo 2 Plus, Stylus 3, Tribute HD, V20, X Power
Meizu: M3 Max, Pro 5, Pro 6, Pro 7, U10, U20
Motorola: Moto C, Moto E 1st Gen, Moto E 3rd Gen, Moto E3, Moto G 1st Gen , Moto G 2nd Gen, Moto G 3rd Gen, Moto G 4G 2015, Moto G 4G LTE, Moto G5, Moto G5 Plus, Moto X Play, Moto X Style, Moto Z, Moto Z Force, Moto Z Play
Nextbit: Robin
Nokia: 6, E5, Nokia 3, Nokia 5
Samsung: Galaxy A3 2016, Galaxy A3 2017, Galaxy A5 2016, Galaxy A5 2017, Galaxy A7, Galaxy A7 2017, Galaxy A8, Galaxy Ace Style, Galaxy Alpha, Galaxy Core II, Galaxy Core Prime, Galaxy E7, Galaxy Folder 2, Galaxy Grand 2, Galaxy Grand Prime, Galaxy J Max, Galaxy J1, Galaxy J2, Galaxy J3 2017, Galaxy J3 Pro, Galaxy J5, Galaxy J5 Prime, Galaxy J7 2017, Galaxy J7 Prime, Galaxy K Zoom, Galaxy Note 2, Galaxy Note 3, Galaxy Note 3 Neo, Galaxy Note 4, Galaxy Note 5, Galaxy Note 7, Galaxy S3, Galaxy S4, Galaxy S5, Galaxy S5 Mini, Galaxy S6, Galaxy S6 Edge, Galaxy S6 Edge Plus, Galaxy S7, Galaxy S7 Active, Galaxy S7 Edge, Galaxy S8, Galaxy S8 Plus, Galaxy Tab 4 8.0, Galaxy Xcover 4, Galaxy Grand Neo
Sony: Xperia E5, Xperia C3, Xperia E1, Xperia L1, Xperia M2, Xperia M4 Aqua, Xperia M5, Xperia T2 Ultra, Xperia T2 Ultra Dual, Xperia X Compact, Xperia XA1, Xperia XA1 Ultra, Xperia XZ, Xperia XZ Premium, Xperia XZs, Xperia Z1, Xperia Z1 Compact, Xperia Z1S, Xperia Z2, Xperia Z3+
Sony Ericsson: J7
Vodafone: Smart Platinum 7, Smart Ultra 7
Wiko: Fever SE, Freddy, Jerry, Lenny 3, Robby, Sunny, Tommy, U Feel, U Feel Lite
Wileyfox: Spark, Spark Plus, Spark X, Swift 2, Swift 2 Plus, Swift 2 X
Xiaomi: Mi 4, Mi 4i, Mi 5s, Mi 5s Plus, Mi Mix, Mi Note 2, Redmi 3S, RedMi Note
ZTE: Axon 7, Axon 7 Mini, Blade V8 Lite, Blade V8 Mini, Blade V8 Pro, Grand X4, Nubia X6, Nubia Z11, Sonata 3, Warp 7, Zmax Pro
Nokia 3 Photography Accessories
,
HTC U11 Photography Accessories
,
Galaxy Xcover 4 Photography Accessories
,
Moto C Photography Accessories
,
K3 2017 Photography Accessories
,
P8 Lite 2017 Photography Accessories
,
Stylus 3 Photography Accessories
,
Honor 8 Pro Photography Accessories
,
Honor 6C Photography Accessories
,
Galaxy A5 2016 Photography Accessories
,
Galaxy A3 2016 Photography Accessories
,
Galaxy A3 2016 Novelty and Fun
,
U3 Photography Accessories
,
A3 Photography Accessories
,
Blade V8 Mini Photography Accessories
,
Blade V8 Lite Photography Accessories
,
Xperia L1 Photography Accessories
,
6 Photography Accessories
,
Nokia 5 Photography Accessories
,
K10 2017 Photography Accessories
,
P10 Lite Photography Accessories
,
Galaxy J7 2017 Photography Accessories
,
Aurora Photography Accessories
,
A5 LED Photography Accessories
,
Xperia XA1 Ultra Photography Accessories
,
KEYone Photography Accessories
,
P10 Plus Photography Accessories
,
Xperia XA1 Photography Accessories
,
P10 Photography Accessories
,
Xperia XZs Photography Accessories
,
Xperia XZ Premium Photography Accessories
,
Moto G5 Plus Photography Accessories
,
Moto G5 Photography Accessories
,
Swift 2 X Photography Accessories
,
U Ultra Photography Accessories
,
U Play Photography Accessories
,
P2 Photography Accessories
,
Samsung Galaxy S8 Plus Photography Accessories
,
LG G6 Photography Accessories
,
Samsung Galaxy S8 Photography Accessories
,
Desire 650 Photography Accessories
,
Zenfone AR Photography Accessories
,
Galaxy J3 2017 Photography Accessories
,
Blade V8 Pro Photography Accessories
,
Zenfone 3 Zoom Photography Accessories
,
Honor 6S Photography Accessories
,
Honor Magic Photography Accessories
,
ZUK Edge Photography Accessories
,
Samsung Galaxy A5 2017 Photography Accessories
,
Samsung Galaxy A7 2017 Photography Accessories
Questions and answers: