Most Useful Customer Reviews
Milan Tudor
Bucharest, Romania
IPhone 5
23rd January 2014
Perfect gift for a gadget addicted young woman!
ZeBracelet offers everything you need from a smartwatch in a very stylish form. It looks good on a woman's wrist. And if you consider the price, it is a perfect choice for a gift!
---
Adam Caruth
Bangor N.Ireland
iPhone 5
28th August 2013
A dialled back smartphone that works!
It's early days with this new gadget, infact it's early hours! Not early in the morning but I've only just popped it out of the box and given it a charge! I choose the (zebraclet) over the (zewatch) as I felt it looked a bit more "star trek" it has very clean simple lines and hides all its technological secrets very well. Both MyKronoz models tout the "smartwatch" claim! But how do they stack up! The key features are that you can take a call, tell the time be alerted bay any audible alert and listen to music! With simple Bluetooth connectivity this smartwatch earns its stripes, it just works! As other smartwatchs try to do everything and can end up doing nothing very well the zebraclet shines. There is no promise of SDK's for developers to design apps for it. This is far from a negative, it means it does what it's designed to do and it does it well (so far) I've talked to a buddy on it and he reported no poor sound at his end, I heard the txt alert clearly and I gave a wee blast of music, to better than expected results! Now it's not Peter perfect as I'd prefer the display to have a choice of colours, and customisable display, rather than the small blue display on offer! But that's for ver 2.0. I'm gonna give this 5 * even though I've only been using it for ten minutes! As there is no outright market leader for smart watches there is room at the top, but myKronoz are doing the simple things right and that's a good move in my opinion! The truth of the matter is this, there is not really any useful space on a persons wrist for a full sized smartphone and smartwatches don't need to do all that a smartphone does, just a few wee things! The zewatch and zebraclet are glorified Bluetooth headsets for your wrist!, but they do it with panache.
Read 6 customer reviews
|
Write a review
---
Why Buy?
Lets you answer/ reject calls with intuitive side buttons

Allows hands-free calling

Displays the caller number and/or name

Vibrates when your phone is out of range

Sleek stylish bracelet design

Connects wirelessly to any Bluetooth device

Plays music from your mobile device

Tells time, like any other watch
---
Why not View a video about this product?
Description
Lets you answer/ reject calls with intuitive side buttons
By connecting you to all your Bluetooth enabled devices-phones, smartphones, tablets and PCs-ZeBracelet keeps you up-to-date with a glance at your wrist. On incoming calls, ZeBracelet rings and vibrates, displaying the caller number and/or contact on its OLED screen. You can easily answer or reject calls thanks to its intuitive side buttons and integrated speaker/microphone. With your phone's main functions readily available on your wrist, you'll stay connected at all times!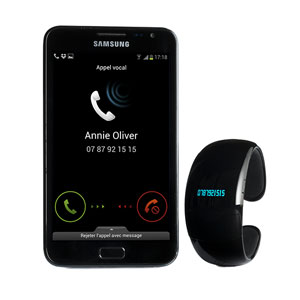 Vibrates when your phone is out of range

ZeBracelet has a clever feature that when your phone is out of range (over 10m), ZeBracelet alerts you with a vibration, ensuring against theft or loss.
Sleek stylish brace design
ZeBracelet is designed in Switzerland so you can be assured of its quality, it's a stylish bracelet design that doubles up as a smartwatch.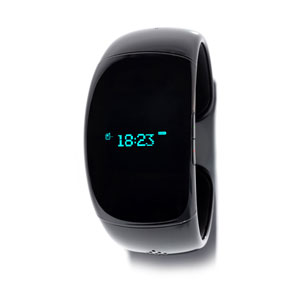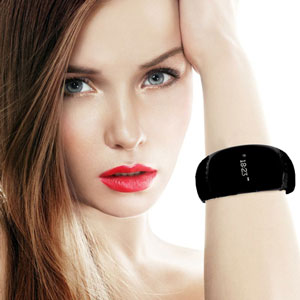 Plays music from your mobile device
ZeBracelet also lets you listen to music from your mobile device while on the go.
Technical specifications:
Bluetooth Version: V2.1
Voltage: 3.6V - 4.2V
Current: 45mA
Frequency: 2.4GHZ

Talk time:

2-3 hours
Standby time: 48 hours
Battery Type: Li-ion 150mAh
Size: 38.5 x 80 x 12.5 mm
Weight: 45 grams
Screen: 128 * 32 OLED
Operating temperature: -20°C to +60°C
Warranty: 24 months
PLEASE NOTE: This product comes with a USB cable for charging, and includes a free EU travel adapter
---
Key Details
Bluetooth: Yes
Multipoint: No