Increase the amount of fun you can have surfing, communicating, gaming, photo taking, video watching and navigating with the Mugen Samsung Galaxy Note Extended Battery & Cover, designed to provide additional power for your Samsung Galaxy Note so you can do more of the things you love for longer.
Mugen Power is the worldwide leading brand of high performance batteries for portable electronic devices. Mugen Power means performance and quality and their batteries have better performance (higher capacity) and reliability (longevity & safety) than other brands. This extended battery and cover for the Samsung Galaxy Note more than doubles the battery capacity of your phone, meaning that you can stay connected for a lot longer.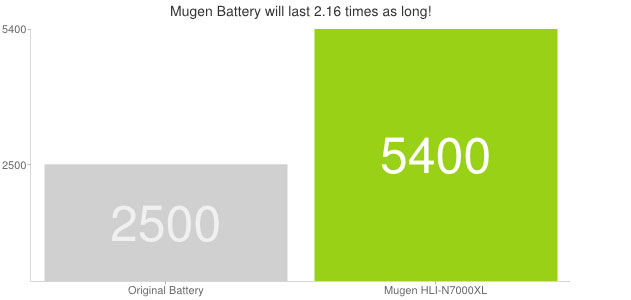 Replacement back cover houses new battery and looks original
As the extended battery is larger than the original article, Mugen have included a replacement back cover. This has been designed to look as close to the original back cover as possible, leaving cut-outs for the ports and features as you would expect.
Built-in kickstand lets you watch videos at a more comfortable angle
As well as housing the extended battery, the back cover also has a built-in kickstand, which will let you watch videos and read emails at a much more comfortable angle.
Compliant with health and safety standards to ensure a quality product
All Mugen Power batteries also undergo a vigorous QA procedure, resulting in Mugen Power achieving the lowest return rate in the industry. All Mugen Power batteries are CE approved. Mugen Power batteries are a premium product and designed for experienced users, who understand the importance of quality for long battery life and safety of everyday use.
Cut-outs for ports and features
The Mugen Extended Battery Case not only offers great protection and power for your Galaxy Note, while also providing fantastic functionality too. The case allows you to access important everyday features such as the camera and headphone port.