Why Buy?
Extended battery to ensure that you never run out of power - 2300mAh

More power than the original battery

Made with Mugen power cells

No battery memory effect
---
Description
Mugen batteries are designed to keep your phone running for a substantially longer time than when using a standard battery HTC Desire 700 or Desire 601 Battery which is only 2100mAh - so that is an extra 200mAh.
Keep a spare battery at home, in the office or while travelling so you will never miss that important call, the Mugen battery allows you to work for longer periods without having to connect your device to a power outlet. The Mugen battery is designed to fit your phone perfectly and is of the same quality as your original battery. No battery memory effect with a lithium-ion battery - you can charge the battery whenever you like without fear of reducing its charge capacity.
The battery has an extra 200mAh compared the original and as its the same size as the original HTC Desire 700 and Desire 601 battery it doesn't add any extra bulk onto the back of your handset so you won't need a replacement back cover.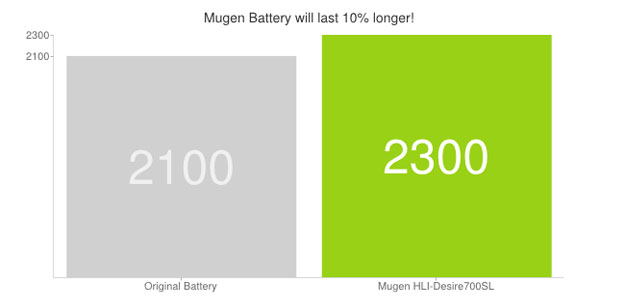 Features:
Capacity - 2300mAh
Exceeds all OEM batteries.
Lithium Ion technology.
1 year warranty.
Why buy a Mugen battery?
More mAh! It is the same physical size as your existing battery, but lasts longer.
High quality Lithium-Ion cells mean you don't have to worry about running your battery flat before charging it.
1 year warranty - peace of mind, Mugen batteries are built to last.
Mugen are manufactured by an industry leading battery manufacturer with years of experience.
Why are other extended batteries cheaper?
Some products boast larger mAh, but the quality of the "cells" (the bit that holds the power), just aren't as good as Mugen cells, sourced only from Japan & Korea.
Some other extended batteries don't offer the peace of mind of a 1 year warranty.
Build quality and design of other extended batteries doesn't match the supreme quality of the Mugen.
Why is the battery capacity larger?
Mugen pack a huge amount of mAh into their batteries and recognise there are times that you need to use your handset extensively without having to carry a spare charger or battery.
Keeps you connected for longer.
All Mugen batteries are powered by Mugen Power which means performance and quality throughout all Mugen products