Most Useful Customer Reviews
Derek
Manchester
Samsung S6 Edge Mophie Juice Pack
23rd May 2016
Survived the drop test !!!!
I've been using this case for 6 months and have had no issues with it. Its a little temperamental when first attaching the connectors but once I realised that the phone and case had to be perfectly flat they just slid together with minimal force. Until yesterday there was nothing really to write about, nice case/nice feel....then I dropped it at work, not once, but three times (hole in pocket that I was unaware of) Three times it landed on the concrete floor in the warehouse and three times I thought the screen must have broken but was ok when checked. A slight nick in the corner of the Mophie case was the only damage from all three drops. I now look on the initial cost as an investment, not an outlay Both the battery and the protection rate 5/5 from me.
JOHN ALLEN
manchester
Galaxy S6 Edge
18th November 2015
Excellent product
Quality product ,competetive price , quality service , will definately use again thankyou
Read 4 customer reviews
|
Write a review
---
Why Buy?
The Mophie Juice Pack case packs power and style

Increase your talk-time and internet use

Power meets protection

4 light LED battery status indicator

Specialists in battery cases

Charging made easy

Pass-through charging
---
Description

The Mophie Juice Pack case packs power and style
Engineered with edge-to-edge protection and outfitted with 3,300mAh - 100% more battery life, the Juice Pack allows you to truly do more with your Galaxy S6 Edge. Its elegant, thin design makes it the perfect accessory, easily fitting into any pocket or handbag. The enhanced forward-ported acoustics redirects the Samsung Galaxy S6 Edge's audio towards you, optimising playback and maximising your experience.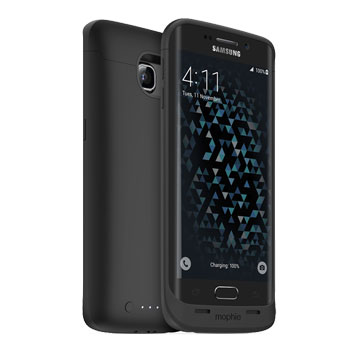 Increase your talk-time and internet use
With 3,300mAh extra power you can surf the net, watch videos and talk for longer with the Mophie Juice Pack. Delivering more than 100% extra battery life, the Juice Pack will keep your Galaxy S6 Edge going for as long as you need it.

Power meets protection
The Juice Pack is the perfect balance of extra battery power and durable protection from whatever you find yourself getting into. Bring a dead Galaxy S6 Edge battery back to life while having enough leftover power for when you're still on the move. Surrounding the case is a dual texture, rubberised, shock-resistant band that is still easy to slide in and out of your pocket without sacrificing protection.

4 light LED battery status indicator
Never be left wondering how much power you have left with the Juice Pack. On the bottom of the case sit 4 LEDs which at the push of a button indicate the remaining battery life, as well as displaying how much time remains in the charging process.

Specialists in battery cases
With years of R&D, nine generations of battery cases for iOS and Android devices and thousands of engineering hours, Mophie have risen to the top of their field and their research has resulted in the highest battery density, most efficient power management and best looking products available on the market today.
Charging made easy
Simultaneously charge your Samsung Galaxy S6 Edge and Juice Pack together with the included Micro USB USB cable. Use the LED indicator to check battery levels before you head out and flip the standby switch when you're ready to use the Juice Pack's battery or when you need to recharge your S6 Edge while on-the-go. Pass-through charging via the Micro USB port means you'll never have to remove your Juice Pack to charge or sync your Samsung Galaxy S6 Edge. The integrated LED status indicator keeps you posted on charging status and lets you know how much juice remains in the case.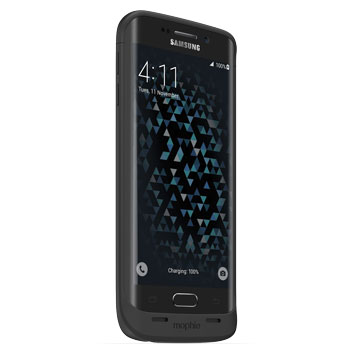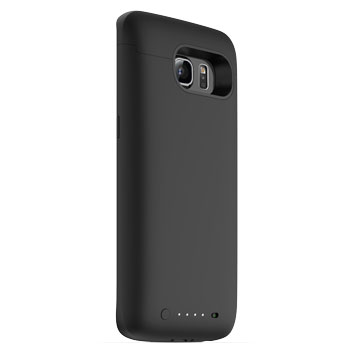 Charge anywhere at the flip of a switch
Built into the Mophie Juice Pack is an intuitive switch which allows you to choose when and how long you want to charge for. So you can control your power easily, saving that extra burst for whenever you need it.

---
Key Details
Colour: Black
Part No: 3207_JP-SGS6E-BLK