Most Useful Customer Reviews
A.S.Almqbel
saudi arabia , Hail
11th October 2011
Excellent device
I have a very weak signal, and the antenna placed in the window, after using the antenna signal became strong, and surf the Internet fast becoming as well as download.
---
19th February 2010
Outdoor Panel Antenna - Signal Strength Gain
The situation here is that I am well pleased with the External Panel Antenna. Whilst the crude measure of signal strength using the "bars" does not seem to have improved I do not lose the connection which was often the case without the antenna. I have established that the area I live in does not have 3G, so for the time being I am stuck with GPRS. Without the antenna, speeds of less than 10Kbits/sec were the norm and above 20Kbits/sec warranted opening a bottle of wine. With the antenna, speeds of above 50Kbits/sec are the norm and the whole house shakes!! I understand that the local GPRS infrastructure is to be upgraded to 3G within 6 months (this is Spain so I'm not certain which 6 months!) So in summary, for GPRS reception inside a stone house the signal is now stable and reliable and GPRS speeds have been maximised. Thanks again for your advice and very good service.
Read 6 customer reviews
|
Write a review
---
Description

3G Signal is often affected by external structures resulting in low signal within a building.This multiband ultra high gain panel antenna transmits your 3G signal in the direction of your nearest base station to ensure optimum signal strength.
Designed for use outside, the antenna is designed to be mounted on a wall or a mast and made from a tough engineering grade plastic that is waterproof and UV stabilised and can withstand any weather conditions.
These 3G panel antennas are directional and need to be installed facing your nearest transmitter, but once pointed they offer unparalleled 3G transfer speeds and signal strength.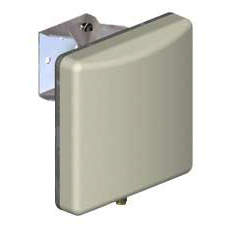 Features:.
Directional - The antenna needs to point in the direction of the network transmitter.
Mast or Wall mountable - The antenna is designed for permanent installations.
Wall fixings and 5 metres of cable included.
Enhances 3G & GPRS signal strength

Technical Specification
Dimensions (mm) 93 x 93 x 25
Gain : up to 11dBi (Very High Gain)
Cable Length (m) 5
Connector CRC9
Frequencies GSM900, GSM1800, PCS1900 & 3G UMTS 2100
Antenna Comparison
| | | | |
| --- | --- | --- | --- |
| | | | |
| Signal Increase | upto 2 dBi | upto 9 dBi | upto 11 dBi |
| Cable Length | 0.5m | 1.2m | 5m |
| Portable | | | |
| Wall Mountable | | | |
| Weatherproof | | | |
Connector
This antenna comes fitted with a CRC9 ready for use with your USB Modem.

Connecting The Antenna:
This antenna comes complete with a 5 metre cable included. 3 metre extension cables and 5 metre extension cables are not compatible with this antenna. The antenna will plug directly into your data card /USB modem without any additional products needing to be purchased.
Mounting The Antenna:
The antenna includes a wall fixing plate and a mast mounting bracket for permanent installations.