Most Useful Customer Reviews
Jane Watson
Chichester
Mipow play bulb colour Bluetooth speaker unit
21st April 2016
Excellent product
This was just what I wanted to create an atmosphere in the dining room, the light colour can be changed, and the ability to play music is just perfect. The sound is really very good. The bulb is very easy to control with the app. I would recommend this product.
---
8th January 2016
Excellent product
I'm a great fan of the playbulb products, already had 3 of their candles when decided to buy the lamp. It's just the same great quality and it's easy to set up and operate. Just keep in mind that you have to connect it twice to your device - for the light and for the speaker. The speaker is remarkably good gives perfect sound for a bedroom. I bought it for my kids bedroom and now they are able to listen to their favourite musik and also change the colour or intense of the light. That's very appropriate for a bedroom. You could also set a timer - for the lamp/music to go off or on for desired time. Excellent product!
Read 2 customer reviews
|
Write a review
---
Why Buy?
Premium wireless speaker all within a bulb

Features Bluetooth technology for wireless connection between devices

Millions of selectable colours

4 selectable illuminating modes

Advanced control

Easy to install
---
Why not View a video about this product?
Description

Premium wireless speaker all within a bulb
The advanced acoustic technology within the MiPow Playbulb Color delivers a clear and vibrant sound from a source beyond your imagination.
Play music from your own music library or through subscription-based streaming services including Spotify and enjoy the rich sound quality that is released to your room using the built-in speaker the MiPow Playbulb Color hides within. Offering a truly natural sound and authentic reproduction with a focus on balanced musical performance - you can enjoy all the subtle tones from the original recordings without the need to place a separate speaker on display.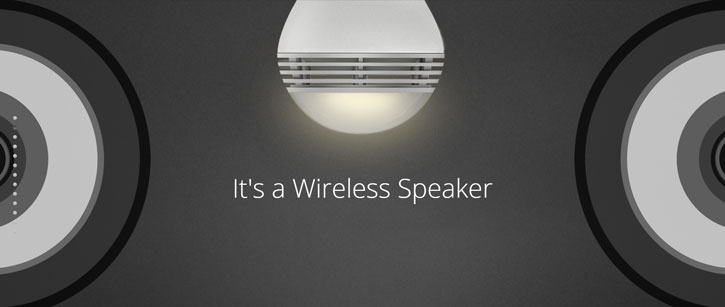 Features Bluetooth technology for wireless connection between devices
The Playbulb Color speaker features built-in Bluetooth 4.0 technology with active pairing, so you can wirelessly pair your Bluetooth enabled device and play your tunes without getting any wires tangled. The Bluetooth works within a 10 metre range, so you have the freedom to move around with your phone or tablet without having to worry about loosing connection.
Millions of selectable colours
The vast majority of bulbs limit you to just one single colour. Not very exciting and certainly doesn't offer any flexibility to be creative!
The Playbulb Color however takes the traditional bulb and drags it kicking and screaming into the future with superb and colourful results...

The MiPow Playbulb Color creates not just one, but millions of possible colour choices which you can select based on your mood, the atmosphere you wish to create or simply just for fun. Whether you wish to enjoy a soft relaxing colour or you wish for something more vibrant to match the intensity of your musical selection - the Playbulb Color has it all.
4 selectable illuminating modes
Not only can you select from one of millions of colours, but you can also choose between four distinct illuminating modes to add even more variety to your light source.
Maybe you would like a pulsing light, a flashing light, a rainbow 'colour switching' light or a softer colour switching mode that fades. All available with just a few taps on your smartphone or tablet app.

Advanced control
Using the free downloadable Android or iOS application known as Playbulb X, you can control your Playbulb Color remotely from either a smartphone or tablet. Once installed, the app will allow you to control the MiPow Playbulb Color's brightness, colour, mode and operation - as well as what music is played. You can even change the music tone with the EQ selection function.

The app gives you the freedom to set different modes, to quickly adjust to your mood and the time of day. With the Playbulb Color's intuitive app, you can set timers to save energy by adjusting when the bulb turns off, wakes up, night and sleep modes - as well as being able to shake your device to change the colour. Never before has a light bulb been so fun to use!

Easy to install
Fitting into most light fixtures using a standard E26/27 screw socket, the Playbulb Color is easy to install and operates just like a normal light. If you want to use your Playbulb Color with a bayonet fitting, then fear not as MiPow have already created an adapter to allow you to use this smart bulb with this type of fitting.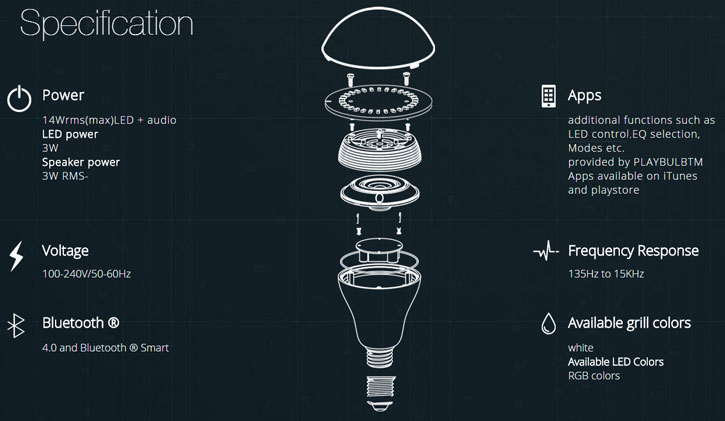 ---
Key Details
Bluetooth: Yes
Part No: BTL100C-WT-WW