Most Useful Customer Reviews
Stuart Barry
Leicester
HTC one X
18th May 2012
Every phone should have one
What a brilliant little piece of kit. Since moving on to a phone with a micro SIM card my existing, unlocked phones have been redundant. This adaptor has brought them back to life. Every user should have one as it means that if you are going abroad there is more flexibility over the card you can use and the tarriff. Just make sure you use a piece of tape over the back of the card to keep it from coming out of the front of the adaptor.
---
21st February 2012
Life Saver ... ok - rather dramatic but thats how I felt ...
Having received a brand new shiny phone - then had to get a brand new shiny MicroSIM to go with it ... Then to my horror the brand new phone dies ... never mind I cry - back to my trusty old model... then HORROR OF HORRORS - I have this new tiny MicroSIM and a phone that wants a normal SIM... EEEKKKK .... THEN - there it was .. the wonderful MicroSIM Adapter .... Ordered one day - recevied the next ... The MicroSIM fits into this adapter soooo easily - and the relief to know that no matter what happens - I will always have a back up option should I have any problems with my all singing dancing phone (yes - broken twice so far) - I won't name names... I cannot recommend this great little product highly enough and of course the speedy delivery from MobileFun always helps!
Read 4 customer reviews
|
Write a review
---
Description
Convert your Micro Sim Card into a normal sized Sim.
The Micro Sim adapter allows you to convert your Micro Sim card into a regular sized Sim. This is perfect if you would like to change your phone but don't want to go through the hassle of changing your number or having to get a new sim card and losing all of your contacts.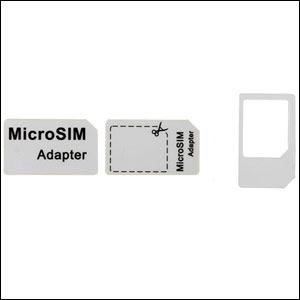 The Micro Sim adapter is a tough piece of plastic cut to hold your tiny SIM and let you load it back into a regular Mini SIM slot. All you need to do is push your Micro Sim into the cut out and it clicks firmly into place. The adapter is made with tiny shelves which hold the Micro Sim in place so you can be sure that it'll fit in your phone or bluetooth dongle without the Micro Sim falling out of place or not working properly.