Why Buy?
Perfect companion for the great outdoors

High fidelity audio for expansive defined sound

Powerful flashlight and lantern functions

Bluetooth technology allows you to play your music from any Bluetooth-enabled device

Built-in microphone for hands-free calls and conference calling

Built-in 1800mAh Li-ion rechargeable battery
---
Description
Three distinct lighting profiles
The Mayhem Moon Shine Lantern Jar offers three distinct lighting profiles: low, great as a soothing indoor night-light, high, for finding your way through dark areas, and flashing, perfect as a signal or just to add ambience to a room.
The lantern offers up to 12 hours of low light time and 5 hours of high light, more than enough for almost any situation you can think of.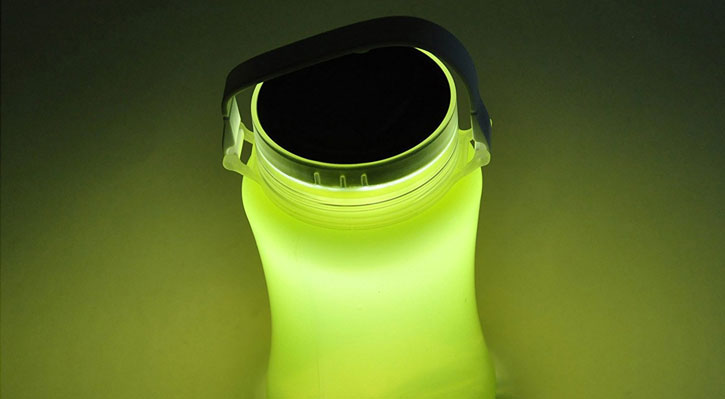 Built-in 1000mAh Li-Ion battery
You'll never need to buy batteries for the Moon Shine Lantern Jar. It comes with a 1000mAh Li-Ion rechargeable battery, which can either be plugged into a USB mains charger or desktop PC. If you should find yourself somewhere without electricity or a Micro USB port, though, don't fret: there's a solar panel on top of the lantern, so it can be recharged even if you're holidaying somewhere remote.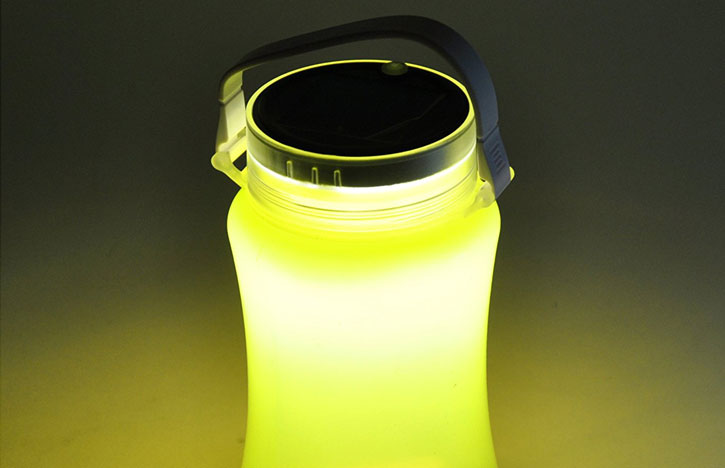 Prepared for bad weather
You don't need to worry about getting caught in the rain. The Moon Shine Lantern Jar is waterproof, so even if it's really coming down, the Lantern Jar can still help you find your way. This also makes the lantern perfect for holidays, as sailing or beach use won't trouble the light functions at all.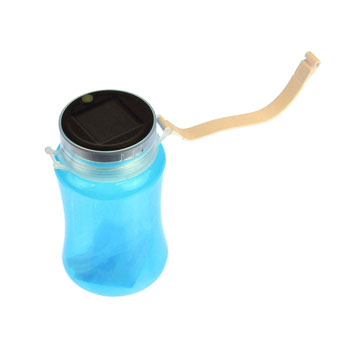 Foldable for maximum convenience
Made from a soft, foldable gel-like material, the Moon Shine Lantern Jar is ideal for packing into near-full suitcases or backpacks. You won't need to go anywhere without it.
Doubles as a storage solution
The Mayhem Moon Shine Lantern can also double as a storage container, meaning extra storage space for your adventuring tools or holiday essentials.
---
Key Details
Bluetooth: Yes
Colour: Black, Green
Alcatel: OT 331, OT 332, OT-535, OT-756, OT E256, OT-735, OT-C701, OT-V212
Apple: iPhone, iPhone 3G, iPod Nano 4G, iPod Shuffle 3G, iPod Touch 2G
BenQ-Siemens: C81, CF61, CL71, E61, EF51, EF61, EF81, EF91, EL71, P51, S68, S81, S88
BlackBerry: 7100t, 7100v, 7100x, 7130v, 7230, 7290, 7730, 8100 Pearl, 8110 Pearl, 8120 Pearl, 8130 Pearl, 8220 Pearl, 8300 Curve, 8310 Curve, 8320 Curve, 8700f, 8700g, 8707v, 8800 Pearl, 8820, Bold, Storm 9530
Dell: Axim 51
HP: hw6500, hw6900, hx2100, hx2700, hx4700, rw6815, rx5915
HTC: Advantage, MTeoR, P3300, P3350, P3400, P3470, P3600, P4350, P6300, P6500, S310, S620, Shift, Touch 3G, Touch Cruise, Touch Diamond, Touch Dual, Touch HD, Touch phone, Touch Pro, Touch Viva, TyTN, TyTN II
JCB: TOUGHPHONE
Levis: Levis Phone
LG: 5300i, 5400, 7050, 7100, B2050, C1100, C1200, C2200, C3300, C3310, C3320, F2250, F2400, F7250T, KC910 Renoir, KE800 Chocolate Platinum, Prada, KE970 Shine, KF300, KF510, KF600 Venus, KF700 Virgo, KG130, KG220, KG225 Butterfly, KG275 Jumong, KG290, KG320, KG800 Chocolate, KG810, KG920, KU990 Viewty, L1100, L343i, P7200, S5200, U300, U400, U8110, U8120, U8130, U8138, U8150, U8180, U8210, U8290, U8330, U8360, U8380, U880, U890
LG : KP202
Motorola: A1000, A780, A835, A910, A925, C115, C139, C155, C200, C257, C261, C300, C336, C350, C385, C390, C450, C550, C650, C975, C980, E1000, E1070, E365, E398, E550, E770v, KRZR K1, KRZR K3, L2, L6, MOTO Z10, F3, MOTOJEWEL, MPx, MPx200, MPx220, PEBL U6, PEBL2 U9, Q, Q9, RAZR maxx, RAZR V3, RAZR V3xx, RAZR2 V8, RAZR2 V9, RIZR, RIZR Z8, ROKR E1, ROKR E8, ROKR Z6, SLVR 7, T191, T192, T280, T720i, V1050, V150, V180, V220, V230, V235, V300, V360, V3i, V3x, V50, V500, V525, V545, V547, V550, V60, V600, V620, V635, V66, V70, V80, V975, V980, W161, W181, W220, W230, W370, W375, W377, Z6w
NEC: 343i, 411i, e122, e228, e313, e338, e540, e606, e616, e808, e808Y
Nokia: 1100, 1101, 1110, 1112, 1200, 1208, 1209, 1600, 1650, 1680 Classic, 2100, 2300, 2310, 2600, 2600 Classic, 2610, 2626, 2630, 2650, 2652, 2680 Slide, 2760, 3100, 3109 Classic, 3110 Classic, 3110 Evolve, 3120, 3120 Classic, 3200, 3210, 3220, 3230, 3250, 3300, 3310, 3330, 3410, 3500 Classic, 3510, 3510i, 3600 Slide, 3650, 3660, 5000, 5070, 5100, 5110, 5140, 5140i, 5200, 5210, 5220, 5300, 5310, 5320, 5500, 5610, 5700, 6020, 6021, 6030, 6060, 6070, 6080, 6085, 6086, 6100, 6101, 6103, 6110, 6110 Navigator, 6111, 6120 Classic, 6124, 6125, 6131, 6136, 6150, 6151, 6170, 6210, 6210 Navigator, 6212 Classic, 6220, 6220 Classic, 6230, 6230i, 6233, 6234, 6260, 6267, 6270, 6280, 6288, 6290, 6300, 6300i, 6301, 6310i, 6500 Classic, 6500 Slide, 6510, 6555, 6600, 6600 Fold, 6600 Slide, 6610, 6610i, 6630, 6650, 6650 Flip, 6670, 6680, 6681, 6800, 6810, 6820, 6822, 7070 Prism, 7110, 7200, 7210, 7210 Supernova, 7250, 7250i, 7260, 7270, 7280, 7310 Supernova, 7360, 7370, 7373, 7380, 7390, 7500 Prism, 7510 Supernova, 7600, 7610, 7610 Supernova, 7650, 7700, 7710, 7900 Prism, 8210, 8310, 8600 Luna, 8800, 8800 Arte, 8800 Sirocco, 8850, 8890, 8910, 8910i, 9210i, 9300, 9300i, 9500, E50, E51, E51 ( No Camera ), E60, E61, E61i, E65, E66, E70, E71, E72, E75, E90, N-Gage, N-Gage QD, N70, N71, N72, N73, N76, N78, N79, N80, N81, N82, N85, N90, N91, N92, N93, N93i, N95, N95 8GB, N96
O2: Cocoon, Ice, X 2, X 3, X1b, X1i, X4, XDA, XDA Argon, XDA Atmos, XDA Diamond, XDA Exec, XDA Graphite, XDA Ignito, XDA II, XDA IIi, XDA IIs, XDA IQ, XDA Mini S, XDA Orbit, XDA Orbit 2, XDA SP, XDA Stellar, XDA Trion, XDA Zinc, XM
O2 : XDA Stealth
Orange: Berlin, SPV C550, M1000, M1500, M2000, M3000, SPV M3100, M500, SPV M5000, M700, SPV, SPV C100, SPV C500, SPV C600, SPV C700, SPV E100, SPV E200, SPV E650, SPV M600, Tokyo, Treo 600
Palm: Treo 500v, Treo 650, Treo 680, Treo 700, Treo 750
Panasonic: G50, G60, GD55, GD67, GD87, VS3, VS6, X300, X400, X500, X60, X70, X700
Sagem: MC920, my-300X, my150X, my220x, my300C, my301X, MY3020, my302X, MY3078, my401C, my401x, my411C, my411CV, my411V, my411X, my501c, my501x, my511X, my600v, my721X, myC-1, myC-3, myC-3b, myC-4, myC-2, myC2-2, myc3-2, myC4-2, myC5-2, myC5-3, myC-5w, myS-7, myV-55, myV-56, myV-65, myV-75, myV-76, myX-8, myX-1, myX1-2, myX-2, myX2-2, myX-3, myX3-2, myX-4, myX-5, myX5-2, myX-6, myX6-2, myX-7, MyZ-55
Samsung: A300, A800, B210, B2700, B300, B510, C100, C110, C120, C130, C140, C170, D410, D500, D520, D600, D780 DuoS, D800, D820, D830, D840, D880 DuoS, D900, D900i, D980 DuoS, E215, E250, E300, E310, E330, E350, E370, E390, E400, E420 Lily, E530, E570, E590, E600, E620, E630, E700, E710, E720, E730, E740, E760, E770, E780, E800, E810, E820, E840, E870, E880, E900, F110 MiCoach, F200, F210, F250, F300, F400, F480 Tocco, F490, F700, G400, G600, G800, G810, i200, i300, i300x, i320, i560, i600, i620, i640, i780, i8510 INNOV8, i900 Omnia, J400, J600i, J700, L170, L310, L320, L760, L770, M110 Solid, M150, M200, M300, M310, P200, P260, P300, P310, P400, P510, P520 Armani, P730, P960, Qbowl, S300, S400i, S401i, S500i, Serenata, Serene, SGH C300, U300, X700, SGH Z500, SGH-S100, Steel Phone, T100, U100, U600, U700, U800 b, U900, V200, X100, X450, X460, X530, X600, X640, X660, X680, X820, X830, Z105, Z107, Z130, Z140, Z300, Z320i, Z400, Z510, Z540, Z560, Z650i, Z720, ZM60, ZV40
Sendo: M550, M570, P220, P600, S220, S300, S600, S600, Sendo X
Sharp: 703, 770SH, 802, 880SH, 902, 903, GX1, GX10, GX10i, GX15, GX17, GX20, GX25, GX29, GX30, GX30i, TM100
Siemens: A50, A52, A55, A57, A60, A62, A65, A75, AX75, C25, C35, C45, C55, C60, C62, C65, C75, CF62, CF75, CFX65, CL50, CL55, CL75, CV65, CX65, CX70, CX70 Emoty, CX75, M35, M50, M55, M65, M75, MC60, MCT 62, ME45, MT50, S25, S35, S45, S55, S65, SF65, SK65, SL45, SL55, SL65, SL75, SP65, ST55, ST60, SX1
Sonim: XP1
Sony Ericsson: C702i, C902, C905, D750i, F305, F500i, G502, G700, G705, G900, J100i, J110i, J120i, J132, J210i, J220i, J230i, J300, J5, J7, K200i, K220i, K300i, K310i, K320i, K330, K500i, K508, K510i, K530i, K550i, K600i, K608i, K610i, K630i, K660i, K700i, K750i, K770i, K790i, K800i, K810i, K850i, M600i, P1i, P800, P900, P910i, P990i, R300, R306, S302, S500i, Z320i, T100, T18, T20, T200, T230, T250i, T270i, T28, T280i, T290i, T300, T303, T310, T39, T600, T610, T630, T65, T650i, T68, T68i, T700, V600i, V630, V640i, V800, W200i, W300i, W302, W350i, W380i, W550i, W580i, W595, W610i, W660i, W700i, W710i, W760i, W800i, W810i, W850i, W880i, W890i, W900i, W902, W910i, W950i, W960i, W980i, Xperia X1, Z1010, Z200, Z250i, Z300i, Z310i, Z500, Z520i, Z530i, Z550i, Z555i, Z558i, Z600, Z610i, Z7, Z710i, Z770i, Z780i, Z800i
T Mobile: Ameo, MDA Compact, MDA Compact II, MDA Compact III, MDA Compact IV, MDA III, MDA Mail, MDA Pro, MDA Touch, MDA Vario, MDA Vario III, MDA Vario IV, SDA, SDA II, SDA Music, Sidekick II, Sidekick III, Sidekick Slide, Touch Plus
T-Mobile: MDA Vario II
Toshiba: G450, G710, G910, TS10, TS803
Vodafone: 226, V526, 527, v1605, v1615, v1640, VPA Compact, VS1, VS2, VS3, Simply VS4