Most Useful Customer Reviews
2nd November 2011
You get what you pay for
It has to be said that these screen protectors are a little pricey but if you want a good quality product that does exactly what it says on the box, then these are for you. Comes with full instructions, re-useable and washable too!! You get two in the box so will last ages and when you price up some of the cheaper brands you will probably end up paying the same for a much more, with wastage, inferior product. Can be a bit tricky to align, but even for a novice like me, with a little patience the finished result is fantastic. The protectors are thicker than the cheaper brands and silky smooth - all in all a first class buy.
1st July 2011
Easy to apply and no bubbles
Great value and easy to apply. First time I applied a screen protector and had absolutely no trouble at all - no bubbles especially! only downside is, it is a bit harder and thicker than other brands on the market, but saying that it hasn't affected the performance of my ipad. Will definitely recommended it.
Read 25 customer reviews
|
Write a review
---
Why Buy?
One of the most highly rated screen protectors currently available to buy

Glossy Premium finish

Blocks 99% of UV Rays from screen whilst still allowing 90% of the screen's light through

High scratch resistance

Easy to apply

Removable, washable and reusable
---
Description
Protect your Devices screen with this Premium Martin Fields Screen Protector.

Highly rated
The Martin Fields brand is synonymous with high quality in the field of screen protectors. They are an indispensable accessory for those that want to keep their devices screen in pristine condition. There are many rave reviews about the protectors, one even goes to say, "the best way to describe a properly installed Martin Fields Overlay is like this: brand new screen. Seriously."
Glossy Premium Finish
The Martin Fields protectors also have a glossy premium finish, however this does not mean that the sunlight will reflect back into your eyes and cause discomfort. They are a joy to use and you will hardly notice that they are in fact on the screen at all as they are just 0.2mm thin.
Blocks 99% of UV Rays and allows 90% of light through
The screen protectors will also block 99% of UV Rays radiated from LCD Screens. This will help to reduce the strain on your eyes. In addition to this, the protectors also allow 90% of light transmission whilst protecting the screen from degradation as a result of strong sunlight and other natural lights.
High Scratch Resistance
The screen protectors have a high resistance to scratching. They will provide excellent protection against everyday bumps and scrapes in your pocket with keys, coins and similar items.
Easy to Apply
As well as all the features listed above, the screen protectors are very simple to apply. There are simple instructions included in the packaging, for a more in depth installation guide which also includes a video, follow this link.
Removable, washable and reusable
Being easily removable, washable and reusable, the Martin Fields screen protectors can be cemented as one of the best. If you make a mistake during installation, it can be easily rectified and reapplied.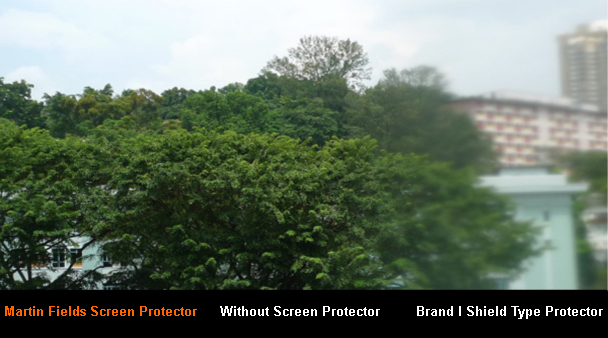 "Well, I must say, the Martin Fields Overlay Plus screen protector certainly lived up to my expectations! After applying the protector and using it I found my screen to be very bright, smooth against the stylus, and resistant to any type of scratch or mark. What more can you ask of a screen protector? Nothing, really. I've found my new favourite screen protector and I think most users will find the same thing in the Martin Shields Overlay Plus."
— Devin Henderson, Pocketnow.com, February 2004

" The protectors are washable and reusable, and you can't see the plastic after it's applied. It helps reduce glare too.
To test the screen after applying the protector, I tried three different styluses. I have an old (but hard to beat) Cross DigitalWriter (I'm pretty sure they don't sell these anymore), a Cross MicroPen (which is a perfect fit for some Palm devices) and the HP iPAQ h4150 original stylus. The feel on the screen is good, without any scratch sensation when writing. It feels like a brand new screen actually. The stylus glides over the surface, and recognition remains accurate."
—, Geekzone



"It wasn't until I actually installed an Overlay on my Tapwave Zodiac that I realized that this is the clearest adhesive protector I have ever used. When I say clear, I mean crystal. There is no hint of even the slightest glare-reducing frost effect that I have grown used to with other long-lasting adhesive protectors. There is no "paper feel" texture to add opacity to the protector. In fact, the best way to describe a properly installed Martin Fields Overlay is like this: brand new screen. Seriously."
— Judie Hughes, Gadgeteer, January 2004
Related Blog Entries: