Most Useful Customer Reviews
26th August 2010
Fantastic
Great device. Fast charging of both battery and phone through USB. Well worth the price if, like me you are a heavy user. Only downside is lights being on when in standby so could be more eco friendly from that point of view.
18th June 2010
Seems to work, but mains only charging
The description seems to indicate that you can charge from either the mains or from a PC via usb. The usb socket is actually a usb output, so you can charge devices up from the mains, but not charge the battery from usb. Apart from that, it seems to work fine.
Read 2 customer reviews
|
Write a review
---
Description
Small and portable, this USB and mains Battery Charger can be used at home or at work and is an ideal way to keep a spare battery fully charged. Great if you're anticipating a day of heavy phone usage, just leave your spare battery charging and it's ready to go when your other one runs out.
The battery charger is designed to work with Nexus One batteries and it has 2 status LED lights on the front displaying when your battery is fully charged. The LED's change colour to indicate what status the battery is at. When the battery is charging the LED will glow blue and it will change to green when the battery is fully charged.
On the side of the charger is a USB slot so you can also charge another item whilst charging your HTC battery. Perfect if you have an iPod or another device in constant use.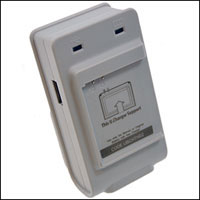 The charger also comes with a USB cable so you can simply plug the charger into your computer and start charging your spare battery instantly.
Features
Convenient charging - simply place your battery in the charger and it will charge whilst sitting on your desk.
Can be plugged into your PC or laptop using the USB cable, or plugged directly into the wall via the mains pins
2-3 hours charging time.