Most Useful Customer Reviews
5th July 2016
Easy and Comfortable
I chose led light. Total love it and the order to delivery is faster and easy! Would recommend you used this website :)
Read 1 customer review
|
Write a review
---
Why Buy?
Light it up!

Rotating cap - choose between 3 colours

Numerous free apps enhance your experience

Have fun with photography

Where's my...?

Tough TPU and Polycarbonate casing protects against shocks and drops
---
Why not View a video about this product?
Description
Light it up!
The Luminoso case is an ingenious way of catering for the fun loving amongst you who still want protection for their iPhone. The results here are not only fun but arguably spectacular. So how does this work? Well, using your iPhone's own flash, the light is redirected around the case using a reflective rotating cap. The nature of the material and the translucent nature of the construction means that the light will refract inside the case like a Prism, illuminating the case as if it was glowing with its own energy.
What you essentially have here is a clear TPU / Polycarbonate case that can turn the fun factor up to 11 at the drop of a hat!
Rotating cap - choose between 3 colours
On the rear of your case is a rotating selector cap that has 4 options. How you switch this cap will determine which colour your case will glow with. The 4 options feature 3 colours: Exciting electric blue, luminous lime green and magnificent magenta pink. If you tire of one colour, just a 1 second switch will change it. The 4th option is to have your cap open so that your iPhone's regular flash can shine through. This will allow far more direct light so you can use for photographs and torch mode, but will also light up your case in white light as 4th colour option of sorts.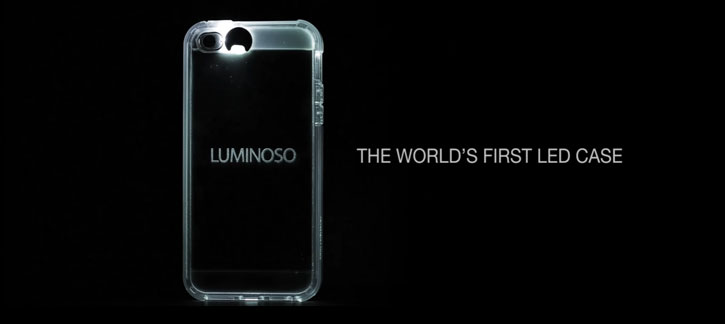 Numerous free apps enhance your experience
The Apple App Store is chock-full of apps to aid you in making the most of your exciting new Luminoso case. Whether you want to feel the pulse of your music with a spectacular accompanying lightshow, or enhance the tension and visual spectacle of your favourite games - there's sure to be something for you on the App Store. Best of all, since the Luminoso works with your iPhone's LED torch, any app which manipulates this particular feature is perfect for your new case.
Have fun with photography
Add some colour to your selfies and photos perhaps? Film exciting short videos with the strobe active maybe? This case is all about fun and experimentation in keeping with the playful and innovative nature of the iPhone itself.
Where's my...?
One obvious practical use you may want to consider is using the Luminoso to find things in the dark. Or using it as a torch or glow-stick if you like. Is the remote underneath the sofa? Did you just drop your keys there? Luminoso is fun and playful but might just prove invaluable or even a lifesaver!
Tough TPU and Polycarbonate casing protects against shocks and drops
Yes, the light up feature is the main selling point here but the Luminoso is, of course, a case and a case must protect the phone. Rest assured then that your iPhone 6S / 6 is well protected in a tough and durable TPU gel side casing and hard polycarbonate back plate that will take all the everday wear and tear you can throw at it plus some drop protection too. Your iPhone's buttons are also protected with covers and there are cutouts for all your speaker, lightning port and headphone socket so you can keep the case on at all times if you wish.
---