Most Useful Customer Reviews
Collins Archie-Pearce
London
Linearflux LithiumCard Pro Portable Lightning Power Bank - Titanium
30th January 2016
Best portable power bank ever
Linearflux LithiumCard Pro Portable Lightning Power Bank - Titanium is the best portable power bank ever. It lightweight and credit card size makes it easier to move around with and also allows you to charge your device whilst on a call. The most fascinating bit is that it charges 3x faster than charging your device from the mains or other portable power bank. This device is exceptionally brilliant and it's a good value for money. If I need to put a price to it, it should worth more £80 and I would recommend it to anyone who is looking for a great deal.I am considering buying another one in the near future.
---
Dr Andrew W Taylor
Manchester
IPHONE 5s
17th September 2015
Very good
Works as expected with higher than usual output voltage. Charges quickly from USB source. Charges iPhone quicker - maybe not 3x, but fast, and without exhausting itself. Super convenient with its inbuilt leads. Instant favourite.
Read 5 customer reviews
|
Write a review
---
Why Buy?
The world's fastest phone charger - up to 3x quicker

3,000mAh power boost

Emergency charging on the go

MFi Certified lightning cable built-in

Credit card-sized portability

NanoStik pad included to stick to surfaces and devices

Built-in USB connector for recharging the power bank

Universal compatibility

Battery charge capacity indicator
---
Why not View a video about this product?
Description
The world's fastest phone charger - up to 3x quicker
Meet the fastest smartphone charging option in the world, the LithiumCard Pro from Linearflux. With the latest HyperFET Gen2 technology built-in, the LithiumCard Pro pushes the envelope by providing up to 3A charging rates, often 3x the amount of power your phone's standard mains charger would output. This all means you can charge your iPhone quickly and that when you upgrade your phone, you won't need to upgrade your power bank as this technology is so far ahead of the game that is totally future-proofed for years to come.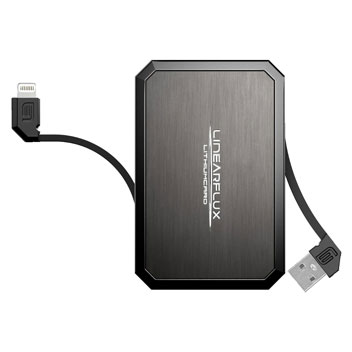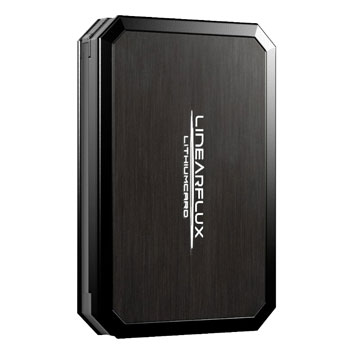 3,000mAh power boost
Use in remote places or simply when your battery is on its last legs. The LithiumCard Pro ultra-ulim power bank features an impressive 3,000mAh capacity, adding up to 10 additional hours of talktime to your iPhone 6 and can significantly boost the available charge available on any Lightning compatible smartphone.
Emergency charging on the go
Be safe and ensure your smartphone survives the day and beyond. Make a phone call, surf the web, check your email and send a text message in the secure knowledge that if your phone or tablet's battery is low, you can boost the power with your trusty Linearflux LithiumCard Pro Portable Power Bank with Lightning connector.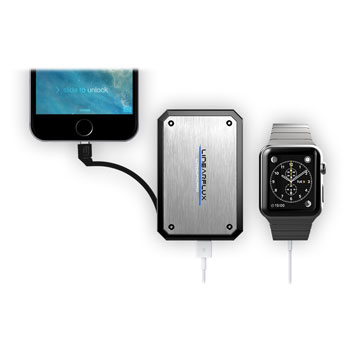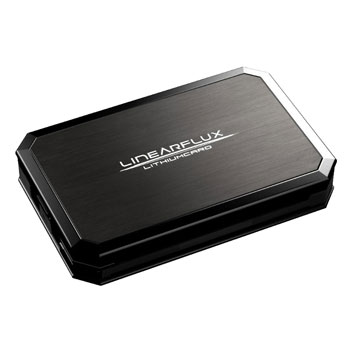 Apps that require more juice to operate including graphically intensive games or those that use GPS are no longer an issue, so play and navigate for longer with the LithiumCard.
No need for a mains power supply, simply connect your phone to the LithiumCard's built-in Lightning connector and ensure your device is ready for action wherever you are.
MFi Certified lightning cable built-in
The linearflux has been fully approved by Apple so you can be fully reassured it is made to the highest standards and you'll never have any unsupported accessory messages on your iPhone, iPad or iPod. The built-in lightning cable that discretely folds away when not in use, means that you'll always have the right equipment to charge your iPhone, iPod or iPod on the go.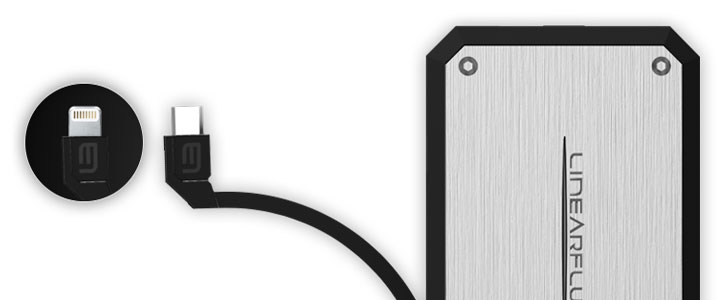 Credit card-sized portability
The LithiumCard is the same size as a standard bank card and incredibly thin, which makes it easy to carry around in a pocket or bag for emergency use.
NanoStik pad included to stick to surfaces and devices
Each LithiumCard Pro includes an advanced nanosuction, rinse-able, NanoStik pad - so it sticks to virtually any surface. Ideal for use with your device or within the office at work, this handy solution makes charging more convenient and clutter-free. Over time the NanoStik pad may get dirty and lose some stickiness, but fear not as with a simple and quick rinse in warm water, the NanoStik pad returns to maximum stickiness once dry.

Built-in USB connector for recharging the power bank
With the built-in flip out USB charging connector - you can simply plug into a computer, laptop or USB mains power adapter to recharge the LithiumCard Power Bank. You can even connect the LithiumCard to your phone and computer at the same time to sync files between the two devices while they charge.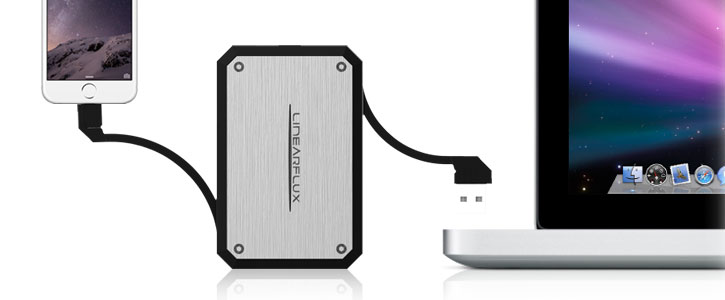 Also with the built-in LinearFlux Power Bypass feature, you can charge your device and the power bank at the same time.
Universal compatibility
While the Linearflux comes with a Lightning cable attached, you're not limited to only charging Apple devices as the LithiumCard Pro also features a HyperPort for charging other USB powered devices such as Micro USB smartphones, tablets or even Sat Navs extremely quickly.
Battery charge capacity indicator
On the top of the charger is a battery capacity indicator, which details how much power is left within the power bank. With just a quick glance, you can see how much charge is left, so you know when you will next need to recharge the device.
The light will glow white when over 90% of charge is remaining, blue between 10-90% and red when below 10%.

Technical Specifications:
Battery Capacity: 3,000mAh
Charger output current: 3A
Rechargeable Battery: Yes
---
Key Details
Charger Type: Emergency Charger
Colour: Black, Grey, Silver
MFi: Yes
Part No: LC302TNB