Most Useful Customer Reviews
Philip Wells
isle of Wight
Lifeproof Nuud Case - iPhone 5
4th February 2015
Great Case!
Bought this case 9 months ago as I work as an outdoor instructor and needed a decent case that would protect my phone - have ruined 3 iPhones in the past due to water and drop damage!! Many of the protective cases are bulky and you struggle to get them out of your pocket. This case is slim yet gives great protection and keeps my iPhone in prestige condition. Having no cover over the screen gives a great feel and super response. Had a slight problem with part of the case after 8 months but Mobilefun replaced it without any hassle. Fully recommend the case and the company. If you want a real protective case that's slim and still good looking then this is the one for you!!
---
Rcik Comber
East Grinstead
iPhone 5
25th February 2014
Nuud and Improved!
I bought a standard LifeProof case for my iPhone 5 over a year ago, when waterproof cases weren't as common on the market and I have been really pleased with it. I do a lot of kayaking, so I wanted a case that was waterproof (for obvious reasons!), but also good for underwater photography and the standard LifeProof case has performed brilliantly and ticked all those boxes.... So why buy a new Nuud case?... I hear you ask!... well, if truth be told... I didn't need to!... but I was keen to see what the new Nuud design had to offer. In my opinion, the standard LifeProof case has two drawbacks for 'everyday life' usage, when you are not leaping about in water and are simply sitting at your desk at work or lounging on the sofa!... and they are the plastic screen casing and the headphones port. The Nuud case is designed so that the plastic covering has been removed and a tight seal to the screen face enables finger to screen contact, which does definitely improve usage, with no double swipes necessary if you hadn't quite pressed firmly enough for the plastic cover version. The headphones port on the Nuud is also an improvement, as it now has the original screw-in cap permanently secured to short arm on the case... which, if you use headphones as often as I do, certainly cuts down on the "where the hell did I put that cap?!" moments! All in all... I would recommend BOTH LifeProof cases... if you are an avid watersports fanatic that plans on having the phone UNDERWATER for long lengths of time... then I would choose the original LifeProof case... you will never have a worry with an entirely enclosed case for water ingress. BUT, if like most people, you don't spend all day at the beach and in the sea... the LifeProof Nuud would be my preferred choice, as it ticks the waterproof boxes, but the everyday usage is much improved.
Read 3 customer reviews
|
Write a review
---
Why Buy?
Allows you to use your Apple iPhone 5 underwater

IP-68 rating against water and dust for great protection

Made to U.S and U.K military standards

Double AR-coated optical glass on the back shows off your 5 and provides crystal clear photos/videos

Protects your phone even in the most extreme conditions

Protects 100% of your iPhone 5
---
Description
Experience the freedom to surf, sing in the shower, ski, snowboard or even go to work without fear of damaging your phone while you're enjoying yourself with the LifeProof Nüüd case for the iPhone 5.

Very sleek, convenient and unobtrusive case
The LifeProof case is a very sleek, convenient and unobtrusive case which keeps the unique shape and style of your iPhone 5. The LifeProof case adds minimal bulk to the iPhone 5 and weighs just .06lbs.
It's made from a unique waterproof material that provides a comfortable grip that also adds great protection. The Nuud case covers your iPhone 5 and creates a tight seal against the screen so you still have full access to your 5's touchscreen, losing none of the usability of your device.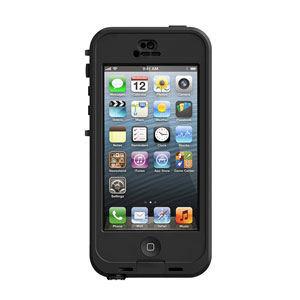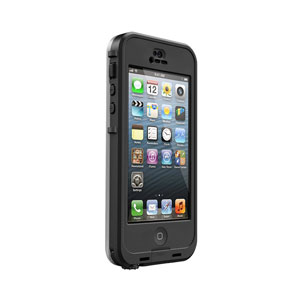 IP-68 rating and designed to military standards
The LifeProof case is designed to protect your iPhone 5 against everyday damage and is designed to military standards. It features a full IP-68 rating against water and dust so you can be assured that it will protect your iPhone 5 from whatever your day throws at it.
Double AR-coated optical glass on the back shows off your iPhone 5 and provides crystal clear photos/videos
The case features a double AR-coated optical glass lens, which shows off you iPhone 5's beauty and provides unprecedented crystal-clear photo and video quality. It also means that it has the ability to be taken up to 2 metres under water without damaging your phone. The case is also designed to improve the bass and mid-frequency speaker response by utilising the back of the case as a sub-woofer for a richer, fuller sound.
Provides access to all of your phones ports and features
While in the LifeProof case, you still have access to all of your phones features - so you'll have the same functionality as you would with an uncased iPhone 5.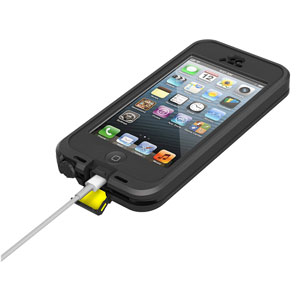 Note: Although this case will fit the iPhone 5S, Touch ID is not supported - please instead use the LifeProof Nuud Case for iPhone 5S.
---
Key Details
Colour: Black
Part No: 1307-US