LG Rolly Rollable Portable Wireless Bluetooth Keyboard KBB-700

Product Reference: 55180
"Just A Smidgen Off Perfect"
"good qual"
Most Useful Customer Reviews
Jamie Stephens
Gloucestershire
Samsung Galaxy Note 4
2nd August 2016
Just A Smidgen Off Perfect
My first impression is of a neat little device that is good to look at and functional. The keyboard unrolls and rolls up in a very pleasing manner, utilising magnets to hold it closed. It is easy to set up and has the nifty function of being able to pair with two devices and switch between the two without turning the Bluetooth off on either device. Once you're familiar with the key functions this is an easy procedure. The keyboard is fairly comfortable to type on, with decent key travel and feel. It takes a bit of getting used to with all the numbers and most symbols added to the letter keys and accessed via a blue Fn key. This is to be expected since the keyboard is limited to four rows by its roll-up design. If you're using it on a shiny surface it can move around a bit. This is easily rectified by either placing it on a magazine, or, as I have done, cut an oblong of non-slip matting the size of the keyboard. This not only does the trick, but wraps around the closed keyboard when not in use and acts as a protector held in place with a couple of elastic bands. Believe it or not, it is actually rigid enough to work placed on your lap, and does not slide around (depending on the fabric of your trousers/skirt). All told, this is a very neatly presented little keyboard, functions well and is extremely portable. It doesn't match my Apple keyboard, but is far more portable and only weighs in at 160g. If, like me, you write a lot on the move and don't like using a touch-screen keyboard for extended periods, this is a very useful addition to a smartphone or tablet. As long as you accept the few limitations imposed by the nature of its size, you won't be disappointed. I have paired this with a Samsung Galaxy Note 4 and an iPad(3rd gen) and it works perfectly with both.
---
Mitchell Reed
bath
samsung tab s
1st March 2016
good qual
Nice good quality portable keyboard. Need to use function and shift keys quite alot. Casing very smooth when rolled out so slides around when typing on a smooth surface (most desks or tables) - might stick some small felt/rubber pads for grip. Overall though a great solution to give netbook utility to your tablet.
Read 8 customer reviews
|
Write a review
---
Why Buy?
Incredibly portable folding keyboard for smartphones and tablets

Built-in device stand - supports devices up to 10"

Wireless Bluetooth connectivity

Durable, impact-resistant construction

Satisfyingly tactile feedback

Battery life of up to 3 months

Quick iOS shortcut keys

Compatible with iOS, Android, MacOS and Windows
---
Why not View a video about this product?
Description
Incredibly portable folding keyboard for smartphones and tablets
Unlike other portable keyboards which roll lengthways, the LG Rolly folds along the four key rows to create an easy-to-carry 'stick' that fits snugly into a pocket, purse or briefcase. When required, simply roll out the keyboard to use with your smartphone or tablet for a more pleasing typing experience compared to a virtual on-screen keyboard.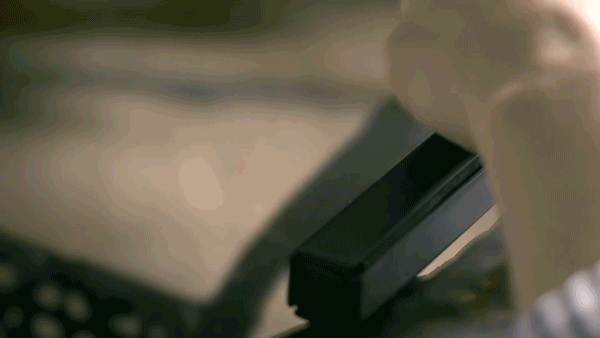 Built-in device stand - supports devices up to 10"
The LG Rolly also features a built-in device stand which consists of two fold-out arms that can support both smartphones and tablets up to 10".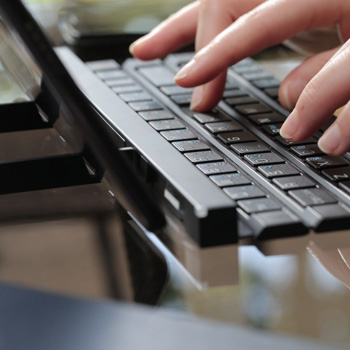 Wireless Bluetooth connectivity
No need for messy tangled wires as the LG Rolly Keyboard features Bluetooth technology to connect completely wirelessly to your smartphone or tablet.
Dual pairing for connecting to 2 devices for easy switching
Pair to a tablet and a smartphone, so you can easily switch between the two to type using the LG Rolly with ease. Receive a text message on your phone while typing an important document on your tablet? Not a problem, simply switch the connected device using the keyboard controls and use your LG Rolly to type your response through your phone. When completed, switch back again to continue your work on your tablet - it really is that simple!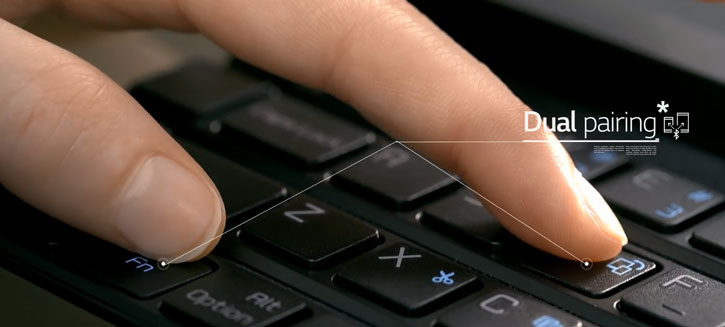 Durable, impact-resistant construction
Made from a sturdy combination of Polycarbonate and ASB plastic the LG Rolly keyboard is impact resistant and durable as well as being light and portable.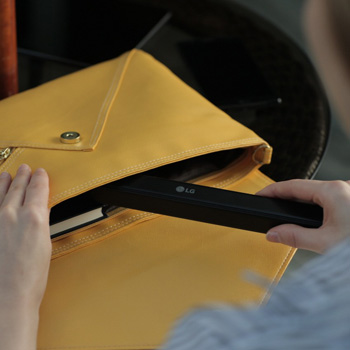 Satisfyingly tactile feedback
Despite its slim dimensions, the LG Rolly offers nearly identical tactile feedback to a 'normal' office keyboard with a key pitch of 17mm (as opposed to 18mm).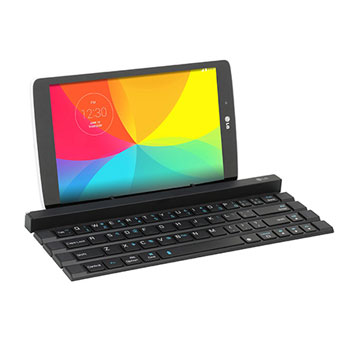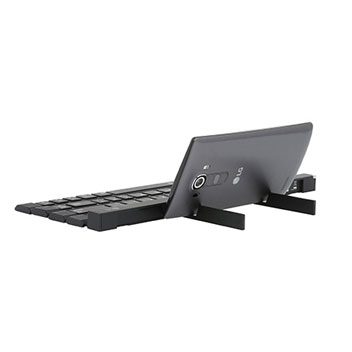 Battery life of up to 3 months
Powered by a single AAA battery the LG Rolly keyboard can last up to three months of average use. Also, with its auto on and off feature, to ensure the keyboard is powered off when idle.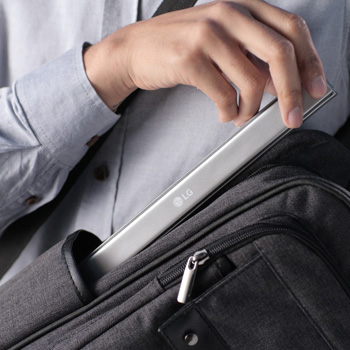 Quick iOS shortcut keys
When you're in full work mode, you don't want to constantly switch between touch and typing. Not to worry - if you're using an iPhone or iPad, this device's Command key can be used to access quick iOS shortcut keys for crucial functions like media playback, copy-and-paste and screen sleep / wake, as well as productivity suite features such as justification and text formatting - so you can do everything from the keyboard.
Compatible with iOS, Android, MacOS and Windows
Compatible with a wide range of Bluetooth compatible devices including iPhone, iPad, Android, MacOS and Windows.
Please note: requires iOS 5 or later, Android 3.2 or later, Mac OS X or later, Windows 7 or later.
Specifications:
Dimensions: 0.35 x 1.02 x 1.02 inches
Wireless: Bluetooth 3.0
Operating Range: 33 ft. (about 10 m)
Standby Time (Connected): up to 4 months*
Standby Time (Disconnected): up to 15 months*
*Battery performance will vary based on network, signal, configuration and usage patterns
Acer: beTouch E100, Acer Liquid Z3, Allegro, beTouch E110, beTouch E120, beTouch E130, beTouch E200, beTouch E400, DX900, F1, F900, Iconia A1-830, Iconia B1-720, Iconia Smart, Liquid, Liquid e, Liquid E1, Liquid E2, Liquid E3, Liquid Jade, Liquid Jade Primo, Liquid Jade Z, Liquid M220, Liquid Metal, Liquid S1, Liquid S2, Liquid X1, Liquid X2, Liquid Z200, Liquid Z4, Liquid Z5, Liquid Zest, Liquid Zest Plus, neoTouch, neoTouch P300, neoTouch P400, Stream, X960
Alcatel: Fierce XL, Idol 4, Idol 4S, Idol Alpha, Touch Idol X 6040D, One Touch Hero 2C, OneTouch Hero 2, OneTouch Idol, OneTouch Idol 3 4.7 inch, OneTouch Idol 3 5.5 inch, OneTouch Idol X+ 6043D, OneTouch Pop C3, OneTouch Pop C7, OneTouch SPop, OT 223, OT 565, OT 665, OT 799, OT 990, OT 991, OT-292, Pixi 4 5, Pop 4, Pop 4 Plus, Pop 4S, POP S3, POP S9
Amazon: Fire, Fire 7, Fire HD 10, Fire HD 8, Fire Kids Edition, Fire Phone, Kindle 6 Inch 2015, Kindle 6th Gen, Kindle Fire, Kindle Fire 7, Kindle Fire HD 2012, Kindle Fire HD 2013, Kindle Fire HD 6, Kindle Fire HD 7, Kindle Fire HDX, Kindle Voyage
Apple: iPad, iPad 1, iPad 2, iPad 3, iPad 4, iPad Air, iPad Air, iPad Air 2, iPad Air 2, iPad Mini 2, iPad Mini 3, iPad with Retina Display, iPhone, iPhone 3G, iPhone 3G, iPhone 3GS, iPhone 4, iPhone 4S, iPhone 5, iPhone 6, iPhone 6 Plus, iPhone 6S, iPhone 6S Plus, iPhone 7, iPhone 7 Plus
Archos: 101 Tablet, 40 Power, 45 Helium 4G, 50 Diamond, 50 Oxygen, 50 Platinum, 50c Oxygen, 55 Helium, 55 Helium 4 Seasons, 55 Helium Ultra, 80 Helium 4G, Diamond 2 Plus
Asus: Live, Memo Pad 10, MEMO Pad 8, PadFone E, PadFone Mini, PadFone X, Transformer Book Duet, VivoTab Note 8, Zenfone 2, Zenfone 2 Deluxe, Zenfone 3, Zenfone 3 Deluxe, Zenfone 3 Ultra, Zenfone 3 Zoom, ZenFone 4, ZenFone 5, ZenFone 6, Zenfone AR, Zenfone Max, ZenFone Zoom, ZenPad 7.0 Z370CG, ZenPad C 7.0, ZenPad C 7.0 Z170MG, ZenPad S 8.0 Z580C, ZenPad S 8.0 Z580CA
Barnes & Noble: Nook 7
BlackBerry: 7100t, 7100v, 7100x, 7130v, 7230, 7290, 7730, 8100 Pearl, 8110 Pearl, 8120 Pearl, 8130 Pearl, 8220 Pearl, 8300 Curve, 8310 Curve, 8320 Curve, 8520 Curve, 8700f, 8700g, 8707v, 8800 Pearl, 8820, 8900 Curve, 9320 Curve, 9720, Bold, Bold 9700, Bold 9780, Bold 9790, Bold 9900, Classic, Curve 3G 9300, Curve 9360, Curve 9380, DTEK50, DTEK60, Leap, Passport, Passport Silver Edition, Pearl 3G, Priv, Q10, Q5, Storm 9530, Storm2, Torch 9800, Torch 9810, Torch 9860, Vienna, Z10, Z20, Z3, Z30
Blackberry: Playbook
BLU: Vivo 6
BQ: Aquaris 5 HD, Aquaris 5.7, Aquaris E10, Aquaris E4, Aquaris E4.5, Aquaris E5, Aquaris E5 4G, Aquaris E6, Aquaris M10, Aquaris X5, Cervantes, Curie 2, Curie 2 Quad Core, Edison 2, Edison 2 Quad Core
Coolpad: Torino S
Coship: Moly X1
Dell: Streak, Streak 7, Venue 8 7000, Venue 8 Pro
Doro: Liberto 810, Liberto 820, Liberto 820 Mini, Liberto 825, PhoneEasy 332, PhoneEasy 341, PhoneEasy 410
EE: Eagle, Harrier, Harrier Mini, Harrier Tab, Kestrel, Rook
Funker: W55 Pro
Google: Android One, Chromebook Pixel 2015, G1 Android, Ion, Nexus 10, Nexus 5 2013, Nexus 6, Nexus 6P, Nexus 7 2012, Nexus 7 2013, Nexus 9, Nexus One, Pixel, Pixel XL
HP: 8 1401, Elite X3, hx2100, rw6815, rx5915, Slate 7, Slate6 VoiceTab, Slate7 VoiceTab, Steam 7, TouchPad
HTC: 10, 10 evo, 7 Pro, 8S, 8X, Advantage, Bolt, Butterfly, Butterfly 2, Butterfly 3, ChaCha, Desire, Desire 10, Desire 10 Lifestyle, Desire 10 Pro, Desire 200, Desire 210, Desire 300, Desire 310, Desire 320, Desire 500, Desire 501, Desire 510, Desire 516, Desire 526, Desire 530, Desire 601, Desire 610, Desire 612, Desire 616, Desire 620, Desire 626, Desire 628, Desire 630, Desire 650, Desire 700 Dual SIM, Desire 709d, Desire 728, Desire 816, Desire 820, Desire 825, Desire 826, Desire 828, Desire 830, Desire C, Desire Eye, Desire HD, Desire S, Desire VC, Desire X, Desire Z, Dream, EVO 3D, Evo 4G LTE, Explorer, First, Flyer, Google Nexus One, Gratia, HD mini, HD2, HD7, HD7S, Hero, Incredible S, Inspire, Legend, M8 Ace, Magic, Mozart, MTeoR, One M7, One 2014, One A9, One A9s, One Dual SIM, One E8, One E9, One E9 Plus, One M8, One M8 Ace, One M8 Dual SIM, One M8 Eye, One M8s, One M9, One M9 Plus, One Max, One ME, One Mini, One Mini 2, One Remix, One S, One S9, One SV, One V, One X, One X Plus, One X9, One XL, P3300, P3350, P3400, P3470, P3600, P4350, P6300, P6500, Radar, Rezound, Rhyme, S310, S620, Salsa, Sensation, Sensation XE, Sensation XL, Shift, Smart, Snap, Tattoo, Thunderbolt, TITAN, Touch 3G, Touch Cruise, Touch Cruise 09, Touch Diamond, Touch Diamond2, Touch Dual, Touch HD, Touch phone, Touch Pro, Touch Pro2, Touch Viva, Touch2, Trophy, TyTN, TyTN II, U Play, U Ultra, Ville, Wildfire, Wildfire S
Huawei: Ascend D Quad, Ascend D Quad XL, Ascend D1, Ascend G300, Ascend G330, Ascend G510, Ascend G526, Ascend G6, Ascend G6 4G, Ascend G600, Ascend G610, Ascend G7, Ascend G730, Ascend Mate, Ascend Mate 2, Ascend Mate 3, Ascend Mate 7, Ascend P1, Ascend P6, Ascend P7, Ascend P7 Mini, Ascend W1, Ascend Y100, Ascend Y210D, Ascend Y530, C199, G8, G9 Plus, Honor, Honor 3, Honor 3C, Honor 4X, Honor 5C, Honor 5X, Honor 6, Honor 6 Plus, Honor 6S, Honor 6X, Honor 7, Honor 7 Premium, Honor 8, Honor Holly, Honor Magic, Honor V8, Honor V8 Max, Mate 8, Mate 9, Mate 9 Lite, Huawei Mate 9 Porsche Design, Mate 9 Pro, Mate S, MediaPad M1, MediaPad T1 8.0, MediaPad X1, MediaPad X2, Nova, Nova Plus, P8, P8 Lite, P8 Max, P9, P9 Lite, Raven LTE, Union LTE, Y3, Ascend Y300, Y5, Y5II, Y6, Y6 II, Y600, Y635
Intex: Aqua i5 Mini, Aqua i7, Aqua Superb
Karbonn: A30, A9 Plus, K450, S5 Titanium, Sparkle V, Titanium Hexa, Titanium Octane
Kazam: Thunder2 4.5L, Thunder2 5.0, Tornado2 5.0, Trooper 240, Trooper2 5.0
Konka: Expose 960, Expose 970
Kyocera: DuraForce PRO, Hydro AIR, Hydro VIEW
Lava: Iris 351, Iris 454, Iris 502
Lenovo: A10, A526, A7000, Golden Warrior A8, IdeaTab A2107, K4 Note, K80, K900, Lemon 3, Miix 300, P2, P90, Phab 2 Pro, S660, S850, S860, Tab 2 A10, Tab 2 A8, Tab S8, ThinkPad 8, Vibe k5, Vibe Shot, Vibe X2, Vibe Z2, Vibe Z2 Pro, X2 Pro, Yoga Tablet 10, ZUK Edge, ZUK Z1
LG: A 225, Class, Enact, Escape, Escape 2, Escape 3, Exalt 2, F60, G Flex, G Flex 2, G Pad 10.1, G Pad 8.0, G Pad 8.3, G Pad II 10.1, G Pro 2, G Stylo, G Vista, G Vista 2, G2 Mini, G3, G3 Beat, G3 S, G3 Stylus, G4, G4 Stylus, G4c, G5, G5 SE, G6, GT540 Optimus, Intuition, Joy, K10, K4, K5, K7, K8, L Bello, L Fino, L35, L40, L70, L80 Dual, L90, L90 Dual, Lancet, Leon, Lucid 3, Magna, Optimus F3Q, Optimus F6, Optimus G, Optimus G Pro, Optimus Hub, Optimus L7 II, Optimus L9, Optimus Pad, Optimus True HD, Prada 3.0, Ray, Rumor Reflex, Spectrum VS920, Spirit, Spirit 4G, Spree, Stylo 2, Stylo 2 Plus, Stylus 2, Tribute 2, Tribute 5, Tribute HD, V10, V20, Volt, X Cam, X Power, X Screen, Zero
MacBook: 12 Inch, Pro Retina 15
MDA: Basic
Meizu: M3 Max, MX3, MX4, MX4 Pro, Pro 5, Pro 6, Pro 7, U10, U20
Microsoft: Lumia 1330, Lumia 430, Lumia 435, Lumia 532, Lumia 535, Lumia 540, Lumia 550, Lumia 640, Lumia 640 XL, Lumia 650, Lumia 850, Lumia 950, Lumia 950 XL, Surface 2, Surface 3, Surface Book, Surface Pro 2, Surface Pro 3, Surface Pro 4
Motorola: DEXT, Droid Maxx 2, Droid Mini, Droid RAZR, Droid Razr HD, Droid Razr Maxx HD, DROID Turbo, Droid Turbo 2, Droid Ultra, DVX, Moto E 1st Gen, Moto E 2nd Gen, Moto E 3rd Gen, Moto E3, Moto G 1st Gen , Moto G 2nd Gen, Moto G 3rd Gen, Moto G 4G 2015, Moto G 4G LTE, Moto G Forte, Moto G Turbo Edition, Moto G4, Moto G4 Play, Moto G4 Plus, Moto X 1st Gen, Moto X 2nd Gen, Moto X Force, Moto X Play, Moto X Pure Edition, Moto X Style, Moto Z, Moto Z Force, Moto Z Play, MotoSmart, Photon 4G, Photon Q 4G, RAZR HD, RAZR i XT890
Nextbit: Robin
Nokia: 100, 101, 106, 130, 208, 215, 220, 2220, 230, 2690, 2710 Navigation Edition, 301, 3720 Classic, 500, 5000, 5220, 5228, 5230, 5235 , 5250, 5320, 5330 Mobile TV Edition, 5530 XpressMusic, 5800 Xpress Music, 600, 6110, 6700 Slide, 700, 701, 7230 Slide, 7610 Supernova, 808 PureView, 9300, 9300i, 9500, Asha 201, Asha 202, Asha 203, Asha 210, Asha 230, Asha 300, Asha 302, Asha 303, Asha 306, Asha 502, C1 01, C1 02, C2, C2 01, C2 02, C2 03, C2 05, C3, C3 01 Touch and Type, C3 01.5, C5, C6, C6 01, C7, E5, E50, E51 ( No Camera ), E60, E61, E61i, E63, E65, E66, E7, E70, E71, E90, Lumia 521, Lumia 530, Lumia 636, Lumia 638, Lumia 730, Lumia 735, Lumia 830, N-Gage, N-Gage QD, N1, N73, N76, N78, N79, N8, N80, N81, N82, N85, N86 8MP, N9, N90, N900, N91, N92, N93, N95, N95 8GB, N96, N97, N97 mini, Oro, X Plus, X1 00, X1 01, X2, X2 01, X3, X3 02 Touch And Type, X5 01, X6, X7, XL
O2: XDA, XDA Argon, XDA Atmos, XDA Comet, XDA Diamond, XDA Exec, XDA Graphite, XDA Guide, XDA Ignito, XDA II, XDA IIi, XDA IIs, XDA IQ, XDA Mini S, XDA Orbit, XDA Orbit 2, XDA Serra, XDA Star, XDA Stellar, XDA Trion, XDA Zest, XDA Zinc
O2 : XDA Stealth
Oppo: Find 5, Find 7, Find 7a, R3, R5, R7, R7 Plus
Orange: Amsterdam, Atlanta, Barcelona, Boston, Dallas, Gova, Lisbon, M1000, M1500, M2000, M3000, SPV M3100, M500, SPV M5000, M700, New York, Rio, Rio II, San Diego, San Francisco, San Francisco II, SPV, SPV C100, SPV C700, SPV E610, SPV E650, SPV M600, Sydney
Panasonic: Eluga, Eluga Power, Lumix CM1
Samsung: Ativ S, ATIV SE, Champ Deluxe Duos, Core LTE, E2600, Exhilarate i577, G9098, Galaxy , Galaxy 3 I5800, Galaxy 550, Galaxy 551, Galaxy A3, Galaxy A3 2015, Galaxy A3 2017, Galaxy A5, Galaxy A5 2015, Galaxy A5 2017, Galaxy A7, Galaxy A7 2015, Galaxy A7 2017, Galaxy A8, Galaxy A9, Galaxy Ace 2, Galaxy Ace 3 3G, Galaxy Ace 3 4G, Galaxy Ace 4, Galaxy Ace Duos S6802, Galaxy Ace Plus, Galaxy Ace, Galaxy Ace Style, Galaxy Alpha, Galaxy Amp 2, Galaxy Amp Prime, Galaxy Apollo i5801, Galaxy Avant, Galaxy Axiom, Galaxy Beam 2, Galaxy Chat B5330, Galaxy Core, Galaxy Core 4G, Galaxy Core Advance, Galaxy Core II, Galaxy Core Prime, Galaxy E5, Galaxy E7, Galaxy Europa I5500, Galaxy Express, Galaxy Express 2, Galaxy Express Prime, Galaxy Extreme, Galaxy F, Galaxy Fame, Galaxy Fit S5670, Galaxy Folder 2, Galaxy Gio S5660, Galaxy Grand, Galaxy Grand 2, Galaxy Grand Prime, Galaxy Grand Z, Galaxy J Max, Galaxy J1 2015, Galaxy J1 Ace 4G, Galaxy J1 Mini, Galaxy J2, Galaxy J2 2015, Galaxy J3, Galaxy J3 2017, Galaxy J3 Pro, Galaxy J3 V, Galaxy J5, Galaxy J5 2015, Galaxy J5 Prime, Galaxy J7, Galaxy J7 2015, Galaxy J7 Prime, Galaxy K Zoom, Galaxy Lite, Galaxy M Pro, Galaxy Mega 2, Galaxy Mega 5.8, Galaxy Mega 6.3, Galaxy Mini 2, Galaxy Mini S5570, Galaxy Next Turbo, Galaxy Nexus, Galaxy Note, Galaxy Note 10.1, Galaxy Note 3, Galaxy Note 3 Neo, Galaxy Note 4, Galaxy Note 5, Galaxy Note 7, Galaxy Note 8.0, Galaxy Note 8000, Galaxy Note Edge, Galaxy Note Pro, Galaxy On5, Galaxy On7, Galaxy Pocket, Galaxy Portal, Galaxy Pro, Galaxy R, Galaxy Round, Galaxy S Advance, Galaxy S Duos, Galaxy S I9000, Galaxy S Plus I9001, Galaxy S2, Galaxy S2 LTE, Galaxy S2 Skyrocket, Galaxy S3, Galaxy S3 LTE, Galaxy S3 Mini, Galaxy S4, Galaxy S4 Active, Galaxy S4 Mini, Galaxy S4 Zoom, Galaxy S5, Galaxy S5 Active, Galaxy S5 Mini, Galaxy S5 Neo, Galaxy S5 Prime, Galaxy S5 Sport, Galaxy S6, Galaxy S6 Edge, Galaxy S6 Edge Plus, Galaxy S7, Galaxy S7 Active, Galaxy S7 Edge, Galaxy S8, Galaxy S8 Plus, Galaxy Star 2, Galaxy Stellar, Galaxy Tab, Galaxy Tab 10.1, Galaxy Tab 2 10.1, Galaxy Tab 2 7.0, Galaxy Tab 3 10.1, Galaxy Tab 3 7.0, Galaxy Tab 3 8.0, Galaxy Tab 3 Lite , Galaxy Tab 4 10.1, Galaxy Tab 4 7.0, Galaxy Tab 4 8.0, Galaxy Tab 7 Plus, Galaxy Tab 7.7, Galaxy Tab 8.9, Galaxy Tab A 10.1 2016, Galaxy Tab A 7.0, Galaxy Tab A 8.0, Galaxy Tab A 9.7, Galaxy Tab E 9.6, Galaxy Tab Pro 10.1, Galaxy Tab Pro 12.2, Galaxy Tab Pro 8.4, Galaxy Tab S 10.5, Galaxy Tab S 8.4, Galaxy Tab S2 8.0, Galaxy Tab S2 9.7, Galaxy TabPro S, Galaxy Teos, Galaxy Trend Plus, Galaxy Victory 4G, Galaxy View, Galaxy W, Galaxy Xcover, Galaxy Xcover 2, Galaxy Xcover 3, Galaxy Y, Galaxy Y Pro, Galaxy Young, Galaxy Young 2, Galaxy Grand Neo, i5500 Galaxy 5, i5700 Galaxy Portal, I9003 Galaxy SL, I9010 Galaxy S Giorgio Armani, Galaxy Note 2, Omnia HD i8910, Omnia M , Rex 60, Rex 70, Rex 80, Rex 90, S2 Plus, Tocco Lite 2, Tocco Quick Tap, Z, Z1
Sendo: Sendo X
Sharp: Aquos Crystal, Aquos Crystal 2, Aquos Xx 302Sh
Siemens: SX1
Smartisan: T1
Sonim: XP2 Spirit
Sony: acro S, Xperia A2, Xperia A4, Xperia C, Xperia C3, Xperia C4, Xperia C5 Ultra, Xperia E, Xperia E1, Xperia E3, Xperia E4, Xperia E4g, Xperia E5, Xperia go, Xperia ion, Xperia J, Xperia L, Xperia M, Xperia M Dual, Xperia M2, Xperia M2 Aqua, Xperia M4 Aqua, Xperia M5, Xperia Miro, Xperia P, Xperia S, Xperia SL, Xperia Sola, Xperia SP, Xperia T, Xperia T2 Ultra, Xperia T2 Ultra Dual, Xperia T3, Xperia Tipo, Xperia tipo dual, Xperia TX, Xperia U, Xperia V, Xperia X, Xperia X Compact, Xperia X Performance, Xperia XA, Xperia XL, Xperia XZ, Xperia Z, Xperia Z Tablet, Xperia Z Ultra, Xperia Z1, Xperia Z1 Compact, Xperia Z1f, Xperia Z1S, Xperia Z2, Xperia Z2 Tablet, Xperia Z3, Xperia Z3 Compact, Xperia Z3 Tablet Compact, Xperia Z3+, Xperia Z4, Xperia Z4 Tablet, Xperia Z4 Ultra, Xperia Z5, Xperia Z5 Compact, Xperia Z5 Premium, Xperia ZL, Xperia ZL2, Xperia ZR, Z2a Compact
Sony Ericsson: Aspen, Cedar, Elm, Hazel, Mix Walkman, P800, P900, P910i, Satio, Spiro, txt, Txt Pro, Vivaz, Vivaz Pro, W8, X10, Xperia Active, XPERIA Arc, Xperia arc S, XPERIA Kyno, XPERIA Mini, XPERIA Mini Pro, XPERIA Neo, Xperia neo V, Xperia Play, XPERIA Pro, Xperia Ray, XPERIA X10 Mini, XPERIA X10 Mini Pro, Xperia X2, XPERIA X8, Yendo
Spice: Dream Uno, Stellar Mi-520, Stellar Mi-526
T Mobile: Ameo, Dash 3G, G1, G2 Touch, MDA Compact, MDA Compact II, MDA Compact III, MDA Compact IV, MDA Compact V, MDA III, MDA Pro, MDA Touch, MDA Vario, MDA Vario III, MDA Vario IV, MDA Vario V, myTouch 3G, myTouch 3G Slide, Pulse, Pulse Mini, Touch Plus, Vairy Text, Vairy Touch, Vairy Touch II
T-Mobile: MDA Vario II
TMobile: Affinity, Beat, Energy, Groove, Vivacity
Toshiba: Encore 2 10, Encore 2 8, Excite Go
Folio 100: Accessories
VAIO: Phone Biz
Virgin: VM 720, VM202, VM665, VM800, VM820
Vodafone: 351, 455, 550, 553, 845, 945, Smart 4 Mini, Smart 4 Turbo, Smart 4G, Smart 858, Smart first 6, Smart Mini, Smart Platinum 7, Smart Prime 6, Smart Prime 7, Smart Speed 6, Smart Tab II 10, Smart Ultra 6, Smart Ultra 7, Tab prime 6, v1605, v1615, v1640, VPA Compact
Wiko: Barry, Birdy 4G, Bloom, Bloom 2, Cink Five, Cink Peax 2, Cink Slim, Cink Slim 2, Darkmoon, Darknight, Darkside, Fever 4G, Fever SE, Fizz, Freddy, Getaway, Goa, Highway, Highway 4G, Highway Pure 4G, Highway Signs, highway Star 4G, Jerry, Jimmy, Kite 4G, Lenny, Lenny 2, Lenny 3, Mazing, Night Fever, Pulp 4G, Pulp Fab 4G, Rainbow, Rainbow 4G, Rainbow Jam, Rainbow Jam 4G, Rainbow Lite, Rainbow Lite 4G, Rainbow UP, Rainbow UP 4G, Ridge 4G, Ridge Fab 4G, Robby, Selfy 4G, Silde 2, Slide, Stairway, Sunny, Sunset, Sunset 2, Tommy, U Feel, U Feel Lite, Wax
Wileyfox: Spark, Spark Plus, Spark X, Storm, Swift, Swift 2, Swift 2 Plus, Swift 2 X
Xiaomi: Mi 3, Mi 4, Mi 4i, Mi 5, Mi 5s, Mi 5s Plus, Mi Mix, Mi Note, Mi Note 2, Mi Pad 7.9, RedMi, RedMi 2, Redmi 3, Redmi 3S, RedMi Note, Redmi Note 2, Redmi Note 3, Redmi Note Prime
Xolo: A500, A500s, Play, Q1000, Q1000s, Q1100, Q2000, Q3000, Q700, Q800, X1000
Yota Devices: YotaPhone 2
YU: Yutopia
ZTE: Avid Plus, Axon 7, Axon 7 Mini, Axon Lux, Axon Pro, Blade 2, Blade A430, Blade D6, Blade L2, Blade S6, Blade S6 Plus, Blade S7, Blade V7, Blade V7 Lite, Blade V8 Pro, Blade Vec 3G, Blade Vec 4G, Grand Memo II LTE, Grand S, Grand X Max+, Grand X2, Grand X3, Grand X4, Kis 3, Kis 3 Max, KPN Smart 200, Martin II, Nubia Prague S, Nubia X6, Nubia Z11, Nubia Z9, Obsidian, Open, Salem, Sonata 3, Tania, Warp 7, Zmax 2, Zmax Pro, ZTE Blade Q Mini
Swift 2 X Keyboards
,
U Ultra Keyboards
,
U Play Keyboards
,
P2 Keyboards
,
Samsung Galaxy S8 Plus Keyboards
,
LG G6 Keyboards
,
Samsung Galaxy S8 Keyboards
,
Desire 650 Keyboards
,
Zenfone AR Keyboards
,
Galaxy J3 2017 Keyboards
,
Blade V8 Pro Keyboards
,
Zenfone 3 Zoom Keyboards
,
Honor 6S Keyboards
,
Honor Magic Keyboards
,
ZUK Edge Keyboards
,
Nook 7 Mobile Data
,
Nook 7 Keyboards
,
Samsung Galaxy A5 2017 Keyboards
,
Samsung Galaxy A7 2017 Keyboards
,
Samsung Galaxy A3 2017 Keyboards
,
LG G5 SE Keyboards
,
Grand X4 Keyboards
,
Mate 9 Lite Keyboards
,
Mate 9 Pro Keyboards
,
Mi Mix Keyboards
,
Galaxy J7 Prime Keyboards
,
Vivo 6 Keyboards
,
Y6 II Keyboards
,
Zmax Pro Keyboards
,
Stylo 2 Keyboards
,
Huawei Mate 9 Porsche Design Keyboards
,
One A9s Keyboards
,
Galaxy J5 Prime Keyboards
,
HTC 10 evo Keyboards
,
Wiko Freddy Keyboards
,
OnePlus 3T Keyboards
,
Smart Ultra 7 Keyboards
,
Swift 2 Plus Keyboards
,
Swift 2 Keyboards
,
Tribute HD Keyboards
,
Axon 7 Mini Keyboards
,
Nubia Z11 Keyboards
,
Warp 7 Keyboards
,
Le Max 2 Keyboards
,
Le S3 Keyboards
,
Bolt Keyboards
,
DuraForce PRO Keyboards
,
Hydro AIR Keyboards
,
Desire 628 Keyboards
,
Hydro VIEW Keyboards
Questions and answers: