Why Buy?
Sync and charge your LG Optimus 2X at the same time

Easy and convenient desktop access

Status LED indicator

Can charge second battery to make sure you won't run out of power
---
Description
Synchronises and charges
This cradle will allow you to synchronise and charge your LG Optimus 2X in one easy process. Simply place your device in the cradle, connect the cable to your computer and the computer will do the rest for you. The Blue LED indicator will also inform you when there is power flowing through the device.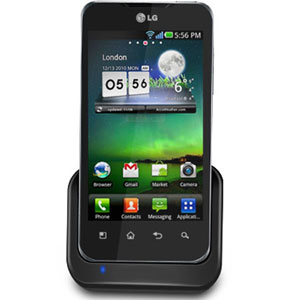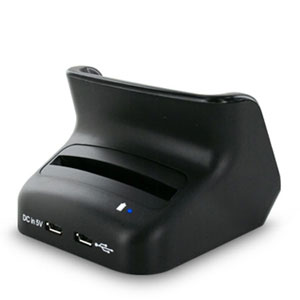 Designed for LG Optimus 2X
The dock has been specifically designed for the LG Optimus 2X so will be a perfect fit. The cradle will also provide a good angle for you to use the device.
Stable and secure mounting
The cradle provides a stable and secure mount for the LG Optimus 2X. It will also declutter and make your desk look neater with its high quality finish.
Charge Spare Battery Simultaneously
Not only will this cradle allow you to charge the battery in your phone and synchronise information with the phone, it will also charge a spare battery at the same time. This is excellent for people who are constantly on the phone as they will be able to swap batteries as soon as one dies. Whats even better is the phone does not have to be on charge for the spare battery to charge at the same time.
Specifications
Net Weight: 118g
Dimension: 112 x 90 x 33 mm
---
What's In the Box?
Optimus 2X Dual Desktop Charging Cradle
UK Power Adaptor
Micro USB Cable