Why Buy?
Bright OLED touchscreen

Android and iOS compatibility

Music control

Phone call notifications

3-Axis Accelerometer and Altimeter
---
Why not View a video about this product?
Description
Bright OLED touchscreen
You're in your workout zone and you want to know what's going on at a glance. The bright OLED screen on LG's Lifeband Touch Activity Tracker delivers a full range of fitness data, all activated with a push of the button or a flick of the wrist.
Without missing a beat, you'll stay on top of essential timing measurements including calories, speed, 3-axis accelerometer and altimeter readings, plus GPS data.
LG's pacesetting OLED screen can even show you your real-time heart rate, who's calling and the music that keeps you active.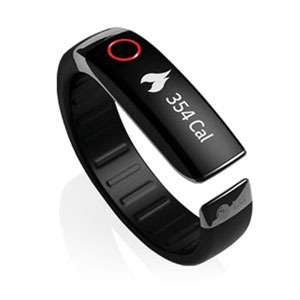 Android and iOS compatibility
Lifeband Touch Activity Tracker merges fitness and connectivity like never before, syncing wirelessly via Bluetooth with The LG Fitness App, a free download on your Android or iOS smartphone.
Your Lifeband Touch instantly becomes an indispensable fitness accessory - sending activity data to the touch-scroll OLED screen, as well as to the LG Fitness App. As you'll want to share your fitness achievements with like-minded friends, LG's Lifeband Touch interfaces with MyFitnessPal, RunKeeper and other popular fitness apps.
Note: Lifeband Touch is compatible with iOS 6 and iOS 7 for iPhone and iPod Touch; Android 4.3 and 4.4; Android 4.2 for LG G2 and Galaxy S4 only.
Music control
There's nothing like your favorite playlist to pump up the adrenalin. Toss on the revolutionary LG HRM Earphone Heart Rate Monitor, strap your Bluetooth-enabled phone on your arm and control essential music functions on your Lifeband Touch Activity Tracker screen.
Phone call notifications
Phone call coming in? No need to interrupt your workout - you also have caller ID as well on your OLED screen. Touch the screen and you're connected!
3-Axis Accelerometer and Altimeter
Fitness never follows a straight line and neither does your LG Lifeband Touch Activity Tracker. The 3-Axis Accelerometer measures acceleration forward, backward and side to side.
Ready to lace up your hiking boots? Doing a skyscraper stair-climb for charity? LG's Altimeter provides detailed ascent/decent data.
---
Key Details
Bluetooth: Yes
Colour: Black
Part No: FB84-BX