LG G Watch R for Android Smartphones - Black

Product Reference: 48346
"Staggering - a word that describes this watch...AND MobileFun"
"Best smartwatche"
Most Useful Customer Reviews
Andrew Chinn
Warwickshire
Nexus 6, HTC One M8, Nexus 5, Nexus 9, Nexus 7
30th March 2015
Staggering - a word that describes this watch...AND MobileFun
The LG G Watch R is a cut above the rest. From the two day battery life, to the Apps available, customisable watch faces and the integration with Google Now - after two weeks with an Android Wear smartwatch, you'll wonder how you ever managed without one. Particularly if you class yourself as a "power user" with your tech. I've moved onto this model after spending 9 months previously with the LG G Watch, which should not be written off if you're considering an entry level device into the Wearables field. However, the battery life (in practice - I cannot guarantee that yours will last this long, but it is widely reported that many people can use theirs for two days straight)...anyway, the battery life on the "R" is almost double that of the G Watch, so if you're one of these people that might not be able to leave it on charge ever night (you dirty stop-outs), then you'll be comforted by the thought that the G Watch R will survive your night out, and still be able to guide you home on your walk of shame! One thing I found initially is that while the G Watch with its rectangular/square design, handled the text on displayed Cards very well, the round display on the R took some getting used to. This is simply down to text being on a round display, it is why you don't see round books or round laptop screens...but that should not take anything away from what is a nice looking watch, and you do get used to it very quickly. The Wearables app market is still growing, but there are some great apps out there already. From "Stocards" which enables you to have the barcode displayed on screen for your shopping cards/loyalty cards you use regularly, to "Glympse", "Google Play Music" and "Google Keep"...there are some great tools out there that really extend the versatility of your chosen Wearable. All of the LG Watch models (G Watch, G Watch R and the upcoming Urbane) have a 22mm watch strap, which means you can easily customise your look by picking up any watch strap that you like the look of. The G Watch R comes with a genuine black leather strap that, after a few weeks worth of wear, feels and looks great. But if you want a luminous orange silicone strap, then you fill your boots! I cannot fully express with words, just how awesome this technology is. Of course, there's still some way to go, but this is a new and developing technology, lets not forget it was only about 5 years ago that touch screens became commonplace in our lives. And for those of you that say "my phone/watch/headset should last a week on battery"...our old Nokia's that did that didn't have SatNav, touch screens, HD displays, Internet...and if you switch all of those things off on your phone...then it will! Battery technology just hasn't developed at the same pace as everything else...so stop yer moaning - two days on a smartwatch is most excellent! :) If you also have a pair of Bluetooth earphones (I recommend the Plantronics BackBeat Go 2 - available on MobileFun!), then when you have an incoming call, you can swipe to answer on your G Watch R and you'll immediately be connected on your earphones, which is awesome (and they have a crazy long standby time of 5-7 days in my experience with 4+ hours talktime)! All in all, despite the Wearables market being a toddler at present, you really will not be disappointed with the LG G Watch R, I'd recommend it in a heartbeat. And I cannot finish this review, without a word about MobileFun customer service. They are absolutely outstanding in every way possible, I had an issue with my LG G Watch (not a common problem, nothing to worry about when investing in one) and they arranged a replacement extremely quickly, they even let me pay the difference and "upgrade" to the LG G Watch R...what other company do you know that will do something like that? A friend of mine has just experienced a similar service with MF as well. And any other time I have dealt with them, be it on the phone, by email...they have been superb...If you are going to be shopping anywhere for your next gadget...make sure it's MobileFun, you will not be disappointed.
---
Yuval Benjamin
Tel Aviv, IL
LG G Watch R
31st October 2014
Best smartwatche
Just received my G Watch R and I must say it's beautiful watch, much more beauty than in pictured. The size is just optimal, weight is so lite, a sharp display and very quick responds. I'm so glad I choose Lg's hardware over competitors, it's by far the best in the market. The watch itself runs android wear nice and smooth, not much to say about that rising os. It's good and I like it as extension to my phone. The watchfaces are greate, you have a decent bunch to choose from. MobileFun delivery was as promised. Very fast delivery. Got my watch the day after it was on stock! Thank you guys.
Read 49 customer reviews
|
Write a review
---
Why Buy?
Keep up-to-date without having to touch your phone

Powered by Google's Android Wear

Just say "OK Google" to activate features

Always on, a screen that never sleeps

Downloadable apps to customise your LG G Watch R

Pairs to your phone via Bluetooth removing the hassle of tangled cables

Water and dust-resistant
---
Why not View a video about this product?
Description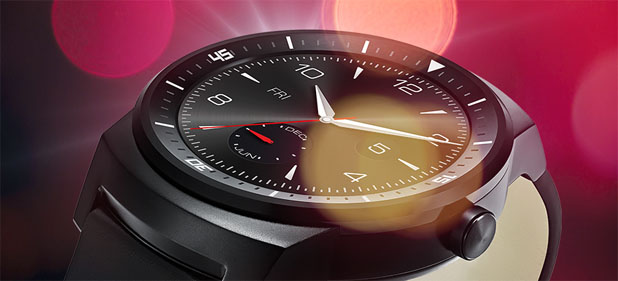 Keep up-to-date without having to touch your phone
Convenient, good looking and distinctive - the LG G Watch R powered by Android Wear allows you to check your Facebook alerts, catch up on your Tweets, texts and e-mails, make calls and also listen to your music while keeping your hands free. The LG G Watch R features an easy to use, ultra-responsive touch display - making it simple and easy to navigate your way around with a simple touch, press or swipe.
Powered by Google's Android Wear
Software designed specifically for small and powerful devices worn on the body, Google's Android Wear operating system takes advantage of Android's core benefits and brings them to a wearable form factor.
With the power of Google, you can be alerted of important events and notifications all from your smartwatch. Learn about any change to your flight's schedule or whether your journey has any delays along the way - the LG G Watch R powered by Android Wear ensures you are never out of the loop.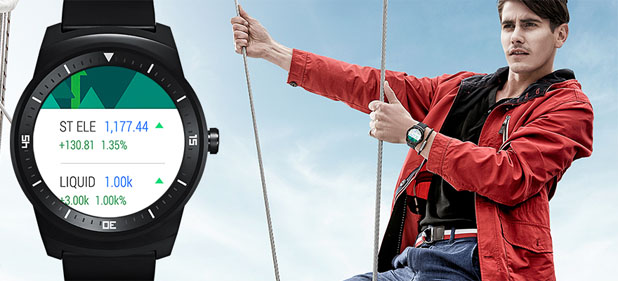 *PLEASE NOTE - Android Wear requires your device to be running Android 4.3 or higher
Just say "OK Google" to activate features
No need to press any buttons, simply say "OK Google" and take control of sending text messages, running Google searches, checking driving distances and many more areas besides - all by simply speaking to your smartwatch.
Always on, a screen that never sleeps
Easily check the time and weather conditions by simply looking at your G Watch R. No need to press a button to trigger the display to turn on, the G Watch R remains on 'all of the time' so you can quickly and conveniently view the information.
Downloadable apps to customise your LG G Watch R
The LG G Watch R features exciting and powerful apps so you can personalise your G Watch R and make it your own.
Pairs to your phone via Bluetooth removing the hassle of tangled cables
Missed an important call or SMS because you couldn't hear or find your phone at the bottom of your handbag or pocket? With the G Watch R this is now a thing of the past. Using innovative Bluetooth technology, the watch displays the caller ID and vibrates as your phone is ringing or when you receive an SMS. Reject or mute the call with a button on the watch or use the Bluetooth headset or mobile phone to answer the call and start chatting.
Water and dust-resistant
The G Watch R features water and dust resistance, ideal for active users or for those who still want to be notified of contact activity even when in the shower or in rough conditions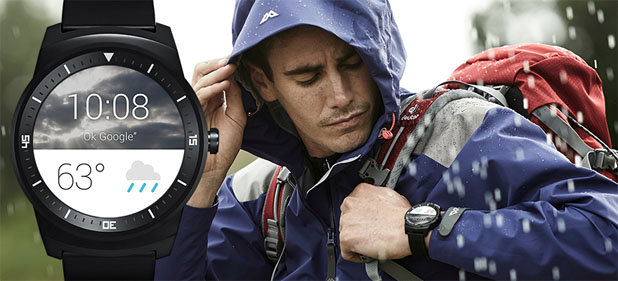 Specs
1.3-inch full circle P-OLED display
1.2 GHz Qualcomm Snapdragon 400 processor
512 MB of RAM
4 GB of internal storage
Dust and water resistant
410 mAh battery
---
Key Details
Bluetooth: Yes
Colour: Black, Grey
Part No: LGGW100R
Acer: Liquid E1, Liquid Metal, Liquid S2
Alcatel: OT 990
BlackBerry: Q5
Dell: Streak
Google: Nexus 4, Nexus 5, Nexus One
HP: Slate 7
HTC: 8S, 8X, Butterfly, Desire, Desire 200, Desire 300, Desire 500, Desire 601, Desire C, Desire HD, Desire S, Desire X, Desire Z, Evo 4G LTE, Explorer, First, Gratia, HD mini, Incredible S, Inspire, Legend, One 2014, One M7, One M8, One Max, One Mini, One S, One SV, One V, Radar, Rezound, Rhyme, Sensation, Sensation XE, Sensation XL, Thunderbolt, TITAN, Ville, Wildfire, Wildfire S
Huawei: Ascend D Quad, Ascend D Quad XL, Ascend D1, Ascend G300, Ascend G330, Ascend G510, Ascend G600, Ascend P1, Ascend P6, Ascend W1, Ascend Y100, Honor, Vision, Ascend Y300
Lenovo: K900
LG: A 225, G Watch R, G2, G3, GT540 Optimus, Optimus 2X, Optimus 3D, Optimus 3D Max, Optimus 4X HD, Optimus Black, Optimus Chic, Optimus G, Optimus G Pro, Optimus L9, Optimus Me, Optimus One, Optimus Pad, Rumor Reflex
Motorola: Atrix HD, DEFY, DEFY Plus, Droid RAZR, Droid RAZR Maxx, Droid Ultra, Milestone, Milestone 2, Moto X 1st Gen, Moto X 2nd Gen, MOTOLUXE, MotoSmart, Photon Q 4G, RAZR, RAZR HD, RAZR i XT890, XT316, XT720
Nokia: Asha 306
Oppo: Find 5
Orange: San Diego, San Francisco II
Samsung: Ativ S, E2600, Galaxy Ace Duos S6802, Galaxy Europa I5500, Galaxy Express, Galaxy Extreme, Galaxy Fame, Galaxy Grand, Galaxy M Pro, Galaxy Mega 5.8, Galaxy Mega 6.3, Galaxy Next Turbo, Galaxy Note, Galaxy Note 2, Galaxy Note 3, Galaxy Note 8.0, Galaxy Pocket, Galaxy R, Galaxy S Advance, Galaxy S I9000, Galaxy S2, Galaxy S2 Skyrocket, Galaxy S3, Galaxy S3 LTE, Galaxy S3 Mini, Galaxy S4, Galaxy S4 Active, Galaxy S4 Mini, Galaxy S4 Zoom, Galaxy S5, Galaxy W, Galaxy Xcover, Galaxy Xcover 2, Galaxy Young, i5500 Corby, I9003 Galaxy SL, Mega 6.3, Omnia M , S2 Plus, Tocco Lite 2, Tocco Quick Tap
Sony: Xperia E, Xperia go, Xperia i1, Xperia ion, Xperia J, Xperia L, Xperia M, Xperia M Dual, Xperia Miro, Xperia P, Xperia S, Xperia SL, Xperia Sola, Xperia SP, Xperia T, Xperia Tipo, Xperia tipo dual, Xperia TX, Xperia U, Xperia V, Xperia XL, Xperia Z, Xperia Z Tablet, Xperia Z Ultra, Xperia Z1, Xperia Z2, Xperia Z2 Tablet, Xperia ZL, Xperia ZR
Sony Ericsson: txt, X10, Xperia Active, XPERIA Arc, Xperia arc S, XPERIA Kyno, XPERIA Mini, XPERIA Mini Pro, XPERIA Neo, Xperia neo V, Xperia Play, XPERIA Pro, Xperia Ray, XPERIA X10 Mini, XPERIA X10 Mini Pro
Tesco: Hudl
TMobile: Groove
ZTE: Grand S, Grand X, Libra, Open, Racer, Skate, Tania, Tureis
NEW! Add a video – upload your video file or send us a web link
LG G Watch R : Official Product Video
LG Mobile Global
Xmas 2014 Special Deals
,
January Sale
,
LG G Watch R Watches
,
Toys and Gadgets
,
Sinterklaas SmartWatches
,
Xmas 2014 SmartWatches
,
Moto X 1st Gen Spares
,
Moto X 1st Gen Novelty and Fun
,
Android Compatible
,
Xperia M Dual Spares
,
Xperia M Dual Novelty and Fun
,
G3 Smartwatches
,
Galaxy S5 Smartwatches
,
Wireless Activity Trackers
,
Galaxy S5 Sports and Fitness
,
One 2014 Spares
,
One 2014 SmartWatches
,
One 2014 Novelty and Fun
,
HTC One M7 Smartwatches
,
Xperia Z2 Tablet Spares
,
One M7 Spares
,
One M7 Novelty and Fun
,
Xperia Z2 Spares
,
Xperia Z2 Novelty and Fun
,
Galaxy S5 Novelty and Fun
,
One M8 Smartwatches
,
Galaxy S3 Smartwatches
,
Galaxy S3 Mini Smartwatches
,
Nexus 5 Smartwatches
,
Nexus 4 Smartwatches
,
Galaxy S4 Smartwatches
,
Black Friday
,
Nexus 5 Novelty and Fun
,
Hudl Spares
,
Optimus G Pro Spares
,
Optimus G Pro Novelty and Fun
,
Nexus 5 Spares
,
Official Samsung Galaxy Note 3 Accessories
,
Xperia Z1 Spares
,
Xperia Z1 Novelty and Fun
,
Liquid S2 Spares
,
Liquid S2 Novelty and Fun
,
Desire 300 Spares
,
Desire 300 Novelty and Fun
,
Desire 601 Spares
,
Desire 601 Novelty and Fun
,
One Max Spares
,
One Max Novelty and Fun
,
Smartwatches
,
Galaxy Note 3 Spares
Questions and answers: