Why Buy?
Turn your iPod, iPhone and iPad into a universal remote control

Customisable app allows you to design the remote you want

No batteries, wifi or wall plug needed

100,000 button/1000 remote capacity
---
Why not View a video about this product?
Description
With the L5 Remote, you have the power of a whole coffee table full of remotes with the elegance and simplicity of your iPhone, iPod touch or iPad. Out with the clutter and confusion, and in with everything you love about your iPhone, iPod touch or iPad: the sharp, brilliant display, the Multi-Touch interface, the versatility and portability. The L5 remote is a tiny accessory and app that gives you all the power and none of the complexity. It works without WiFi, external power, or batteries. Take it anywhere you want. Use it to control your TV, cable box, DVD, DVR, and most devices that come with an IR remote.
Plug in the accessory and tap a button to download the free app. Quickly and easily design your first custom remote by dragging and dropping any buttons you want, then 'assign' a signal to each by pressing the corresponding button on your old remote while pointing it at your new L5 Remote. The L5 Remote intelligently analyzes the signal and stores it in your iPhone, iPod Touch or iPad. You can program all your remotes in just minutes.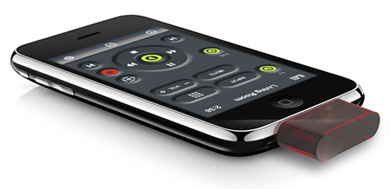 Want to check it out first? Download the free app from iTunes and design your dream remote. Discover how easy it is. If you like what you've designed, buy the accessory to bring your design to life.
Once you're using your L5 Remote, you can stash the old remotes, and enjoy the convenience and simplicity of using your iPhone to control all your entertainment and home automation devices.

Specifications:
Dimensions: 31 x 21 x 10mm
Weight: 4g
Transmitting Range: 30ft
Learning Range: 1ft
---
What's In the Box?
L5 Remote accessory
Connector Cap