Most Useful Customer Reviews
Nicky Haznick
Kuala Lumpur
iPhone 5
25th August 2015
Nice sound
..Nice sound..but sometimes when you pull out your device while it's still in playin' mode..to answering incomin' call..once you put it back..this device unable to sync it back..need to performed a hard reset..
---
ROY POWELL
WLITSHIRE
IPHONE 5C
13th October 2013
A MUST FOR ANY OFFICE
I BOUGHT THIS FOR IT'S PHONE CHARGING FACLILITY AND AS AN OFFICE RADIO/CLOCK. A GREAT LITTLE DEVICE THAT ACTS NOT ONLY AS A RADIO BUT ALSO PLAYS DIRECT FROM THE IPHONE. DELIVERY WAS EXCEPTIONAL AND GOOD VALUE TOO.
Read 18 customer reviews
|
Write a review
---
Why Buy?
Lightning dock connector

Charges your iPhone or iPod

Built-in alarm clock

Wake up how you want

FM radio tuner
---
Why not View a video about this product?
Description
Lightning dock Connector
The KitSound X-Dock 2 is designed for devices with a Lightning connection, allowing it to work with a wide range of Apple products, including the iPhone 6S / 6, 5S, 5 and 5C. So you can dock, charge and listen to music from your phone through this beautiful alarm clock speaker dock.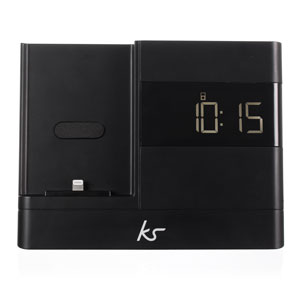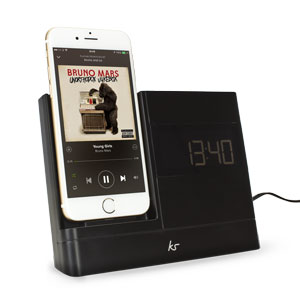 Built-in alarm clock
You'd be forgiven for thinking that radio alarms are a relatively modern invention, but it's believed that ancient Greek philosopher Plato used a large water clock to wake him for early morning lectures. The KS X-Dock 2 is a bit more sophisticated than that, though. It may be small enough to sit comfortably on your bedside table, but this clock dock is surprisingly loud for its size.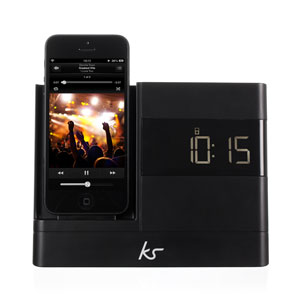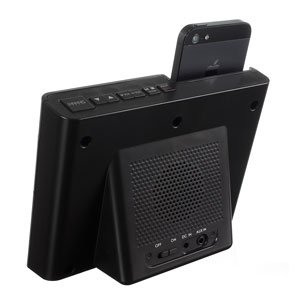 Charges your iPhone or iPod
Once docked the X-Dock 2 will charge your iPhone 6S / 6 / 5S / 5 / 5C or even your iPod so that it's ready for the day ahead, it also automatically syncs the time from your device the instant you dock it.
Wake up how you want
Whether you choose to wake to the FM radio, the buzzer, or your favourite iTunes, the X-Dock 2 gives you the flexibility to wake up how you want to. There's also a 'Shhh' button for an extra 9 minutes sleep.
Technical specifications:
Dock connector: Lightning
Alarms: 2
Snooze time: 9 minutes
Frequency response: 100 Hz - 20 kHz
Power: AC - Mains power
Backup battery: 2 x AAA
---
Key Details
Charger Type: Desktop Charger
Colour: Black
Part No: KSXDOCK2BK