Why Buy?
Compatible with iPods and iPhones

Great sound

Quality inside and out

AM/FM radio tuner

Remote control

3.5mm input jack
---
Why not View a video about this product?
Description
Compatible with iPod and iPhones
Designed for all 30 pin Apple iPods and also the iPhone 3G, 3GS, 4 and 4S
Great Sound
The perfect addition to any party, the BoomDock is capable of producing sounds of up to 110dB SPL (@ 0.5 m) without distortion - that's comparable to having nightclub-level sound in your living room. Although if you do want to pretend you're in an Ibizan superclub, remember not to open the curtains - the weather might shatter the dream.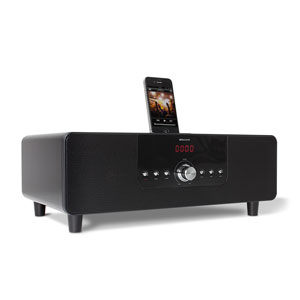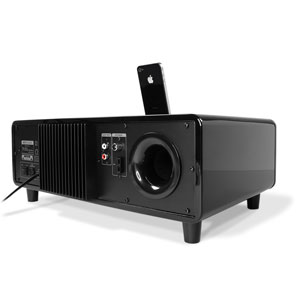 Quality inside and out
Assembled by hand and coated in seven layers of piano black lacquer, the BoomDock's chic, retro cabinet is made from wood, not plastic, to create a seductive tone and an honest depth to your music. With its rock-solid production, the sleek and sturdy BoomDock provides perfect sound for the home environment. Simply insert your Apple device into the 30-pin connector or connect any other device to the auxiliary input and prepare for an exceptional audio experience.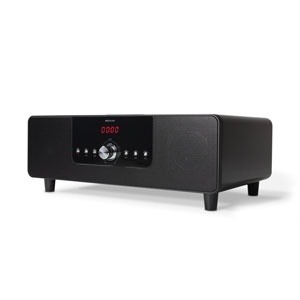 Other features
As well as being compatible with iPhone 3G, 3GS, 4 and 4S, and most 30-pin iPods, the BoomDock includes an RCA auxiliary input with 2 x RCA cables (RCA to RCA and RCA to 3.5 mm jack) allowing you to connect additional audio equipment - including your TV - to your docking station. You can also adjust the bass and treble to suit your own preferences and with the added bonus of a remote, you'll always be in control of your music. Add to that the AM/FM tuner with alarm clock and the fact that your Apple device will always recharge whilst it's docked, and we're pretty sure you'll be feeling smug with the BoomDock too.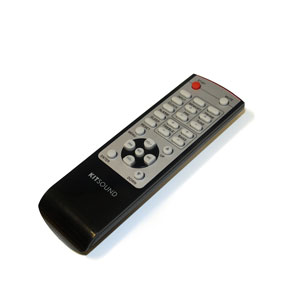 Technical specifications:
Unit size: (H) 150 x (W) 420 x (D) 290 mm
Connector: Apple 30-pin connector
Output: 2 x 16 W / 8 ohm + 1 x 22 W 4 ohm RMS (THD = 1%)
Output: 89dB 1 kHz @ 1 m
Drivers: 2.5" paper cone/aluminium voice coil/nFeb magnet x 2 + 5.25"
Sensitivity: 75dB
Separation: 45dB
Weight: 7.2 kg
---
Key Details
Bluetooth: Yes
Part No: BOOMDOCK