Why Buy?
Seriously intense sound quality

Connect wirelessly via Bluetooth

Assembled by hand to the highest standards

Use it for everything

USB port for charging your device
---
Description
From vinyl to cassettes, CDs to MP3s, the way we listen to music has changed drastically over the past century. At KS we embrace evolution, which is why we've developed our award-winning BoomDock docking station into the Boom Evolution.
Seriously intense sound quality
With its six inch down firing subwoofer and precision three inch satellite drivers, the Boom Evolution delivers a clear, powerful and awesomely loud sound with minimum distortion. What's more, we've given you control of the sound by adding bass and treble controls so that you can tailor the sound to your room with the minimum of fuss. But although this might be music to your ears, we can't guarantee that your neighbours will like it.
Connect wirelessly via Bluetooth
Using A2DP and AVRCP profiles, the KS Boom Evolution lets you listen to stereo music by connecting to Bluetooth wireless technology-enabled products like mobile phones and media players without using cables, meaning you can play your music, view YouTube clips, stream Spotify and Bloom.fm, watch on demand content and listen to Internet radio with your device in your hand or at a distance that's convenient for you. And as well as the infrared remote control which allows you to adjust the volume level and sound effects from a distance, you can even use the Bluetooth AVRCP functions for changing tracks easily. But although it connects wirelessly, sound isn't sacrificed, as the Boom Evolution still manages to make your music sound so good you can hear even the most subtle detail - just as the recording engineers intended.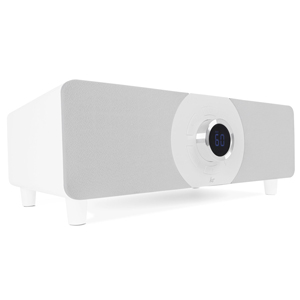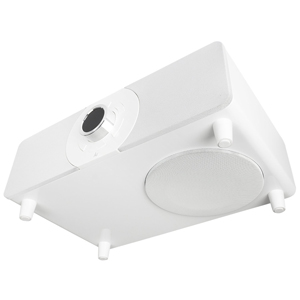 Assembled by hand to the highest standards
Assembled by hand and made from wood, with 7 coats of piano lacquer, this versatile stereo system will look good in any living room, computer room, conservatory or bedroom. But the excellent craftsmanship and chic, retro design goes much further than aesthetics. Not only does the wooden cabinet create a warm seductive tone and an honest depth to your music, but the intuitive interface ensures that even those who perhaps aren't technically minded person can be paired up in minutes. Who doesn't like convenience?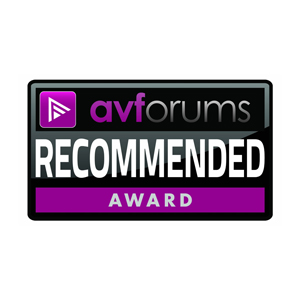 Winner of the avforums Recommended Award
Don't just take our word for it. This awesome sound system has caught the ear and earned the respect and admiration of the audiophiles everywhere. In particular, it has been awarded the coveted Recommended Award from respected website avforums.
Use it for Everything
Even if your device doesn't have Bluetooth capabilities, the Boom Evolution comes with a traditional analogue audio connection as well as wireless music transfer, meaning you can still make the most of its impressive sound by using the aux-in connection at the rear of the unit. Not only that but there's also an aux-out, allowing you to connect other speakers if you wish, and you can even use the USB port at the back to charge other devices. Thanks to its easy connection to your smartphone, tablet, PC, notebook, LCD TV and CD, DVD, MP3 and MP4 players, the KS Boom Evolution is ideal for digital movies, music and multimedia application.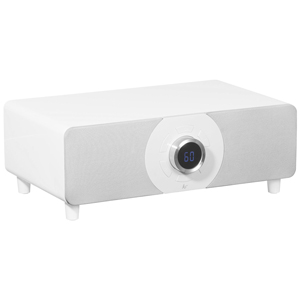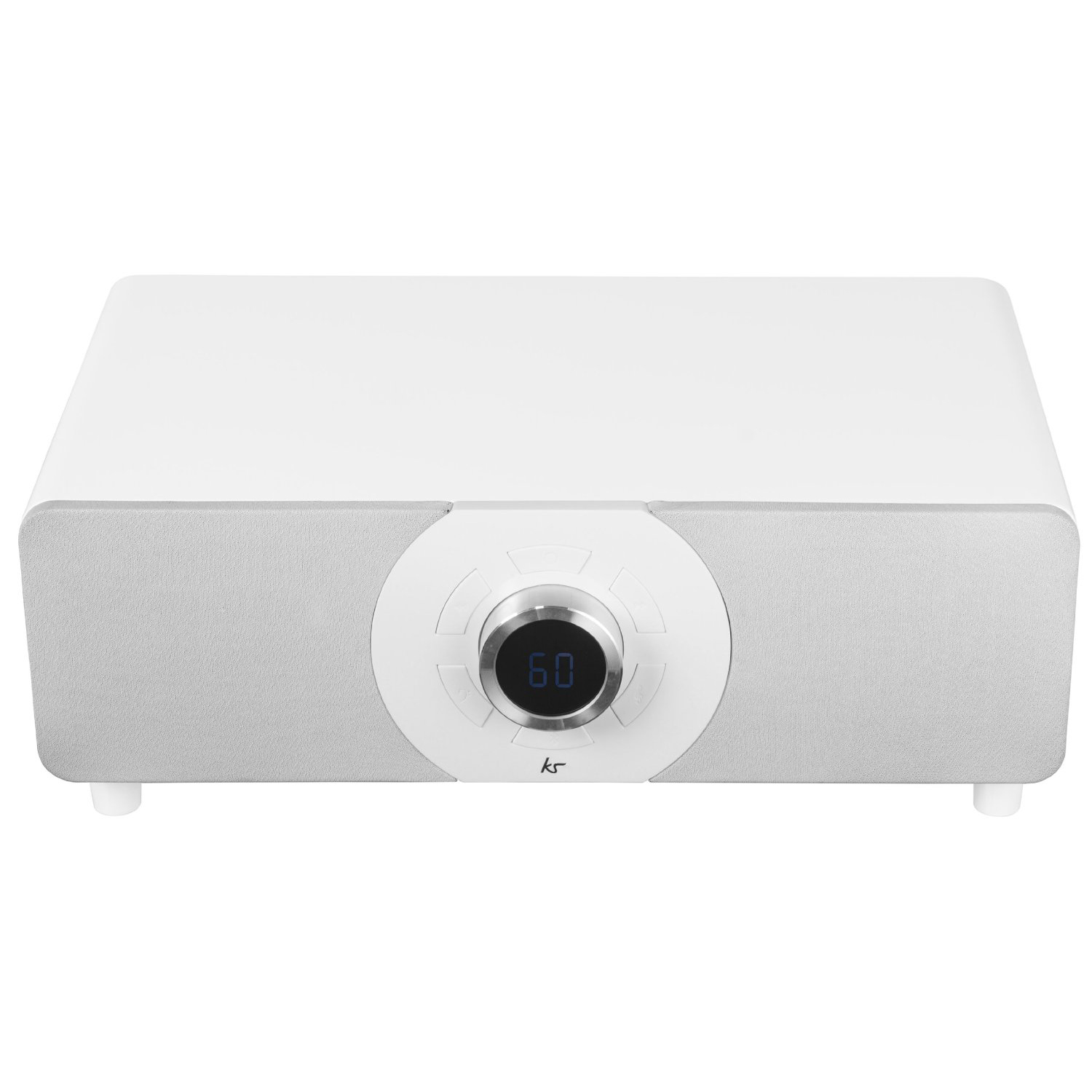 Technical specifications:
Satellite drivers: 3" 21 W @ 4 ohm x 2
Subwoofer: 6" 70 W @ 4 ohm
Bluetooth: V4.0
Unit size: H 115.5mm x W 420mm x D 280mm
Weight: 5.8 kg
---
Key Details
Bluetooth: Yes
Colour: White
Part No: KSBMEVOWH
---
What's In the Box?
KS Boom Evolution 2.1 sound system
3.5 mm stereo - RCA cable
RCA - RCA cable
Power cable adapter UK
Power cable adapter EU
Infrared remote control
User manual
3: INQ Mini 3G, Skypephone S2x, ZTE F107
Acer: Acer Liquid Z3, Allegro, beTouch E110, beTouch E120, beTouch E130, beTouch E400, Iconia, Iconia A1-830, Iconia B1-720, Iconia Smart, Liquid, Liquid e, Liquid E1, Liquid E2, Liquid E3, Liquid Jade, Liquid Jade Z, Liquid M220, Liquid Metal, Liquid S1, Liquid S2, Liquid X1, Liquid X2, Liquid Z200, Liquid Z4, Liquid Z5, neoTouch, neoTouch P300, neoTouch P400, Stream
Advent: Vega Tegra Note 7
Alcatel: Idol Alpha, Touch Idol X 6040D, One Touch Evo 7, One Touch Hero 2C, One Touch T10, OneTouch Hero 2, OneTouch Idol, OneTouch Idol X+ 6043D, OneTouch Pop C3, OneTouch Pop C7, OneTouch SPop, OT 209, OT 355, OT 565, OT 660, OT 665, OT 710, OT 799, OT 808, OT 990, OT 991, POP S3, POP S7, POP S9
Allview: V1 Viper S
Amazon: Kindle Fire HD 8 9, Fire Phone, Kindle 6th Gen, Kindle Fire HD 2013, Kindle Fire HD 6, Kindle Fire HD 7, Kindle Fire HDX, Kindle Fire HDX 8.9, Kindle Voyage
Apple: iPad, iPad 2, iPad 3, iPad 4, iPad Air, iPad Air 2, iPad Mini, iPad Mini 2, iPad Mini 3, iPad with Retina Display, iPhone, iPhone 2007, iPhone 3G, iPhone 3GS, iPhone 4, iPhone 4S, iPhone 5, iPhone 5C, iPhone 5S, iPhone 6, iPhone 6 Plus, iPod 3G, iPod 4G, iPod Classic, iPod Color, iPod Mini, iPod Nano, iPod Nano 2G, iPod Nano 3G, iPod Nano 4G, iPod Nano 5G, iPod Nano 6G, iPod Photo, iPod Shuffle, iPod Shuffle 2G, iPod Shuffle 3G, iPod Shuffle 4G, iPod Touch, iPod Touch 2G, iPod Touch 3G, iPod Touch 4G, iPod Touch 5G, iPod Video
Archos: 101 Tablet, 45 Helium 4G, 50 Oxygen, 50 Platinum, 50c Oxygen, 80 Helium 4G
Asus: EEE Pad Transformer, EEE Pad Transformer Prime, Memo Pad 10, MEMO Pad 8, PadFone E, PadFone Mini, PadFone X, Transformer Book Duet, VivoTab Note 8, Zenfone 2, ZenFone 4, ZenFone 5, ZenFone 6, ZenFone Zoom
BlackBerry: 8300 Curve, 8310 Curve, 8900 Curve, 9320 Curve, 9720, Bold 9700, Bold 9780, Bold 9790, Bold 9900, Classic, Curve 3G 9300, Curve 9360, Curve 9380, Leap, Passport, Pearl 3G, Q10, Q5, Storm, Storm2, Torch 9800, Torch 9810, Torch 9860, Z10, Z20, Z3, Z30
Blackberry: Playbook
BLU: Neo 4
Blue Chip: VX1
BQ: Aquaris 5 HD, Aquaris 5.7, Aquaris E10, Aquaris E4, Aquaris E4.5, Aquaris E5, Aquaris E5 4G, Aquaris E6, Curie 2, Curie 2 Quad Core, Edison 2, Edison 2 Quad Core
Creative: Zen Stone, Zen V, Zen Vision M
Dell: Axim 51, Streak, Streak 7, Venue, Venue 8 7000, Venue 8 Pro, Venue Pro
Doro: PhoneEasy 410
EE: Eagle, Harrier, Harrier Mini, Kestrel
Energy: Energy Phone Pro, Phone Neo, Phone Pro Qi
Gionee: Elife S5.5, GPad G2
GoClever: Terra 70 L
Google: Android One, G1 Android, Nexus 10, Nexus 4, Nexus 5, Nexus 6, Nexus 7 2012, Nexus 7 2013, Nexus 9, Nexus One, Nexus S
Hewlett Packard: 910c, iPAQ Voice Messenger
Hisense: U980
HP: 8 1401, hw6500, hw6900, hx2100, hx2700, hx4700, rx5915, Slate 7, Slate6 VoiceTab, Slate7 VoiceTab, Steam 7, TouchPad
HTC: 7 Pro, 8S, 8X, Butterfly, Butterfly 2, ChaCha, Desire, Desire 200, Desire 210, Desire 262, Desire 300, Desire 310, Desire 320, Desire 500, Desire 501, Desire 510, Desire 516, Desire 601, Desire 610, Desire 616, Desire 620, Desire 626, Desire 700 Dual SIM, Desire 709d, Desire 816, Desire 820, Desire 826, Desire C, Desire Eye, Desire HD, Desire S, Desire VC, Desire X, Desire Z, Dream, Droid DNA, EVO 3D, Evo 4G LTE, Explorer, First, Flyer, Google Nexus One, Gratia, HD mini, HD2, HD7, HD7S, Hero, Incredible S, Inspire, Legend, M8 Ace, Mozart, MTeoR, One 2014, One Dual SIM, One E8, One E9, One E9 Plus, One M7, One M8, One M8 Ace, One M8 Dual SIM, One M8 Eye, One M9, One M9 Plus, One Max, One Mini, One Mini 2, One S, One SV, One V, One X, One X Plus, One XL, P3350, P3400, P3600, Radar, Rezound, Rhyme, S730, S740, Salsa, Sensation, Sensation XE, Sensation XL, Smart, P3300, Tattoo, Thunderbolt, TITAN, Touch 3G, Touch Cruise, Touch Diamond, Touch Dual, Touch HD, Touch phone, Touch Pro, Touch Viva, Touch2, Trophy, TyTN II, Ville, Wildfire, Wildfire S
Huawei: Ascend D Quad, Ascend D Quad XL, Ascend D1, Ascend G300, Ascend G330, Ascend G510, Ascend G526, Ascend G6, Ascend G600, Ascend G7, Ascend G730, Ascend Mate, Ascend Mate 2, Ascend Mate 3, Ascend Mate 7, Ascend P1, Ascend P6, Ascend P7, Ascend P7 Mini, Ascend P8, Ascend W1, Ascend Y100, Ascend Y210D, Ascend Y530, Blaze, C199, Ascend G6 4G, G7002, G7010, Honor, Honor 3, Honor 4X, Honor 6, Honor 6 Plus, MediaPad M1, MediaPad T1 8.0, MediaPad X1, MediaPad X2, P8, P8 Max, U7510, U8800 Ideos X5, Vision, Ascend Y300, Y600
Ice-Phone: Forever
iNQ: Cloud Touch
Intex: Aqua i5 Mini, Aqua i7, Aqua Superb
JCB: Pro Talk TP851, Sitemaster TP802, Tradesman TP121
Karbonn: A30, A9 Plus, K450, S5 Titanium, Sparkle V, Titanium Hexa, Titanium Octane
Kazam: Thunder2 4.5L, Thunder2 5.0, Tornado2 5.0, Trooper2 5.0
Kobo: Vox
Konka: Expose 960, Expose 970
Lava: Iris 351, Iris 454, Iris 502
Lenovo: A10, A526, A7000, Golden Warrior A8, IdeaTab A2107, K80, K900, Miix 300, P90, S660, S850, S860, Tab 2 A10, Tab 2 A8, Tab S8, ThinkPad 8, Vibe Shot, Vibe X2, Vibe Z2, Vibe Z2 Pro, X2 Pro, Yoga Tablet 10
LG: A133, A140, Arena, BL20 Chocolate, BL40 Chocolate, Cookie Fresh GS290, Cookie Gig KM570, Cookie Lite T300, Cookie Style, Escape, F60, G Flex, G Flex 2, G Pad 10.1, G Pad 7.0, G Pad 8.0, G Pad 8.3, G Pro 2, G2, G2 Mini, G3, G3 Beat, G3 Mini, G3 S, G3 Stylus, G4, GD510 Pop, GD880 Mini, GM205, GM750, GT400 Viewty Smile, GT500 Puccini, GT505, GT540 Optimus, GU230, GW300, GW520, GW620, GW910, InTouch Max, Intuition, Jil Sander, Joy, KC780 Reina, KC910 Renoir, KP500 Cookie, KP501 Cookie, KS365, KU990i, L Bello, L Fino, L35, L40, L70, L80 Dual, L90, L90 Dual, Leon, Magna, Optimus 2X, Optimus 3D, Optimus 3D Max, Optimus 4X HD, Optimus 7, Optimus 7Q, Optimus Black, Optimus Chat C550, Optimus Chic, Optimus F3Q, Optimus F6, Optimus G, Optimus G Pro, Optimus Hub, Optimus L3, Optimus 5L, Optimus L7, Optimus L7 II, Optimus L9, Optimus Me, Optimus Net, Optimus One, Optimus Pad, Optimus Pro, Optimus True HD, Prada 3.0, Rumor Reflex, Spectrum VS920, Spirit, Spirit 4G, Swift, T310 Wink Style, Town C300, Town GT350, U400, U8110, U8120, U8130, U8138, U8150, U8180, U8330, U8360, U880, Viewty GT, Viewty Lite, Viewty Snap GM360, Wink 3G
MacBook: 12 Inch, Air 13, Pro 15, Pro Retina 15
Maxtouuch: 7 Inch Android Tablet
MDA: Basic
Micromax: A116 Canvas HD, Canvas Elanza 2, Canvas Turbo
Microsoft: Lumia 1330, Lumia 430, Lumia 435, Lumia 532, Lumia 535, Lumia 540, Lumia 640, Lumia 640 XL, Surface 2, Surface 3, Surface Pro 2, Surface Pro 3
Motorola: Atrix, Atrix HD, Backflip, DEFY, DEFY Mini, DEFY Plus, DEFY Plus JCB Edition, DEXT, Droid RAZR, Droid Razr HD, Droid RAZR Maxx, Droid Razr Maxx HD, Droid Ultra, ES400, FIRE, FIRE XT, Flipout, Gleam, Gleam Plus, KRZR K1, KRZR K3, L6, Milestone, Milestone 2, Moto E 1st Gen, Moto E 2nd Gen, Moto G 1st Gen , Moto G 2nd Gen, Moto G 4G 2015, Moto G 4G LTE, Moto G Forte, Moto X 1st Gen, Moto X 2nd Gen, MOTO Z10, MOTOLUXE, MotoSmart, PEBL U6, Photon 4G, Photon Q 4G, PRO, PRO PLUS, Q, Quench, RAZR, RAZR HD, RAZR i XT890, RAZR maxx, RAZR V3, RAZR V3xx, RIZR, RIZR Z8, ROKR E1, ROKR E8, ROKR Z6, SLVR 7, V3i, V3x, Wilder, XOOM, XOOM 2, XOOM 2 Media Edition, XT316, XT720, Z6w
Nodis: ND 503
Nokia: 100, 101, 106, 110, 112, 1200, 1209, 1600, 1650, 208, 215, 220, 2220, 2600 Classic, 2630, 2690, 2710 Navigation Edition, 2730 Classic, 2760, 301, 3109 Classic, 3120 Classic, 3230, 3250, 3500 Classic, 3600 Slide, 3720 Classic, 500, 5070, 5200, 5220, 5228, 5230, 5235 , 5250, 5300, 5310, 5320, 5330 Mobile TV Edition, 5500, 5530 XpressMusic, 5610, 5800 Xpress Music, 600, 6070, 6085, 6103, 6124, 6125, 6131, 6230, 6230i, 6233, 6260, 6260 Slide, 6280, 6288, 6300, 6303i Classic, 6600 Slide, 6600i Slide, 6630, 6670, 6680, 6681, 6700 Slide, 6730 Classic, 6760 Slide, 700, 701, 7230 Slide, 7310 Supernova, 7370, 7373, 7390, 7510 Supernova, 7610, 7610 Supernova, 7710, 808 PureView, 8800 Arte, 8800 Diamond Arte, 9300i, 9500, Asha 201, Asha 202, Asha 203, Asha 210, Asha 230, Asha 300, Asha 302, Asha 303, Asha 306, Asha 502, C1 00, C1 01, C1 02, C2, C2 01, C2 02, C2 03, C2 05, C3, C3 01 Touch and Type, C3 01.5, C5, C5 03, C6, C6 01, C7, E5, E50, E51, E51 ( No Camera ), E52, E6, E60, E61, E61i, E65, E66, E7, E70, E71, E72, E75, Lumia 1020, Lumia 1320, Lumia 1520, Lumia 2520, Lumia 510, Lumia 520, Lumia 521, Lumia 525, Lumia 530, Lumia 610, Lumia 620, Lumia 625, Lumia 630, Lumia 635, Lumia 636, Lumia 638, Lumia 710, Lumia 720, Lumia 730, Lumia 735, Lumia 800, Lumia 810, Lumia 820, Lumia 822, Lumia 830, Lumia 900, Lumia 920, Lumia 925, Lumia 929, Lumia 930, Lumia Icon, N1, N70, N71, N72, N73, N78, N79, N8, N80, N81, N82, N85, N9, N90, N900, N91, N92, N93, N93i, N95, N95 8GB, N96, N97, N97 mini, Oro, X, X Plus, X1 00, X1 01, X2, X2 01, X3, X3 02 Touch And Type, X3-02, X5 01, X6, X7, XL
O2: XDA Atmos, XDA Diamond, XDA Exec, XDA Ignito, XDA Orbit 2
OnePlus: One
Oppo: Find 5, Find 7, Find 7a, R3, R5
Orange: Amsterdam, Atlanta, Barcelona, Boston, Dallas, Gova, Lisbon, SPV M5000, Miami, Monte Carlo, Rio, Rio II, San Diego, San Francisco, San Francisco II, Santa Clara, Stockholm, Sydney
Palm: LifeDrive, Pixi, Pixi Plus, Pre, Pre 2, Pre 3, Pre Plus, TX
Panasonic: Eluga, Eluga Power, Lumix CM1
Prestigio: MultiPhone 5300 DUO, MultiPhone 5450 DUO, MultiPhone 5500 DUO
Qtek: 9000
Samsung: Ativ S, ATIV SE, B210, B2700, B3210 Corby TXT, B3310, B3410, B510, B5310 Corby PRO, B7722, Beam I8520, Blade, Blue Earth, C3050, C3212, C3300 Libre, C3350 Solid X Cover, C3510, C6620, Champ Deluxe Duos, Chat 222, Chat 322, Chat 335, Chat B3410W, Core LTE, D520, D600, D800, D820, D830, D840, D880 DuoS, D900, D900i, Diva Diamond, E1050, E1080, E1150i, E1170, E2120B, E2121, E2121B, E215, E2330, E2370, E2600, E390, E590, E760, E770, E780, E840, E900, Exhilarate i577, F200, F210, F250, F300, F400, F480 Player Style, F480 Tocco, F490, F700, Flutter, G400, G600, G800, G9098, Galaxy , Galaxy 3 I5800, Galaxy 550, Galaxy 551, Galaxy A3, Galaxy A5, Galaxy A7, Galaxy Ace 2, Galaxy Ace 3 3G, Galaxy Ace 3 4G, Galaxy Ace 4, Galaxy Ace Duos S6802, Galaxy Ace Plus, Galaxy Ace, Galaxy Ace Style, Galaxy Advant, Galaxy Alpha, Galaxy Apollo i5801, Galaxy Avant, Galaxy Axiom, Galaxy Beam, Galaxy Beam 2, Galaxy Chat B5330, Galaxy Core, Galaxy Core 4G, Galaxy Core Advance, Galaxy Core II, Galaxy Core Prime, Galaxy E5, Galaxy E7, Galaxy Europa I5500, Galaxy Express, Galaxy Express 2, Galaxy Extreme, Galaxy F, Galaxy Fame, Galaxy Fit S5670, Galaxy Gio S5660, Galaxy Grand, Galaxy Grand 2, Galaxy Grand Prime, Galaxy Grand Z, Galaxy J1, Galaxy K Zoom, Galaxy Lite, Galaxy M Pro, Galaxy Mega 2, Galaxy Mega 5.8, Galaxy Mega 6.3, Galaxy Mini 2, Galaxy Mini S5570, Galaxy Next Turbo, Galaxy Nexus, Galaxy Note, Galaxy Note 10.1, Galaxy Note 10.1 2014, Galaxy Note 2, Galaxy Note 3, Galaxy Note 3 Neo, Galaxy Note 4, Galaxy Note 8.0, Galaxy Note 8000, Galaxy Note Edge, Galaxy Note Pro, Galaxy Pocket, Galaxy Portal, Galaxy Pro, Galaxy R, Galaxy Round, Galaxy S Advance, Galaxy S Duos, Galaxy S I9000, Galaxy S Plus I9001, Galaxy S2, Galaxy S2 Skyrocket, Galaxy S3, Galaxy S3 LTE, Galaxy S3 Mini, Galaxy S3 Neo, Galaxy S4, Galaxy S4 Active, Galaxy S4 Mini, Galaxy S4 Zoom, Galaxy S5, Galaxy S5 Active, Galaxy S5 Mini, Galaxy S5 Neo, Galaxy S5 Prime, Galaxy S5 Sport, Galaxy S6, Galaxy S6 Active, Galaxy S6 Edge, Galaxy Star 2, Galaxy Stellar, Galaxy Tab, Galaxy Tab 10.1, Galaxy Tab 2 10.1, Galaxy Tab 2 7.0, Galaxy Tab 3 10.1, Galaxy Tab 3 7.0, Galaxy Tab 3 8.0, Galaxy Tab 3 Lite , Galaxy Tab 4 10.1, Galaxy Tab 4 7.0, Galaxy Tab 4 8.0, Galaxy Tab 7 Plus, Galaxy Tab 7.7, Galaxy Tab 8.9, Galaxy Tab A 8.0, Galaxy Tab A 9.7, Galaxy Tab Pro 10.1, Galaxy Tab Pro 12.2, Galaxy Tab Pro 8.4, Galaxy Tab S 10.5, Galaxy Tab S 8.4, Galaxy Teos, Galaxy Trend Plus, Galaxy Victory 4G, Galaxy W, Galaxy Xcover, Galaxy Xcover 2, Galaxy Y, Galaxy Y Pro, Galaxy Young, Galaxy Young 2, Genio PRO, Genio Qwerty, Genio Slide, Genio Touch, Glamour S5150, Google Nexus S, Grand Neo, H1, i200, i300, i320, i5500 Corby, i5500 Galaxy 5, i560, i5700 Galaxy Portal, i600, i620, i7500, i780, i8510 INNOV8, I8520 Halo, i900 Omnia, I9003 Galaxy SL, I9010 Galaxy S Giorgio Armani, Jet S8000, Jet Ultra Edition, Knox, L170, L310, L320, L760, L770, Lindy M5650, M110 Solid, M150, M200, M2310, M2510, M3200 Beat S, M3310, M3510 Beat B, M7500 Emporio Armani, M8800 Pixon, Mega 6.3, Miss Player, Monte Bar C3200, Monte S5620, Monte Slider E2550, Naos, Omnia 7, Omnia II I8000, Omnia Lite, Omnia M , Omnia PRO 4 B7350, Omnia Pro B7320, Omnia Pro B7330, Omnia Pro B7610, Omnia W, P260, P300, P310, P520 Armani, Pixon12, Player 5, Player Light, Player Mini, Player Star 2, Preston, Qbowl, Rex 60, Rex 70, Rex 80, Rex 90, Rocky E1130, S2 Plus, S3370, S3650 Corby, S5150 Diva Folder, S5200 Slide, S5260 Star II, S5530, S5560, S5750, S7070 Diva, S7230, S7330, S9402 Ego, S500i, U300, Z320i, Solid Immerse, Teos, Tocco Icon, Tocco Lite 2, Tocco Quick Tap, U100, U600, U700, U800 b, U900, Wave 2 Pro S5330, Wave 2 S5250, Wave 3, Wave 525, Wave 533, Wave 575, Wave 723, Wave II S8530, Wave M, Wave S8500, Wave Y, X820, X830, Z, Z1, Z510, Z560, Z650i
SanDisk: Sansa E200
Sharp: Aquos Xx 302Sh
Smartisan: T1
Sony: acro S, NWA Series, NWE Series, PSP, PSP Slim and Lite, Tablet S, Xperia A2, Xperia C, Xperia C3, Xperia E, Xperia E1, Xperia E3, Xperia E4, Xperia E4g, Xperia go, Xperia i1, Xperia ion, Xperia J, Xperia L, Xperia M, Xperia M Dual, Xperia M2, Xperia M2 Aqua, Xperia M4 Aqua, Xperia Miro, Xperia P, Xperia S, Xperia S Tablet, Xperia SL, Xperia Sola, Xperia SP, Xperia T, Xperia T2 Ultra, Xperia T2 Ultra Dual, Xperia T3, Xperia Tipo, Xperia tipo dual, Xperia TX, Xperia U, Xperia V, Xperia XL, Xperia Z, Xperia Z Tablet, Xperia Z Ultra, Xperia Z1, Xperia Z1 Compact, Xperia Z1f, Xperia Z1S, Xperia Z2, Xperia Z2 Compact, Xperia Z2 Tablet, Xperia Z3, Xperia Z3 Compact, Xperia Z3 Tablet Compact, Xperia Z4, Xperia Z4 Compact, Xperia Z4 Tablet, Xperia Z4 Ultra, Xperia ZL, Xperia ZL2, Xperia ZR, Z2a Compact
Sony Ericsson: Aino, Aspen, C510, C702i, C901, C902, C905, Cedar, D750i, Elm, F305, G502, G700, G705, G900, Hazel, J100i, J110i, J120i, J132, J220i, J230i, K200i, K220i, K310i, K330, K510i, K530i, K550i, K610i, K630i, K660i, K750i, K770i, K800i, K810i, K850i, M600i, Mix Walkman, Naite, P1i, P900, P910i, P990i, R300, R306, S302, S500i, Satio, Spiro, T250i, T270i, T280i, T303, T650i, T700, txt, Txt Pro, V630, V640i, Vivaz, Vivaz Pro, W200i, W300i, W302, W350i, W380i, W508, W550i, W580i, W595, W610i, W660i, W700i, W710i, W715, W760i, W8, W800i, W810i, W850i, W880i, W890i, W900i, W902, W910i, W950i, W960i, W980i, X10, Xperia Active, XPERIA Arc, Xperia arc S, XPERIA Kyno, XPERIA Mini, XPERIA Mini Pro, XPERIA Neo, Xperia neo V, Xperia Play, XPERIA Pro, Xperia Pureness, Xperia Ray, Xperia X1, XPERIA X10 Mini, XPERIA X10 Mini Pro, Xperia X2, XPERIA X8, Yari, Yendo, Z310i, Z320i, Z520i, Z530i, Z550i, Z555i, Z558i, Z610i, Z710i, Z750i, Z770i, Z780i, Zylo
Spice: Dream Uno, Stellar Mi-520, Stellar Mi-526
Swipe: Fablet F2, Fablet F3, MTV Volt 1000
T Mobile: G1, G2 Touch, MDA Compact IV, MDA Pro, MDA Vario IV, myTouch 3G Slide, Pulse, Pulse Mini, Touch Plus, Vairy Text, Vairy Touch II, Vibe, ZTE X760
TMobile: Accord, Affinity, Beat, Energy, Groove, Rapport, Unity, Vivacity
Toshiba: Encore 2 10, Encore 2 8, Excite Go, K01, TG02
Folio 100: Accessories
Turkcell: T50
Videocon: A 27
Virgin: VM 720, VM202, VM665, VM800, VM820
Vodafone: 340, 351, 360 H1, 360 M1, 455, 543, 547, 550, 553, 845, 945, M1, Smart 4 Mini, Smart 4G, Smart 858, Smart Mini, Smart Tab II 10, v1640
Wiko: Barry, Birdy 4G, Bloom, Cink Five, Cink Peax 2, Cink Slim, Cink Slim 2, Darkmoon, Darknight, Darkside, Fizz, Getaway, Goa, Highway, Highway 4G, Highway Pure 4G, Highway Signs, highway Star 4G, Jimmy, Kite 4G, Lenny, Mazing, Rainbow, Rainbow 4G, Ridge 4G, Ridge Fab 4G, Slide, Stairway, Sunset, Wax
Wolder: mismart XLIM
Woxter: Zielo S11
Xiaomi: Mi 3, Mi 4, Mi 4i, Mi Note, Mi Pad 7.9, RedMi, RedMi 2, RedMi Note
Xolo: A500, A500s, Play, Q1000, Q1000s, Q1100, Q2000, Q3000, Q700, Q800, X1000
Yarvik: Luna 7 101
Yota Devices: YotaPhone 2
Zen: Ultrafone 502
ZTE: Blade 2, Blade L2, Blade S6, Blade S6 Plus, Blade Vec 3G, Blade Vec 4G, Grand Memo II LTE, Grand S, Grand X, Grand X Max+, Kis 3, Kis 3 Max, KPN Smart 200, Libra, Nubia X6, Open, Racer, Skate, Tania, Tureis, ZTE Blade Q Mini