Most Useful Customer Reviews
Isabelle Szczecinski
Retford
Kit: Slim Bluetooth Keyboard Black
25th April 2016
small and perfectly formed!
I've been wanting one for a while just couldn't find one I thought was small enough to warrant it being truly portable. This is just fantastic, it fits easily into my handbag or briefcase and yet it is still just large enough for me to be able to touch type. I can now make notes or reply to emails quickly and still see the screen of my 10" tablet. I've paired it with a HP Slate tablet and the pairing was so easy. I'm going to make a slip cover just to protect it whilst it's in my bag but if you're not wizzy on the sewing machine you could easily just pop it into a padded envelope. I highly recommend this keyboard if you are using a tablet.
---
Ashleigh
newcastle
iphone 5
19th June 2014
best I've had!
It's a running joke among my friends that any keyboard i buy for my phone will be useless within 48 hours... Not this baby! Typing is easy and intuitive because it feels just like using a laptop or notebook. Some of the functions take a bit of fiddling with to work out but nothing very taxing. I love that i can control my audio without touching my screen and even use the home button to access Siri or the app switcher. I found myself dictating texts from the bathroom floor the other day without having to put wet hands on my phone at all. As far as size goes, I can fit this in most of my handbags and it weighs practically nothing. You couldn't go out with it in your pocket but that's not a problem if you usually do have a bag or briefcase. Its a little longer than a paperback and thin as a magazine. Pairing is straight forward and battery life seems good. I think one of my favourite features is the way you can use the arrow keys like a rota. e.g. press up and right together to move in that direction. Particularly good for voiceover users as it makes navigating the touch screen a sinch! Would certainly recommend!
Read 11 customer reviews
|
Write a review
---
Why Buy?
Provides you with the freedom to work anywhere

Simple Bluetooth connection couldn't be easier

Simple Bluetooth connection couldn't be easier

Full QWERTY sized keyboard

LED Status Lights, so you always know what's going on
---
Description
Provides you with the freedom to work anywhere
The Kit wireless Bluetooth keyboard will bring comfort and convenience to your texting and emailing world and allow you the freedom to work anywhere. It is small enough to be carried around with your phone, but much easier, quicker and more accurate than using the onscreen keyboard or T9 keypads, allowing you to be more efficient whilst on-the-go.
Simple Bluetooth connection couldn't be easier
The keypad simply connects via Bluetooth to your device and is compatible with devices such as Smartphone (with HID)*, iPad/iPad2, iPhone, iPod Touch, Galaxy Tab.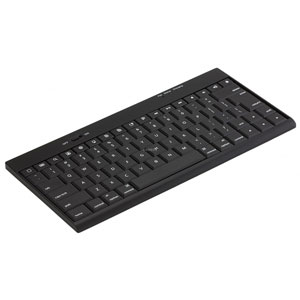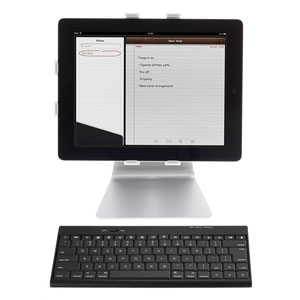 Slim and Lightweght design
The Bluetooth keyboard form Kit is also super slim and lightweight so you can take it with you anywhere. With a convenient 10m range feature and an internal rechargeable Lithium battery that is charged with the included Micro USB cable, you can keep this with you at all times.
Full QWERTY sized keyboard
Don't struggle with accuracy and speed when typing on your small touchscreen devices, feel the benefits of a full sized QWERTY keypad, with all the features and functions of a normal keyboard.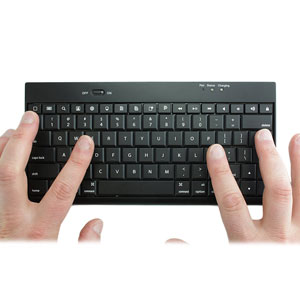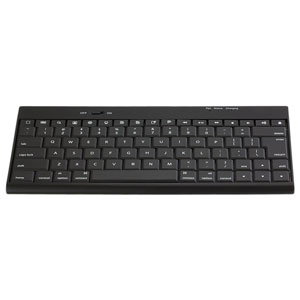 LED Status Lights, so you always know what's going on
With a red and green status light in the top right hand corner of the Bluetooth keyboard from Kit, you can be sure to know exactly when you need to charge your device, to make sure it never runs out of juice and is always available when you need it most.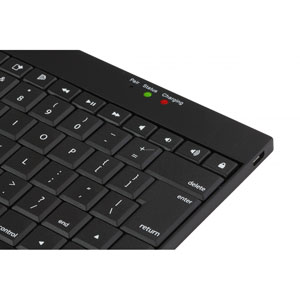 Technical Specifications
Dimensions: 243 x 119 x 6mm
Compatibility: Windows, iOS and Smartphone (with HID)
Range: 10m
Power: Rechargeable Lithium battery (250mA)
Charge time: 2-3Hours
Standby Time: 90 days
Working time: 90 hours
---
Key Details
Bluetooth: Yes
Colour: Black
Part No: KBSLBKNK