Most Useful Customer Reviews
17th October 2016
Excellent product
Excellent service. Excellent product. Excellent price. What more can one say other than I intend to purchase other very useful items from this company.
---
Ruth
Bath
Kit 2-in-1 Universal In-Car charger with 3000 mah power bank
27th December 2015
Such a useful gadget
This is great! Such a good idea - power your phone or other accessory in the cigarette lighter in the car - and then keep charging whilst on the go with the power bank. Too many times my other power banks have been out of charge in my bag when I've needed them - so to have it able to charge up whilst travelling is so useful:O) REALLY pleased and will be buying more for gifts next year!
Read 8 customer reviews
|
Write a review
---
Why Buy?
3,000mAh power boost

Foldable in-car charger

Emergency charging on the go

USB output for universal compatibility

Battery charge capacity indicator

Built-in torch
---
Description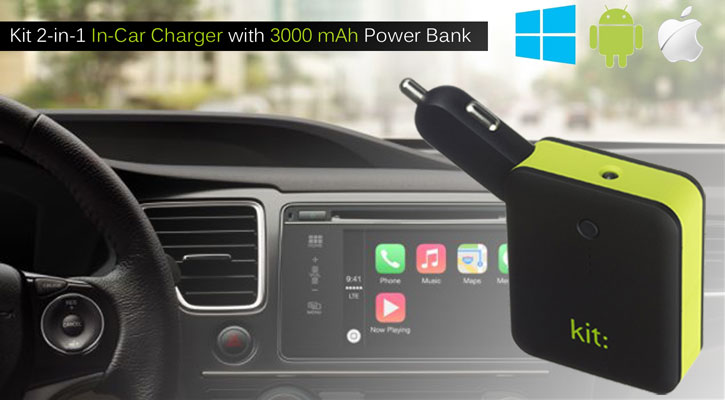 3,000mAh power boost
Use in remote places or simply when your battery is on its last legs. The Kit In-Car Power Bank features an impressive 3000mAh capacity, adding up to 10 additional hours of talktime to your iPhone 6S (as an example) and can significantly boost the available charge available on any USB compatible smartphone or tablet.
Foldable in-car charger
This awesome device functions as any ordinary 2.1A car charger would. With your device connected to this charger, the pass through allows high speed charging of smartphones or tablets. Featuring a fiendishly simple yet ingenious foldable design, it can be easily plugged and unplugged from your car's electrical port and placed in your bag or pocket to carry with you. Its small size is a welcome bonus as it will not hinder any operation of your vehicle or take up any more space than necessary. The power bank also replenishes its own power via your vehicles electrical port, so when you're finished driving, unplug it and take it with you to keep your devices in power.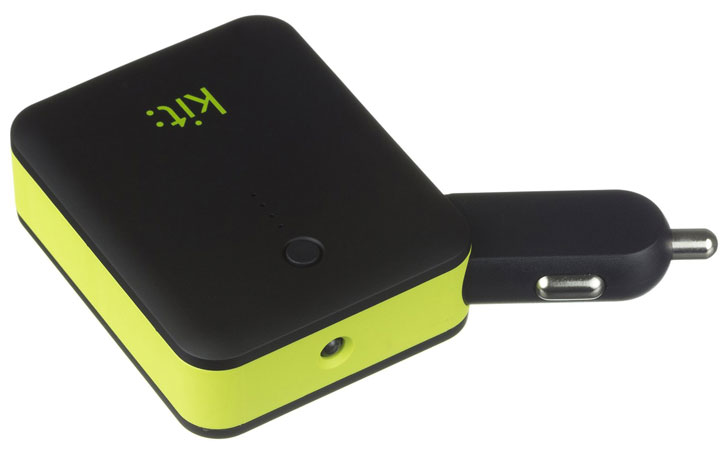 Emergency charging on the go
Be safe and ensure your smartphone survives the day and beyond. Make a phone call, surf the web, check your email and send a text message in the secure knowledge that if your device's battery is low, you can boost the power with your trusty Power Bank. Apps that require more juice to operate including graphically intensive games or those that use GPS are no longer an issue, so play and navigate for longer with the very portable and supremely stylish Kit power bank. No need for a mains power supply (although you can also charge this via USB mains charger, simply connect your phone to the built-in USB port and ensure your device is ready for action wherever you are.
USB output for universal compatibility
With a USB charging cable, you can simply plug into the built-in USB port on the Kit Power Bank to benefit from the 3000mAh of additional battery capacity it provides. Any device that charges via USB cable is compatible and the 2.1A output satisfies most if not all devices on the market.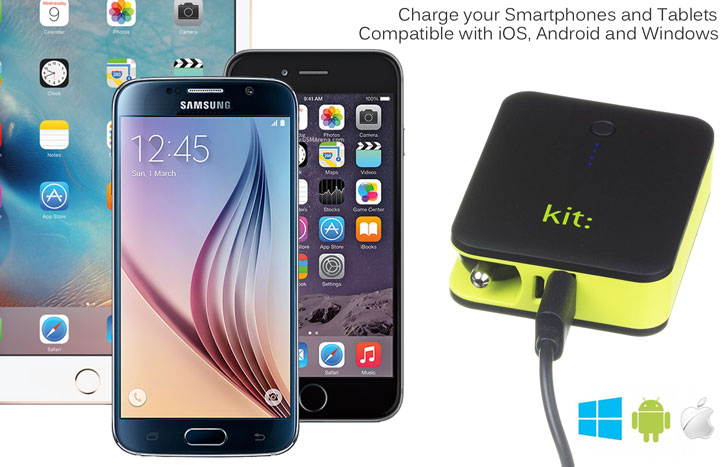 Battery charge capacity indicator
On the top of the charger are a series of battery level indicators, which detail how much power is left within the power bank. With just a quick glance, you can see how much charge is left in the power bank so you know when you will next need to recharge the device.
Built-in torch
Also included is a built-in LED, that will light up should you find yourself in any dark dwellings or are unable to locate the place to insert your keys. Having a torch around a vehicle at nighttime is very useful as you might imagine. In fact, it could avert a disaster. Lost keys, checking for oil leaks, changing a tyre and so on. Hey, it's also fun and might keep the kids entertained for 5 minutes!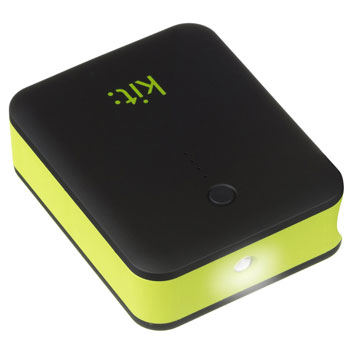 Size: 170 x 96 x 28mm
Weight: 50g
Output: 2.1A
---
Key Details
Charger Type: Car Charger, Emergency Charger
Colour: Black
Part No: PWRCC3