Most Useful Customer Reviews
16th July 2011
Fantastic product
I searched online everywhere and finally chose this product which is the best of the best. Would definitely buy from here again. Its neat and very easy to operate.
Read 1 customer review
|
Write a review
---
Why Buy?
Leather case with built-in Bluetooth keyboard

Long-lasting rechargeable battery

Auto-sleep functionality

Active pairing

Made for iPad 2
---
Why not View a video about this product?
Description
Using a new tear proof material with a soft interior lining, the KeyCase Pro expands on the original KeyCases functionality and proctection.
New material offering better protection and a thinner profile
The new tear proof material features internal padding which absorbs shocks better to ensure that your iPad 2 remains protected at all times whilst its in the case. Boasting a thinner profile than the original KeyCase, the KeyCase Pro not only adds more protection to your iPad 2 but it also provides a better look and feel, with its unique honeycomb pattern, keeping your iPad 2's thin design whilst adding more features and functionality.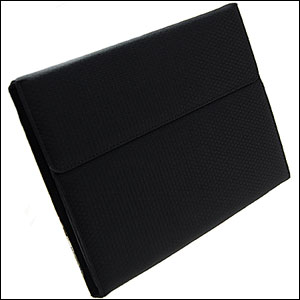 When you open the KeyCase Pro you find a stylish, hard key, keyboard. The keyboard pairs to your iPad 2 providing you with a better typing experience than the on screen keyboard and the stylish hard keys not only make it easier to type but also protects the keys from getting damaged with use.
Built in Bluetooth keyboard
The built in keyboard not only has hard keys to keep them free from damage but it also features dedicated keys which allow you to access a number of the iPad 2's features without having to touch your iPad 2. The keys allow you to cut, copy and paste from the simple touch of a button, but there are also dedicated keys to play your music, skip tracks, pause and stop as well as volume controls and an easy to use lock button, which instantly locks your iPad 2: perfect if you're in a hurry.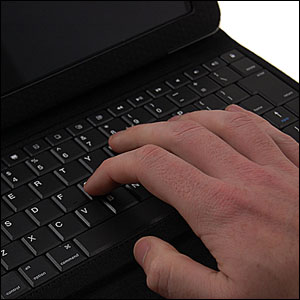 Multi View desk stand
As well as the built in keyboard there is also a Multi-View desk stand which allows you to view your iPad 2 in a number of different ways. Incorportating a unique velcro design, you can position your iPad 2 at virtually any angle; making browsing the internet, playing games, watching movies and using FaceTime even more comfortable. When the case is closed the unique Velcro pad provides a soft layer of protection for your iPad 2's screen ensuring that it won't get damaged whilst its inside the case.
Cut out for front camera
The KeyCase Pro for iPad 2 features a cut out for the camera on the front and back of the iPad 2. With the incorporated desk stand, the case is perfect for using FaceTime so you can chat to your friends in comfort. It also features cut outs allowing you to still charge and sync your iPad 2.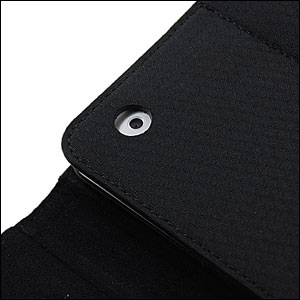 Inbuilt battery and LED's
The case also features an inbuilt battery which allows you to easily charge the keyboard whilst your using it. Meaning that you can keep typing for even longer. The case also features an on/off button and an easy to use pairing switch, which when pressed puts the keyboard in pairing mode, making it even quicker and easier to pair the KeyCase Pro to your iPad 2.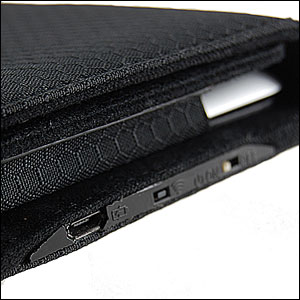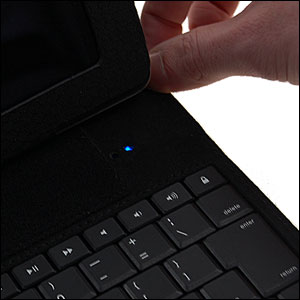 The KeyCase Pro features built in LED's which tell you when the case is on and also when it is in pairing mode and paired, so you can be sure that you know what status the KeyCase Pro is in at all times.
Active pairing
The Bluetooth keyboard also has active pairing, so once it's initially set up it will automatically connect to your iPad 2 every time both have Bluetooth switched on.
Made for iPad 2
As this case is built specifically for the Apple iPad 2, you can be sure of a perfect fit, and with access to all the ports and buttons your device maintains full functionality while in the case.