Most Useful Customer Reviews
Hannah
Cambridge
iPhone 6
13th May 2015
Fabulous!
This phone holder Iis very compact and fits in most vent type, very easy to move from car to car , but stays in place very well even with vertical vents ! :) holds the phone very well even with case on , very happy with product.
---
22nd November 2014
Surprisingly excellent
Simplicity of design is misleading and this is a very sturdy phone holder, holds my s5 with Spigen case snugly. Ive tried most other highly rated vent holders to destruction and this is by far the best. Very happy
Read 370 customer reviews
|
Write a review
---
Why Buy?
Attaches to all types of car air vent

Compatible with most smartphones

Steady grip

Pocket portable

Doubles up as a travel stand
---
Description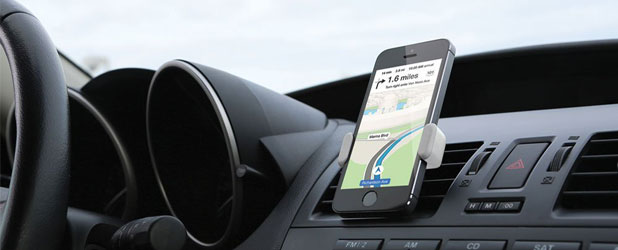 Attaches to all types of car air vent
With Airframe's patent-pending rotating clip, it can mount to any type of car air vent - horizontal, vertical and angled.
Airframe's simple, yet highly functional design does not require any suction cups, adhesives, magnets or special cases.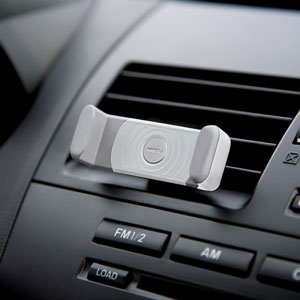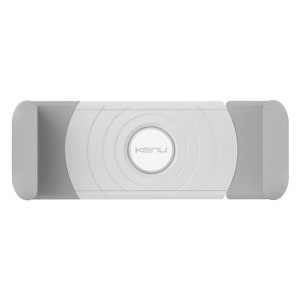 Compatible with most smartphones
Kenu's Airframe mount fits most smartphones. Due to the spring loaded stainless steel mechanism and elastomer grips, the Airframe can securely fit all smartphones up to a width of 74mm or a screen size of 121mm.
Compatible with iPhone, Samsung Galaxy phones, BlackBerry, Windows phones and more besides.
Airframe allows easy access to audio cables and power cords.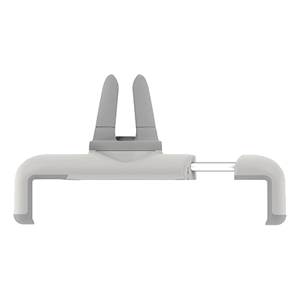 Pocket portable
Airframe weighs only 23g and is small enough to fit in your pocket, making it perfect for everyday use as well as holidays and business trips.
Airframe's spring loaded expandable jaw securely holds most smartphones (up to 4.8" screens).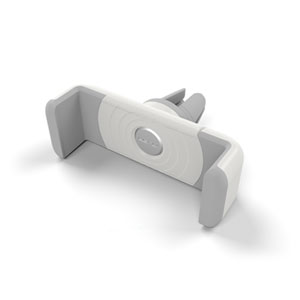 Doubles up as a travel stand
Insert any card from your wallet or purse into the rotating clip and Airframe transforms into a hands-free stand.
Airframe works in both portrait and landscape formats, making it perfect for watching videos or playing games on flights and train journeys.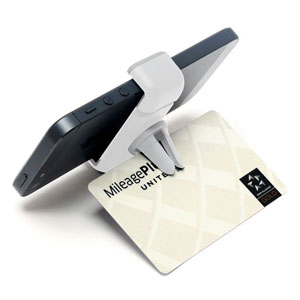 Reviews:

"The world's most portable car mount for smartphones."
Mashable, 10 Best iPhone Car Mounts

"The only car mount you will ever need."
The Examiner, The Best Universal Car Mount for any Smartphone

"Very small, very light and very functional, the Airframe will ensure your phone does not tumble around on the dash or the console or the seat, and keeps this increasingly important device in plain view but not obstructing your view."
National Post, CARgo: Gear for the ubiquitous smartphone in your life
---
Key Details
Colour: White
Part No: AF1-WH-E
3: INQ Chat 3G, INQ Mini 3G, INQ1, Skypephone, Skypephone S2, Skypephone S2x, ZTE F102, ZTE F107
Acer: beTouch E100, Acer Liquid Z3, Allegro, beTouch E110, beTouch E200, beTouch E400, DX900, F1, F900, Iconia Smart, Liquid, Liquid e, Liquid E1, Liquid E2, Liquid E3, Liquid Jade, Liquid Jade Z, Liquid M220, Liquid Metal, Liquid S1, Liquid S2, Liquid X1, Liquid X2, Liquid Z200, Liquid Z4, Liquid Z5, M900, neoTouch, neoTouch P300, neoTouch P400, X960
Alcatel: OT 331, OT 332, OT-535, OT-756, OT E256, Idol Alpha, Touch Idol X 6040D, One Touch Hero 2C, OneTouch Hero 2, OneTouch Idol, OneTouch Idol X+ 6043D, OneTouch Pop C3, OneTouch Pop C7, OneTouch SPop, OT 209, OT 222, OT 223, OT 255, OT 282, OT 303, OT 355, OT 363, OT 565, OT 660, OT 665, OT 708, OT 710, OT-735, OT 799, OT 808, OT 990, OT 991, OT Crystal, OT-E221, OT-E227, OT E805, OT S210, OT S211, OT-S319, OT-S520, OT V770, OT-203, OT-292, OT 507, OT-C701, OT C717, OT E201, OT E205, OT E259, OT-E105, POP S3, POP S7, POP S9, Tribe OT 800, OT-V212
Allview: V1 Viper S
Amazon: Fire Phone
Amoi: MOS-1
Apple: iPhone, iPhone 4, iPhone 4S, iPhone 5, iPhone 5C, iPhone 5S, iPhone 6, iPod 3G, iPod 4G, iPod Classic, iPod Color, iPod Mini, iPod Photo, iPod Touch, iPod Touch 2G, iPod Touch 4G, iPod Video
Archos: 45 Helium 4G, 50 Oxygen, 50 Platinum, 50c Oxygen
Asus: PadFone E, PadFone Mini, PadFone X, Zenfone 2, ZenFone 4, ZenFone 5, ZenFone 6, ZenFone Zoom
BenQ-Siemens: C81, CF61, CL71, E61, EF51, EF61, EF81, EF91, EL71, P51, S68, S81, S88
BlackBerry: 8100 Pearl, 8110 Pearl, 8120 Pearl, 8130 Pearl, 8220 Pearl, 8300 Curve, 8310 Curve, 8320 Curve, 8800 Pearl, 8820, 9720, Bold 9900, Classic, Leap, Q10, Q5, Torch 9800, Torch 9810, Torch 9860, Z10, Z20, Z3, Z30
BLU: Neo 4
BQ: Aquaris 5 HD, Aquaris 5.7, Aquaris E4, Aquaris E4.5, Aquaris E5, Aquaris E5 4G, Aquaris E6
Creative: Zen Stone, Zen V, Zen Vision M
Dell: Streak, Venue, Venue Pro
Doro: PhoneEasy 332, PhoneEasy 341, PhoneEasy 410
E-TEN: G500
EE: Harrier, Harrier Mini, Kestrel
Energy: Energy Phone Pro, Phone Neo, Phone Pro Qi
Gionee: Elife S5.5, GPad G2
Google: Android One, G1 Android, Ion, Nexus 4, Nexus 5, Nexus 6, Nexus One, Nexus S
Hisense: U980
HTC: 7 Pro, 8S, 8X, Butterfly, Butterfly 2, Butterfly 3, ChaCha, Desire 200, Desire 210, Desire 262, Desire 300, Desire 310, Desire 320, Desire 500, Desire 501, Desire 510, Desire 516, Desire 601, Desire 610, Desire 616, Desire 620, Desire 626, Desire 700 Dual SIM, Desire 709d, Desire 816, Desire 820, Desire 826, Desire C, Desire Eye, Desire HD, Desire S, Desire VC, Desire X, Desire Z, Dream, Droid DNA, EVO 3D, Evo 4G LTE, Explorer, First, Google Nexus One, Gratia, HD mini, HD2, HD7, HD7S, Incredible S, Inspire, M8 Ace, Magic, Mozart, MTeoR, One 2014, One Dual SIM, One E8, One E9, One E9 Plus, One M7, One M8, One M8 Ace, One M8 Dual SIM, One M8 Eye, One M8s, One M9, One M9 Plus, One Max, One Mini, One Mini 2, One S, One SV, One V, One X, One X Plus, One XL, P3300, P3350, P3400, P3470, P4350, Radar, Rezound, Rhyme, S310, S620, S710, S730, S740, Salsa, Sensation, Sensation XE, Sensation XL, Smart, Snap, Tattoo, Thunderbolt, TITAN, Touch 3G, Touch Cruise, Touch Cruise 09, Touch Diamond, Touch Diamond2, Touch Dual, Touch HD, Touch phone, Touch Pro, Touch Pro2, Touch Viva, Touch2, Trophy, Ville, Wildfire, Wildfire S
Huawei: Ascend D Quad, Ascend D Quad XL, Ascend D1, Ascend G300, Ascend G330, Ascend G510, Ascend G526, Ascend G6, Ascend G6 4G, Ascend G600, Ascend G7, Ascend G730, Ascend Mate 2, Ascend Mate 3, Ascend Mate 7, Ascend P1, Ascend P6, Ascend P7, Ascend P7 Mini, Ascend P8, Ascend W1, Ascend Y100, Ascend Y210D, Ascend Y530, Blaze, C199, G7002, Honor, Honor 3, Honor 4X, Honor 6, Honor 6 Plus, Honor Holly, P8, U7510, Vision, Ascend Y300, Y600
Hummer: HT1
i-mate: SP JAS, SP3, SP3i, SPL
Ice-Phone: Forever
iNQ: Cloud Touch
Intex: Aqua i5 Mini, Aqua i7, Aqua Superb
JCB: Pro Talk TP851, Sitemaster TP802, TOUGHPHONE, Tradesman TP121
Karbonn: A30, A9 Plus, K450, S5 Titanium, Sparkle V, Titanium Hexa, Titanium Octane
Kazam: Thunder2 4.5L, Thunder2 5.0, Tornado2 5.0, Trooper2 5.0
Konka: Expose 960, Expose 970
Land Rover: S1
Lava: Iris 351, Iris 454, Iris 502
Lenovo: A526, A7000, Golden Warrior A8, K80, K900, P90, S660, S850, S860, Vibe Shot, Vibe X2, Vibe Z2, Vibe Z2 Pro, X2 Pro
Levis: Levis Phone
LG: 5300i, 5400, 7050, 7100, A 225, A100, A133, A140, Arena, B2050, BL20 Chocolate, BL40 Chocolate, C1100, C1200, C2200, C3300, C3310, C3320, Cookie Fresh GS290, Cookie Lite T300, Cookie Plus GS500, Cookie Style, Escape, F2250, F2400, F60, F7250T, G Flex, G Flex 2, G Pro 2, G2, G2 Mini, G3, G3 Beat, G3 Mini, G3 S, G3 Stylus, G4, G4 Stylus, G4c, GB102, GB220, GC900 Viewty Smart, GD510 Pop, GD880 Mini, GD900 Crystal, GM205, GM310, GM730, GM750, GT350, GT400 Viewty Smile, GT505, GT540 Optimus, GU230, GW300, GW520, GW550, GW620, InTouch Max, Intuition, Jil Sander, Joy, KB770, KC550 Orsay, KC560, KC910 Renoir, KE800 Chocolate Platinum, KE820, Prada, KE970 Shine, KF300, KF310, KF350, KF510, KF600 Venus, KF700 Virgo, KF750 Secret, KF757 Secret, Kf900 Prada II, KG130, KG220, KG225 Butterfly, KG275 Jumong, KG290, KG320, KG800 Chocolate, KG810, KG920, KP100, KP130, KP170, KP235, KS20, KS360, KS365, KS500, KT520, KT770, KU990 Viewty, KU990i, L Bello, L Fino, L1100, L343i, L35, L40, L70, L80 Dual, L90, L90 Dual, Leon, Magna, Optimus 2X, Optimus 3D, Optimus 3D Max, Optimus 4X HD, Optimus 7, Optimus 7Q, Optimus Black, Optimus Chat C550, Optimus Chic, Optimus F3Q, Optimus F6, Optimus G, Optimus G Pro, Optimus Hub, Optimus L3, Optimus 5L, Optimus L7, Optimus L7 II, Optimus L9, Optimus Me, Optimus Net, Optimus One, Optimus Pro, Optimus True HD, P7200, Prada 3.0, Rumor Reflex, S5200, Spectrum VS920, Spirit, Spirit 4G, Swift, T310 Wink Style, Town C300, U300, U400, U8110, U8120, U8130, U8138, U8150, U8180, U8210, U8290, U8330, U8360, U8380, U880, U890, Viewty GT, Viewty Lite, Wink 3G
LG : KP202
Lobster: 485, 544, 575, 700TV, VM621i
MDA: Basic
Micromax: A116 Canvas HD, Canvas Elanza 2, Canvas Turbo
Microsoft: Lumia 1330, Lumia 430, Lumia 435, Lumia 532, Lumia 535, Lumia 540, Lumia 640, Lumia 640 XL, Lumia 940, Lumia 940 XL
Mio: Explora K75
Motorola: A780, A830, A835, A910, A920, A925, Atrix, Atrix HD, Aura, Backflip, C115, C139, C155, C200, C257, C261, C300, C336, C350, C385, C390, C450, C550, C650, C975, C980, DEFY, DEFY Mini, DEFY Plus, DEFY Plus JCB Edition, DEXT, Droid RAZR, Droid Razr HD, Droid RAZR Maxx, Droid Razr Maxx HD, Droid Ultra, DVX, E1000, E1070, E365, E398, E550, E770v, EM28, EM30, EM325, EM330, EM35, ES400, FIRE, FIRE XT, Gleam, Gleam Plus, KRZR K1, KRZR K3, L2, L6, Milestone, Milestone 2, Moto E 1st Gen, Moto E 2nd Gen, Moto G 1st Gen , Moto G 2nd Gen, Moto G 4G 2015, Moto G 4G LTE, Moto G Forte, Moto X 1st Gen, Moto X 2nd Gen, MOTO Z10, F3, MOTOJEWEL, MOTOLUXE, MotoSmart, MPx, MPx200, MPx220, PEBL U6, PEBL2 U9, Photon 4G, Photon Q 4G, PRO, PRO PLUS, Q, Q9, Quench, RAZR, RAZR HD, RAZR i XT890, RAZR maxx, RAZR V3, RAZR V3xx, RAZR2 V8, RAZR2 V9, RIZR, RIZR Z8, ROKR E1, ROKR E8, ROKR Z6, SLVR 7, T191, T192, T280, T720i, V1050, V150, V180, V220, V230, V235, V360, V3i, V3x, V50, V500, V525, V545, V547, V550, V60, V600, V620, V635, V66, V70, V80, V975, V980, VE538, VE66, VE75, W160, W161, W181, W220, W230, W231, W233, W270, W370, W375, W377, W388, W396, Wilder, XT316, XT720, Z6w, ZN200, Zn300, ZN5
Motorola : W156
NEC: 343i, 411i, e122, e228, e313, e338, e540, e606, e616, e808, e808Y
Newgen: C800
Nodis: ND 503
Nokia: 100, 101, 106, 110, 1100, 1101, 1110, 1112, 112, 1200, 1202, 1208, 1209, 1600, 1616, 1650, 1661, 1680 Classic, 1800, 208, 2100, 215, 220, 2220, 2300, 2310, 2323 Classic, 2330 Classic, 2600, 2600 Classic, 2610, 2626, 2630, 2650, 2652, 2680 Slide, 2690, 2700 Classic, 2710 Navigation Edition, 2720 Fold, 2730 Classic, 2760, 301, 3100, 3109 Classic, 3110 Classic, 3110 Evolve, 3120, 3120 Classic, 3200, 3210, 3220, 3230, 3250, 3300, 3310, 3330, 3410, 3500 Classic, 3510, 3510i, 3600 Slide, 3610 Fold, 3650, 3660, 3710 Fold, 3720 Classic, 500, 5000, 5030, 5070, 5100, 5110, 5130 XpressMusic, 5140, 5140i, 5200, 5210, 5220, 5228, 5230, 5235 , 5250, 5300, 5310, 5320, 5330 Mobile TV Edition, 5330 XpressMusic, 5500, 5530 XpressMusic, 5610, 5630 Xpress Music, 5700, 5730 XpressMusic, 5800 Xpress Music, 600, 6020, 6021, 6030, 6060, 6070, 6080, 6085, 6086, 6100, 6101, 6103, 6110, 6110 Navigator, 6111, 6120 Classic, 6124, 6125, 6131, 6136, 6150, 6151, 6170, 6210, 6210 Navigator, 6212 Classic, 6216 Classic, 6220, 6220 Classic, 6230, 6230i, 6233, 6234, 6260, 6260 Slide, 6267, 6270, 6280, 6288, 6290, 6300, 6300i, 6301, 6310i, 6500 Classic, 6500 Slide, 6510, 6555, 6600, 6600 Fold, 6600 Slide, 6600i Slide, 6610, 6610i, 6630, 6650, 6650 Flip, 6670, 6680, 6681, 6700 Classic, 6700 Slide, 6710 Navigator, 6720 Classic, 6730 Classic, 6760 Slide, 6800, 6810, 6820, 6822, 700, 701, 7020, 7070 Prism, 7100 Supernova, 7110, 7200, 7210, 7210 Supernova, 7230 Slide, 7250, 7250i, 7260, 7270, 7280, 7310 Supernova, 7360, 7370, 7373, 7380, 7390, 7500 Prism, 7510 Supernova, 7610, 7610 Supernova, 7650, 7900 Prism, 808 PureView, 8210, 8310, 8600 Luna, 8800, 8800 Arte, 8800 Diamond Arte, 8800 Sirocco, 8850, 8890, 8910, 8910i, Asha 201, Asha 202, Asha 203, Asha 210, Asha 230, Asha 300, Asha 302, Asha 303, Asha 306, Asha 502, C1 00, C1 01, C1 02, C2, C2 01, C2 02, C2 03, C2 05, C3, C3 01 Touch and Type, C3 01.5, C5, C5 03, C6, C6 01, C7, E5, E50, E51, E51 ( No Camera ), E52, E55, E6, E60, E63, E66, E7, E70, E71, E72, E75, Lumia 1020, Lumia 1320, Lumia 1520, Lumia 510, Lumia 520, Lumia 521, Lumia 525, Lumia 530, Lumia 610, Lumia 620, Lumia 625, Lumia 630, Lumia 635, Lumia 636, Lumia 638, Lumia 710, Lumia 720, Lumia 730, Lumia 735, Lumia 800, Lumia 810, Lumia 820, Lumia 822, Lumia 830, Lumia 900, Lumia 920, Lumia 925, Lumia 929, Lumia 930, Lumia Icon, N70, N71, N72, N73, N76, N78, N79, N8, N80, N81, N82, N85, N86 8MP, N9, N900, N92, N93, N95, N95 8GB, N96, N97, N97 mini, Oro, X, X Plus, X1 00, X1 01, X2, X2 01, X3, X3 02 Touch And Type, X5 01, X6, X7, XL
O2: Cocoon, Ice, X 2, X 3, X1, X1b, X1i, X4, XDA Atmos, XDA Comet, XDA Diamond, XDA Graphite, XDA Guide, XDA Ignito, XDA Orbit, XDA Orbit 2, XDA Serra, XDA SP, XDA Star, XDA Terra, XDA Zest, XDA Zinc
OnePlus: One
Oppo: Find 5, Find 7, Find 7a, R3, R5, R7, R7 Plus
Orange: Berlin, Boston, Dallas, Gova, Lisbon, Miami, Monte Carlo, Rio, Rio II, Rome, San Diego, San Francisco, San Francisco II, Santa Clara, SPV, SPV C100, SPV C500, SPV C550, SPV C600, SPV C700, SPV E100, SPV E200, SPV E610, SPV E650, Stockholm, Sydney, Tokyo, Vegas
Panasonic: Eluga, Eluga Power, G50, G60, GD55, GD67, GD87, Lumix CM1, VS3, VS6, X300, X400, X500, X60, X70, X700
Prestigio: MultiPhone 5300 DUO, MultiPhone 5450 DUO, MultiPhone 5500 DUO
Sagem: MC920, my-300X, my150X, my200C, my220x, my226x, my234x, my301X, MY3020, my302X, MY3078, my400X, my401C, my401x, my401Z, my405X, my411C, my411CV, my411V, my411X, my419x, my421Z, my501c, my501x, my511X, my519x, my521x, my600v, my600X, my700X, my721X, my730c, my750x, my800x, my850c, my901C, myC-1, myC-2, myC-3, myC-3b, myC-5w, myC2-2, myc3-2, myC-4, myC4-2, myC5-2, myC5-3, myS-7, myV-65, myV-55, myV-56, myV-75, myV-76, myX-2, myX-3, myX-6, myX-8, myX-1, myX1-2, myX2-2, myX3-2, myX-4, myX-5, myX5-2, myX6-2, myX-7, MyZ-55
Samsung: A300, A800, Ativ S, ATIV SE, B130, B210, B2100 Solid Extreme, B2700, B300, B3210 Corby TXT, B3310, B3410, B510, B5310 Corby PRO, B5722, B7502, B7620 Giorgio Armani , B7722, Beam I8520, Beat DISC, Blade, Blue Earth, C100, C110, C120, C130, C140, C170, C3050, C3060, C3110, C3212, C3300 Libre, C3350 Solid X Cover, C3510, C3630, C5212, C5510, C6112, C6620, C6625, Champ Deluxe Duos, Chat 222, Chat 322, Chat 335, Chat B3410W, Core LTE, D410, D500, D520, D600, D780 DuoS, D800, D820, D830, D840, D880 DuoS, D900, D900i, D980 DuoS, Diva Diamond, E1100, E1107 Solar Guru, E1120, E1150i, E1170, E1360B, E2100, E2120, E2120B, E2121, E2121B, E215, E2210B, E2330, E2370, E250, E250i, E2600, E300, E310, E330, E350, E370, E390, E400, E420 Lily, E530, E570, E590, E600, E620, E630, E700, E710, E720, E730, E740, E760, E770, E780, E800, E810, E820, E840, E870, E880, E900, Exhilarate i577, F110 MiCoach, F200, F210, F250, F300, F400, F480 Player Style, F480 Tocco, F490, F700, Flutter, G400, G600, G800, G810, G9098, Galaxy , Galaxy 3 I5800, Galaxy 550, Galaxy 551, Galaxy A3, Galaxy A5, Galaxy A7, Galaxy Ace 2, Galaxy Ace 3 3G, Galaxy Ace 3 4G, Galaxy Ace 4, Galaxy Ace Duos S6802, Galaxy Ace Plus, Galaxy Ace, Galaxy Ace Style, Galaxy Advant, Galaxy Alpha, Galaxy Apollo i5801, Galaxy Avant, Galaxy Axiom, Galaxy Beam, Galaxy Beam 2, Galaxy Chat B5330, Galaxy Core, Galaxy Core 4G, Galaxy Core Advance, Galaxy Core II, Galaxy Core Prime, Galaxy E5, Galaxy E7, Galaxy Europa I5500, Galaxy Express, Galaxy Express 2, Galaxy Extreme, Galaxy F, Galaxy Fame, Galaxy Fit S5670, Galaxy Gio S5660, Galaxy Grand, Galaxy Grand 2, Grand Neo, Galaxy Grand Prime, Galaxy Grand Z, Galaxy J1, Galaxy K Zoom, Galaxy Lite, Galaxy M Pro, Galaxy Mega 2, Galaxy Mini 2, Galaxy Mini S5570, Galaxy Next Turbo, Galaxy Nexus, Galaxy Note 3 Neo, Galaxy Note Edge, Galaxy Pocket, Galaxy Portal, Galaxy Pro, Galaxy R, Galaxy Round, Galaxy S Advance, Galaxy S Duos, Galaxy S I9000, Galaxy S Plus I9001, Galaxy S2, Galaxy S2 Skyrocket, Galaxy S3, Galaxy S3 LTE, Galaxy S3 Mini, Galaxy S3 Neo, Galaxy S4, Galaxy S4 Active, Galaxy S4 Mini, Galaxy S5, Galaxy S5 Active, Galaxy S5 Mini, Galaxy S5 Neo, Galaxy S5 Prime, Galaxy S6, Galaxy S6 Active, Galaxy S6 Edge, Galaxy Star 2, Galaxy Stellar, Galaxy Teos, Galaxy Trend Plus, Galaxy Victory 4G, Galaxy Xcover, Galaxy Xcover 2, Galaxy Y, Galaxy Y Pro, Galaxy Young, Galaxy Young 2, Genio PRO, Genio Qwerty, Genio Slide, Genio Touch, Glamour S5150, Glamour S7070, Google Nexus S, H1, i200, i300, i300x, i320, i5500 Corby, i5500 Galaxy 5, i560, i5700 Galaxy Portal, i600, i620, i640, i7110 Pilot, i7410, i7500, i780, i8510 INNOV8, I8520 Halo, i900 Omnia, I9003 Galaxy SL, I9010 Galaxy S Giorgio Armani, J400, J600i, J700, Jet S8000, Jet Ultra Edition, Knox, L170, L310, L320, L760, L770, Lindy M5650, Lucido, M110 Solid, M150, M200, M2310, M2510, M300, M310, M3200 Beat S, M3310, M3510 Beat B, M7500 Emporio Armani, M7600 Beat DJ, M8800 Pixon, Miss Player, Monte Bar C3200, Monte S5620, Monte Slider E2550, Naos, Omnia 7, Omnia HD i8910, Omnia II I8000, Omnia Lite, Omnia M , Omnia PRO 4 B7350, Omnia Pro B7320, Omnia Pro B7330, Omnia Pro B7610, Omnia W, P180, P200, P260, P300, P310, P400, P510, P520 Armani, P730, P960, Pixon12, Player 5, Player Light, Player Mini, Player One, Player Star, Player Star 2, Preston, Qbowl, Rex 60, Rex 70, Rex 80, Rex 90, Rocky E1130, S2 Plus, S300, S3100, S3110, S3370, S3500, S3600, S3650 Corby, S400i, S401i, Galaxy S5 Sport, S500i, S5050, S5150 Diva Folder, S5200 Slide, S5230 Star, S5260 Star II, S5530, S5560, S5600, S5750, S6700, S7070 Diva, S7230, S7310 Ultra S, S7330, S7350 Ultra Slide, S8300 Ultra Touch, S9402 Ego, Serenata, SGH C300, U300, X700, SGH Z500, SGH-S100, Shark 2 S5550 , Shark 3 S3550, Shark S5350 , Solid Immerse, Steel Phone, T100, Teos, Tobi, Tocco Icon, Tocco Lite, Tocco Lite 2, Tocco Quick Tap, Tocco Ultra Edition, U100, U600, U700, U800 b, U900, V200, Wave 2 Pro S5330, Wave 2 S5250, Wave 3, Wave 525, Wave 533, Wave 575, Wave 723, Wave II S8530, Wave M, Wave S8500, Wave Y, X100, X450, X460, X530, X600, X640, X660, X680, X820, X830, Z, Z1, Z105, Z107, Z130, Z140, Z300, Z320i, Z400, Z510, Z540, Z560, Z650i, Z720, ZM60, ZV40
SanDisk: Sansa E200
Sendo: M550, M570, P220, P600, S220, S300, S600, S600, Sendo X
Sharp: 703, 770SH, 802, 880SH, 902, 903, Aquos Xx 302Sh, GX1, GX10, GX10i, GX15, GX17, GX20, GX25, GX29, GX30, GX30i, TM100
Siemens: A50, A52, A55, A57, A60, A62, A65, A75, AX75, C25, C35, C45, C55, C60, C62, C65, C75, CF62, CF75, CFX65, CL50, CL55, CL75, CV65, CX65, CX70, CX70 Emoty, CX75, M35, M50, M55, M65, M75, MC60, MCT 62, ME45, MT50, S25, S35, S45, S55, S65, S75, SF65, SK65, SL45, SL55, SL65, SL75, SP65, ST55, ST60, SX1
Smartisan: T1
Sonim: XP1, XP2 Spirit, XP3
Sony: acro S, NW-A Series, NWE Series, Xperia A2, Xperia C, Xperia C3, Xperia C4, Xperia E, Xperia E1, Xperia E3, Xperia E4, Xperia E4g, Xperia go, Xperia i1, Xperia ion, Xperia J, Xperia L, Xperia M, Xperia M Dual, Xperia M2, Xperia M2 Aqua, Xperia M4 Aqua, Xperia Miro, Xperia P, Xperia S, Xperia SL, Xperia Sola, Xperia SP, Xperia T, Xperia T2 Ultra, Xperia T2 Ultra Dual, Xperia T3, Xperia Tipo, Xperia tipo dual, Xperia TX, Xperia U, Xperia V, Xperia XL, Xperia Z, Xperia Z1, Xperia Z1 Compact, Xperia Z1f, Xperia Z1S, Xperia Z2, Xperia Z2 Compact, Xperia Z3, Xperia Z3 Compact, Xperia Z3+, Xperia Z4, Xperia Z4 Compact, Xperia Z4 Ultra, Xperia ZL, Xperia ZL2, Xperia ZR, Z2a Compact, Z3 Plus
Sony Ericsson: Aino, Aspen, C510, C702i, C901, C902, C903, C905, Cedar, D750i, Elm, F305, F500i, G502, G700, G705, G900, Hannah, Hazel, J100i, J110i, J120i, J132, J210i, J220i, J230i, J300, J5, J7, Jalou, K200i, K220i, K300i, K310i, K320i, K330, K500i, K508, K510i, K530i, K550i, K600i, K608i, K610i, K630i, K660i, K700i, K750i, K770i, K790i, K800i, K810i, K850i, M600i, Mix Walkman, Naite, P1i, R300, R306, S302, S312, S700i, Satio, S500i, Z320i, Spiro, T100, T18, T20, T200, T230, T250i, T270i, T28, T280i, T290i, T300, T310, T39, T600, T610, T630, T65, T650i, T68, T68i, T700, T707, T715, txt, Txt Pro, V600i, V630, V640i, V800, Vivaz, Vivaz Pro, W200i, W205, W300i, W302, W350i, W380i, W395, W508, W550i, W580i, W595, W610i, W660i, W700i, W705, W710i, W715, W760i, W8, W800i, W810i, W850i, W880i, W890i, W900i, W902, W910i, W950i, W960i, W980i, W995, X10, Xperia Active, XPERIA Arc, Xperia arc S, XPERIA Kyno, XPERIA Mini, XPERIA Mini Pro, Xperia Play, XPERIA Pro, Xperia Pureness, Xperia Ray, Xperia X1, XPERIA X10 Mini, XPERIA X10 Mini Pro, Xperia X2, XPERIA X8, Yari, Yendo, Z1010, Z200, Z250i, Z300i, Z310i, Z500, Z520i, Z530i, Z550i, Z555i, Z558i, Z600, Z610i, Z7, Z710i, Z750i, Z770i, Z780i, Z800i, Zylo
Spice: Dream Uno, Stellar Mi-520, Stellar Mi-526
Swipe: Fablet F2, Fablet F3, MTV Volt 1000
T Mobile: Dash 3G, G1, G2 Touch, MDA Compact III, MDA Compact IV, MDA Compact V, MDA Mail, MDA Touch, myTouch 3G, myTouch 3G Slide, Pulse, Pulse Mini, SDA, SDA II, SDA Music, Sidekick II, Sidekick III, Touch Plus, Vairy Text, Vairy Touch, Vairy Touch II, Zest E110, ZTE X760
TMobile: Affinity, Beat, Energy, Groove, Unity, Vivacity
Toshiba: G 810, G450, G710, G910, K01, TG01, TG02, TS10, TS803
Turkcell: T50
Videocon: A 27
Virgin: VM 720, VM202, VM665, VM820
VK: 2000, 2020, 207i, 530, 570
Vodafone: 226, 231, 340, 345, 351, 360 H1, 360 M1, 455, V526, 527, 533, 540, 543, 547, 550, 553, 625, 725, 845, 945, M1, Smart 4 Mini, Smart 4G, Smart 858, Smart first 6, Smart Mini, Smart prime 6, Touch 541, VF810, VF830, VS1, VS2, VS3, Simply VS4
Wiko: Barry, Birdy 4G, Bloom, Cink Five, Cink Peax 2, Cink Slim, Cink Slim 2, Darkmoon, Darknight, Darkside, Fizz, Getaway, Goa, Highway, Highway 4G, Highway Pure 4G, Highway Signs, highway Star 4G, Jimmy, Kite 4G, Lenny, Mazing, Rainbow, Rainbow 4G, Ridge 4G, Ridge Fab 4G, Slide, Stairway, Sunset, Wax
Wolder: mismart XLIM
Woxter: Zielo S11
Xiaomi: Mi 3, Mi 4, Mi 4i, Mi Note, RedMi, RedMi 2, RedMi Note
Xolo: A500, A500s, Play, Q1000, Q1000s, Q1100, Q2000, Q3000, Q700, Q800, X1000
Yota Devices: YotaPhone 2
Zen: Ultrafone 502
ZTE: Blade 2, Blade A430, Blade L2, Blade S6, Blade S6 Plus, Blade Vec 3G, Blade Vec 4G, F866, Grand Memo II LTE, Grand S, Grand X, Grand X Max+, Kis 3, Kis 3 Max, KPN Smart 200, Libra, Nubia X6, Nubia Z9, Open, Racer, Skate, Tania, Tureis, X760, ZTE Blade Q Mini