Most Useful Customer Reviews
Rosemary Jones
Shrewsbury
Kandle II
19th August 2016
Kandle - what a catchy name!
This is what I've needed for ages. I can now read by Kandle Light without disturbing my husband.
---
1st December 2011
Enlightenment
Bought this for the wife, she likes reading in the car especially when we are on long journeys. Normally as soon as the sun begins to fade, the Kindle needs to be put away, but not any more! This is a fantastic little light, provides more than enough light to read in pitch dark for about 24hrs off of one set of batteries, three different light levels too, which keeps eye strain to a minimum. Great bonus feature, even when the wife uses this in the front passenger seat, it does not distract me while driving as the light is directed straight onto the Kindle screen and is very localised. You can also use this light on paper backs and hard backs, so even if you don't have a Kindle, this can still be a good choice! Well worth the 5 stars!
Read 54 customer reviews
|
Write a review
---
Why Buy?
Three bright white LED lights

Adjustable light position for comfortable angle

Sturdy WideLip Grip attaches to Kindle

Now with adjustable light settings
---
Description
Three bright white LED lights
The Kindle screen has been designed to be as easy to read as paper - which is great throughout the day, however, when it comes to the night or in dark places things become a little more tricky. As the Kindle screen is not backlit, it can be a struggle to read at night, and you should therefore have a reading light that doesn't put any extra strain on your eyes. Now with three bright white X2 LEDs, the Kandle II lights up your Kindle perfectly in low light conditions. The Kandle II has it's own battery so you won't have to worry about draining any power from your Kindle.
Adjustable light position for comfortable angle
Whether you are left or right handed, you can always position the Kandle II to your exact liking. The light is positionable in multiple angles thanks to pivotable arms, allowing you to position it for a comfortable reading experience.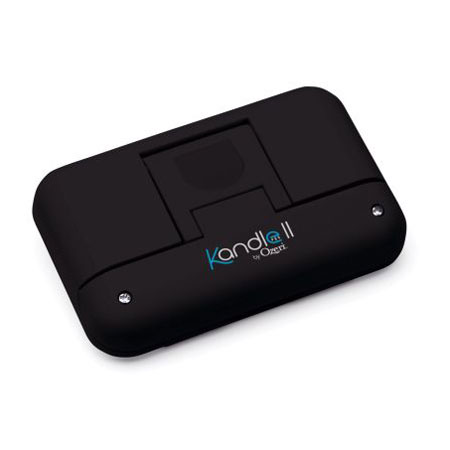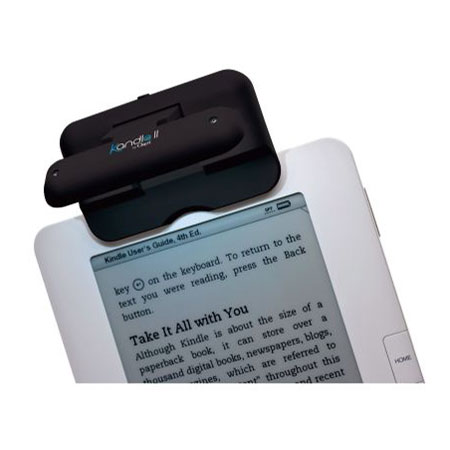 Sturdy WideLip Grip attaches to Kindle
The Kandle II is designed to be easy to fit and so that it won't damage your Kindle when attaching it or removing it, thanks to its excellently made padded clip. The WideLip grip also works perfectly on books without blocking text on the page. When not in use, the Kandle II can be used as a free-standing night light.
Now with adjustable light settings
The Kandle II now comes with adjustable light settings, which allows you to choose between a strong beam or a more subtle light depending on the supply of light that you and your Kindle already have.
---
What's In the Box?
1 x Kandle II Clip-On Reading Light
4 x CR2032 batteries
1 x Protective pouch